Hinged Fireproof Refrigeration Door
Назначение:
Door code
HFRD - Hinged Fireproof Refrigeration Door
Door leaf thickness: 120 mm
Opening height: up to 2400 mm
Opening width: up to 1200 mm
Fire resistance: EI30
Высота проема: до 2400 мм
Ширина проема: до 1200 мм
Предел огнестойкости: EI30
Basic Information
Hinged Fireproof Refrigeration Doors (HD EI) are designed for cold chambers with increased requirements for fire safety. HD EI efficiently keep heat or cold and prevent fire and combustion products from spreading outside the room, diminishing property losses in case of emergency. Fire resistance class – EI30.
Door Construction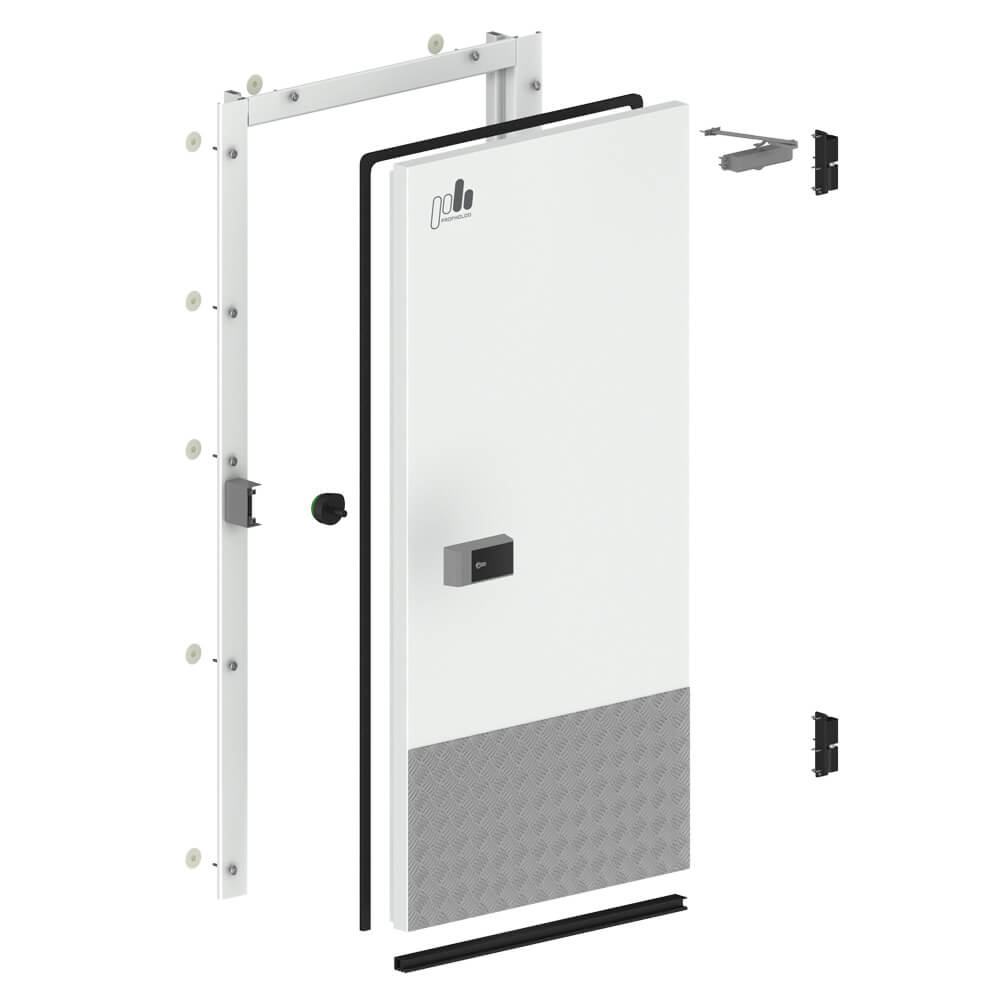 Overhead metal frame
Dual rubber gasket
Protecting thermal expanding tape
External handle Fermod 621
Internal handle Fermod 621
Response part of the lock
Hinges
Closers
Set mounting frame (optional)
Metal bumper made of checkered plate (optional)
Door Leaf
HD IE's door leaf is made of galvanized painted sheets 0.6 mm thick and polyurethane 120 mm thick insulation on the European polyol system.
The integrity and load-bearing capacity of the HD EI is enhanced by 2 mm thick metal embedded elements, which are installed inside the door leaf.
A double contour of thermal insulation seal and a thermal expansion tape are installed along the inner perimeter of the door leaf. When temperature gets over 150°C, the tape expands and fills the gap between the door leaf and the frame, preventing the spread of smoke and fire in neighboring rooms.

The door leaf of HD EI is assembled only with fireproof sealants and foams.
In standard assembly, the door leaf is painted with white color RAL 9003. You can request the door painted in any color available in RAL catalogue.
Depending on the aggressiveness of the working environment PH Insulation produces HD IE with the following metal:

stainless steel AISI 304 for food or AISI 430 for non-food products
FoodSafe
Granite Farm
PuralFarm
PVDF
Door Frame

HD EI is equipped with a rigid overhead profile frame made of 2 mm thick cold rolled steel.
In standard assembly, door frame is painted with white color RAL 9003, you can choose any other color available in RAL catalogue. You can also order a custom-made door with stainless steel AISI 304 or AISI 430 frame.
To prevent the door leaf from freezing at sealing profile, a heating cable is installed inside the door frame. This option is necessary in case you use the door with a low-temperature refrigerator.

To simplify the door installation, the frame is made with technological holes for mounting and fixing accessories.

Thermal Insulation
The door provides thermal conductivity of 0.022 W/m*K with a European polyol system at 50 kg/m3 density.

Door Hardware
HD EI is equipped with only metal hardware: reinforced fire hinges made by PH Insulation and a metal lock made by Fermod, a top French manufacturer.
Door Options
With or without threshold
Right or left opening
Download
Hinged Fireproof Refrigeration Door (HD EI): Brochure
Request a Quote
Choose your color from the RAL catalogue
| | |
| --- | --- |
| 1014 Ivory | 1015 Light Ivory |
| 1018 Zinc Yellow | 3003 Ruby Red |
| 3005 Wine Red | 3009 Oxide Red |
| 3011 Brown Red | 5005 Signal Blue |
| 6002 Leaf Green | 6005 Moss Green |
| 7004 Signal Grey | 8017 Chocolate Brown |
| 9002 Grey White | 9003 Signal White |
| 9006 White Aluminum | 9010 Pure White |
распашные противопожарные одностворчатые двери