Refrigerated warehouses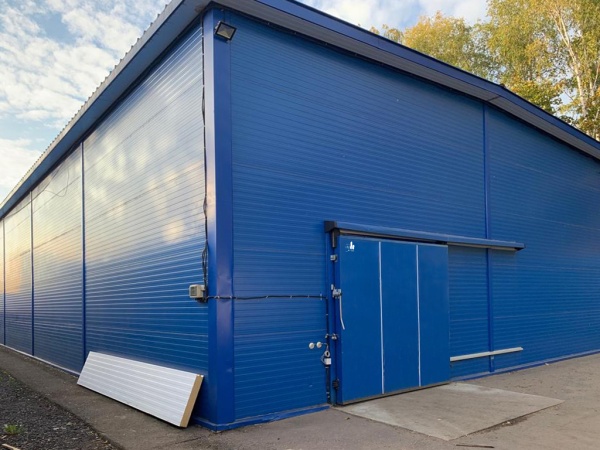 PH Insulation delivers PIR Premier and PUR Classic and insulated panels, hinged and sliding refrigeration doors for construction of cold storage warehouses, cold chambers and distribution centers.
Refrigerated warehouses are used to store your fruits, vegetables or other products at controlled temperatures to prolong their life.
Insulated cold storages are used in many industries:
Storage of fruits and vegetables
Dairy
Meat processing
Pharmaceutical industry
Catering
Speciality applications like data centers, preserving artwork, etc
Cold storage temperatures
ProfHolod manufactures PUR and PIR insulated panels and insulated refrigeration doors for a wide variety of cold storages, including
Medium temperature refrigeration, above 0°С
Low temperature refrigeration, below 0°С
Building of refrigerating warehouses and chambers
The service package related to the building of refrigerating chambers and warehouses includes:
Design and construction or the refrigerating chamber
Supply of wall and roofing sandwich panels with the polyurethane foam PUR or fire-proof polyisocyanurate PIR filler
Supply of shaped profiles, flashings
Supply of refrigeration doors, PVC strip curtains
Selection and supply of refrigerating equipment
Availability of the own manufacturing facilities and of highly competent experts makes it possible to fulfill the project documentation development and the construction of the refrigerating warehouses in the shortest possible time.
Refrigerating warehouses construction aspects
The refrigerating warehouse is built according to the skeleton technology. The skeleton is made of metalwork and can be covered with polyurethane foam panels (PUR, PIR) either inside or outside. Either vertical or horizontal panel placement are allowed. At the same time, even after the erection of the warehouse, it is possible to make an on-the-fly layout change, or to create refrigerating chambers with different temperature conditions.
Why our partners choose PIR Premier panels
Thanks to the particular design of the sandwich panel junction locking profile, the "cold bridges" are completely eliminated and the maximum thermal and hydro insulation of the refrigerating warehouse is provided.


The low weight of the panels allows to avoid the use of huge building machinery, to reduce the stuff involved in the mounting works and to use lighter and cheaper foundations (which allows significant savings).


The simplicity in cutting the panels and the cancellated structure of the skeleton allow to create quickly additional windows and doors.


The solid, low weight metalwork skeleton can carry heavy suspended equipment.


The unique energy saving properties of PH Insulation's sandwich panels with the polyurethane foam (PIR Premier, PUR Classic) filler considerably reduce the technical requirements for the refrigeration equipment power (it is possible to use less powerful therefore, lower energy consuming refrigeration equipment).


The special PH Insulation's refrigeration doors are accurately selected according to the temperature conditions of the warehouse and allow to reduce significantly the thermal loss during the operation of the structure.


If necessary, the refrigerating warehouse can be disassembled and transported to a new location.
PH Insulation's sandwich panels are certified and have passed sanitary-epidemiological expertise. They are approved for the use in the erection of the food industry buildings.
Comprehensive approach, high quality of construction materials and competence of the company experts guarantee long service life of the warehouses built with PH Insulation's polyurethane foam sandwich panels.
Construction materials
Polyurethane foam sandwich panels (PIR Premier, PUR Classic)
To build the refrigerating warehouses and chambers you will need sandwich panels having the thickness from 40 mm to 200 mm, with the fire-proofpolyisocyanurate PIR Premier filler or solid polyurethane foam PUR Classic.
Fire resistance of wall and roofing PUR, PIR panels
Parameter description
Filler
40
60
80-120
150-200
Norm
Fire resistance limit of the wall panels
PUR
EI15
GOST 30247.1-94
PIR
EI15
EI30
EI45
GOST 30247.0-94
Fire resistance limit of the roofing panels
PIR
RE15
RE30
RE30
GOST 30247.0-94
GOST 30247.1-94
Class of fire danger
PIR
K1 (15)
GOST 30403-96
Combustibility group
PIR
G2
GOST 30244-94
Flammability group
PIR
V1
GOST 30402-96
Smoke-forming ability
PIR
D3
GOST 12.1.044-89
Combustion products toxicity group
PIR
T2
GOST 12.1.044-89
Surface flame spreading group
PIR
RP1
GOST Р 51032-97
Sandwich panel surface – the metal supplied by the leading Russian manufacturers (Novolipetsk Metallurgical Combinate (NLMK), INSAYUR Group). The thickness of metal is 0,5 – 0,7 mm.
Variants of surface (depending on the functional purpose of the chamber or warehouse):
Galvanized steel
Galvanized steel coated with polyester paint (according to the RAL catalogue)
Stainless steel AISI 430 (for non-alimentary products)
Stainless steel AISI 304 (for alimentary products)
Galvanized steel coated with Plastisol
Galvanized steel coated with Pural
Galvanized steel coated with PVDF
Foil
Paper
ProfHolod's sandwich panels are equipped with the tongue-and-groove junction locking profile, providing the maximum heat isolation of the joint and the minimum use of foam and sealant.
Depending on the panel's thickness, the junction locking profile can be single, double or triple tongue-and-groove.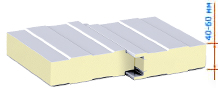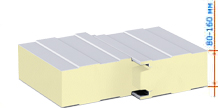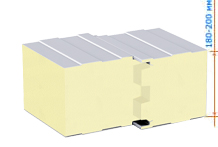 For the junction of roofing panels the ROOF-LOCK is used.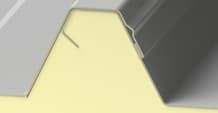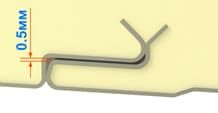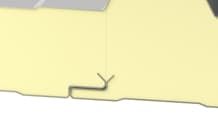 Shape of wall sandwich panels
According to the customer's design, it is possible to use sandwich panels having the smooth or profiled surface.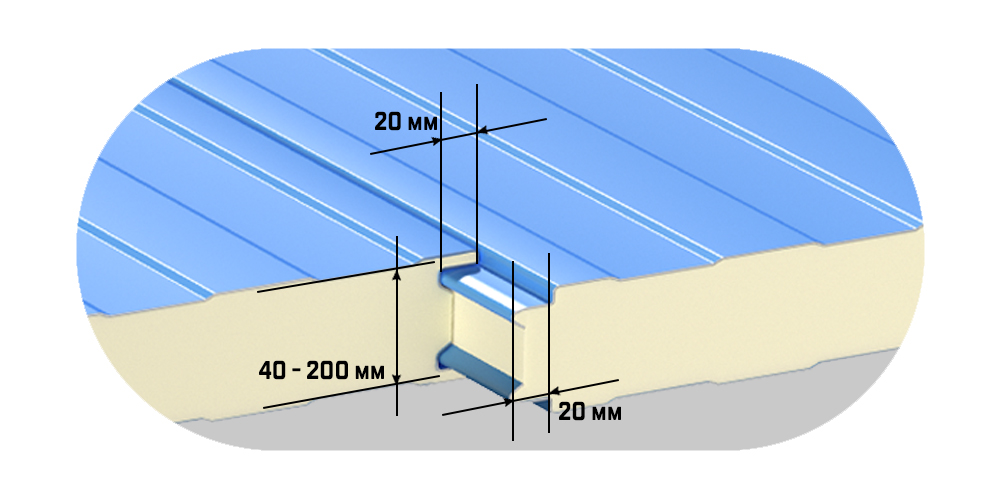 Shape of roofing sandwich panels

Details on sandwich panels

Refrigeration doors
Depending on the warehouse's functional purpose, different types of refrigeration doors are used: hinged (lay on or hidden, single or double) or sliding.
The doors can be either medium temperature or low temperature. They are made in different colors (according to the RAL catalogue) and have various surface materials. They are equipped with high-quality European hardware.
Details on refrigeration doors

Shaped profiles (flashings)
In order to cover joints and connections while building the refrigerating warehouses, metal shaped profiles (flashings) are used: channels, internal and external angles, flashings.
They are made in various colors according to the RAL catalogue.
Details on shaped profiles (flashings)

Interested in selling PH Insulation products?
PH Insulation insulated panels and doors are used in 16 countries around the world from Germany to USA. If you want to leverage PH Insulation 15 years expertise on the market, impress your clients with top quality insulation products at a very attractive price and earn a premium with every sale, please fill a form below and we will be in touch with you shortly.