Food Production Facilities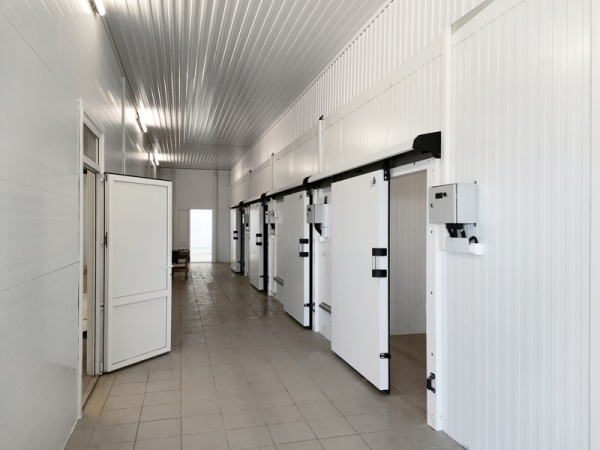 Толщина: в зависимости от технических требований, условий эксплуатации
Наполнитель: PIR Premier / Минеральная вата
Food Production Facilities
The ultimately energy-efficient sandwich panels are the ideal solution for you to quickly build food facilities and workshops and save on operating costs. Sandwich panels with polyurethane demonstrate extremely low thermal conductivity at 0.0194 W/(m*K), keeping heat or cold, so you can purchase less powerful air conditioners or other systems for maintaining the required temperature.
Ordering sandwich panels from Russia for construction of your food production facilities you can enjoy: abundance of products, including specific types of metal, fast shipment, speed of construction, reliability, and energy efficiency confirmed with CE certificates and testing in independent laboratories.
Polyurethane and mineral wool sandwich panels will allow you to build:
meat processing plants
cheese production facilities
dairy plants
bakery plants
dried fruit production
cold storages, warehouses for meat and dairy products
vegetable and fruit storage facilities
slaughterhouses
cowsheds, poultry houses, pigsties, rabbitries
fish processing facilities
beverage manufacturing facilities
ice-cream manufacturing facilities
beer plants
For construction of cheese factories, meat production facilities and other industrial and agricultural projects where you need frequent treatment with chemicals for disinfection and cleaning, you can request free unlimited consultations with your personal manager at PH Insulation to select the right kind of metal.
Why Choose PH Insulation
The most affordable price on the market
16 years of experience in sandwich panel production
Projects in 27 countries all around world
Precise timing of manufacturing due to the production of sandwich panels in two Italian automatic lines
CE certificates
Unlimited consultations from starting your order to operating your facility
Fast shipment to any part of the world with trusted carriers
Construction materials
For the construction of the food facilities and workshops, you can order sandwich panels and refrigeration doors. The insulated panels come with PIR Premier polyisocyanurate foam, PUR Сlassic polyurethane foam and mineral wool.
The PH Insulation sandwich panels' docking "thorn-groove" joint with a depth of 20 mm provides maximum thermal insulation of the joint, and reduces the use of foam and sealant.
Production Time
Our standard lead time is two weeks from the date of payment.
Similar Buildings
Request a Quote