Hinged single leaf refrigerated door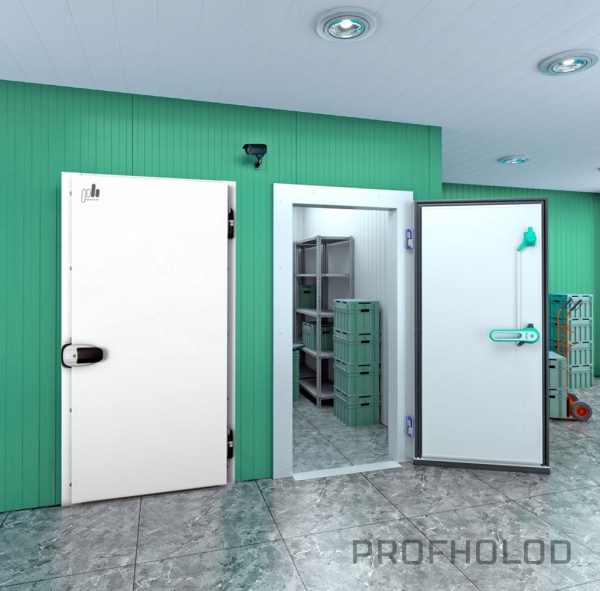 Назначение:
Door code
HSLD – Hinged Single Leaf Door
HSLD H - Hinged Single Leaf Door Half Hidden
HSLD R – Hinged Single Leaf Door with German Rahrbach hardware
Door thickness 80, 100, 120, 150 mm
Opening height up to 2400 mm
Opening width up to 1400 mm
Наполнитель: PUR Classic
Высота проема: до 2400 мм
Ширина проема: до 1400 мм
Basic Information
PH Insulation (ProfHolod in Russia) Hinged Single Leaf Refrigeration Doors with Half-Hidden look (HSLD H) are the most popular doors for cold rooms and freezers on food industry, warehouses, storages and industrial facilities, which require airtight sealing to keep heat or cold.
They are used for quick installation and provide durability and easy operation with top French hardware.
The doors are factory-made and installed worldwide, including EU countries, Armenia, Georgia, Kazakhstan, Uzbekistan. PH Insulation's refrigeration doors are available in custom sizes to insure best commercial application, ready for installation.
Door Construction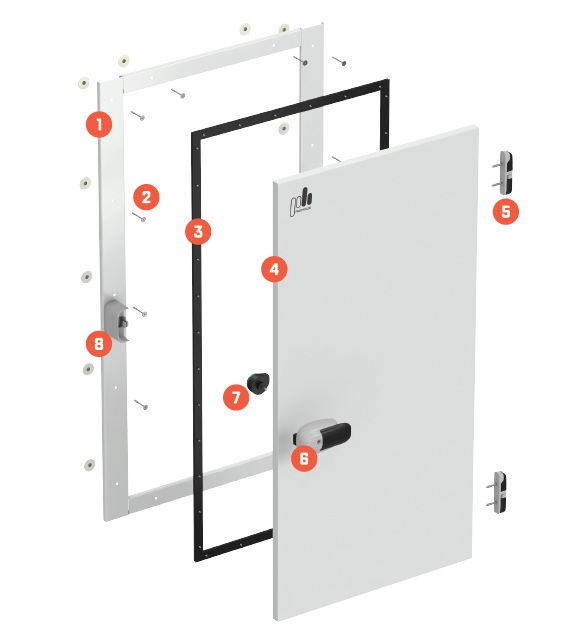 Overhead metal frame
Frame installation kit (optional)
Fermod 67 dual rubber gasket
Door leaf with PU insulation
Fermod 473 hinges
Fermod 521 external handle with key
Fermod 521 internal handle
Response part of Fermod 521 lock
Door Leaf
For the door leaf we use sturdy galvanized steel sheets 0.6 mm thick, which provide utmost durability with multi-layer protection: anti-corrosion coating, base paint and protective coating in various colors. Coating thickness is 25 μm.
You can order the door leaf in RAL 9003 or in any color of your choice.
Depending on the purpose of the cold room or freezer you can order HSDL H made with stainless steel AISI 304 for milk, cheese, meat and other food facilities, or AISI 430 for non-food facilities, Food Safe, PVDF or Granite Farm coating.
The doors are wrapped in 50 μm thick film to prevent damage when transporting or mounting, the film is easily removed after the installation.
Door Frame
Door frame is produced of 2 mm thick steel sheet and painted with the color of your choice or standard white RAL 9003.
PH Insulation doors and frames are fully customizable with a choice of colors and steel: stainless steel frame AISI 304 for food facilities or AISI 430 – for non-food ones.
Thermal Insulation
PH Insulation doors allow you to keep heat or cold effectively with rigid polyurethane foam PUR core.
Foam density: up to 50 kg/m3 / 3,1 pcf.
Thermal conductivity: 0,022 W/m*K.
Door Hardware
HSLD H is equipped with hardware by the top French door hardware manufacturer Fermod:
Door locks come with keys and emergency opener from inside

Highly elastic double seal keeps the door airtight at temperatures as low as –30 °C (–22 °F)

Door hinges are made of impact-resistant plastic and are adjustable in 3 dimensions Internal embedded elements in the door leaf provide for secure hardware operation.

Low-temperature and freezer doors come with frame heating.
Door Options
Right or left opening

Viewing window

Medium temperature doors for cold rooms or low temperature doors for freezers

Bumper made of stainless steel AISI 304 or AISI 430, checkered plate, or impact-resistant LDPE plastic

With or without threshold

Any color by RAL catalogue

Monorail channel

Various metals: Pural Farm, Granite Farm, Food Safe, PVDF, stainless steel AISI 304 or AISI 430
Download
Hinged Single Leaf Door Half-Hidden (HSLD H): Brochure
Request a Quote
распашные одностворчатые холодильные двери