Hinged single leaf refrigerated door. Production & Sale | Cold store doors
Назначение:
Door code
HSLD – Hinged Single Leaf Door
HSLD H - Hinged Single Leaf Door Half Hidden
HSLD R – Hinged Single Leaf Door with German Rahrbach hardware
Door thickness 80, 100, 120, 150 mm
Opening height up to 2400 mm
Opening width up to 1400 mm
Толщина панелей: 80, 100, 120, 150 мм
Наполнитель: Жесткий ППУ
Высота проема: до 2400 мм
Ширина проема: до 1400 мм
Basic Information
PH Insulation (ProfHolod in Russia) Hinged Single Leaf Refrigeration Doors with Half-Hidden look (HSLD H) are the most popular doors for cold rooms and freezers on food industry, warehouses, storages and industrial facilities, which require airtight sealing to keep heat or cold.
They are used for quick installation and provide durability and easy operation with top French hardware.
The doors are factory-made and installed worldwide, including EU countries, Armenia, Georgia, Kazakhstan, Uzbekistan. PH Insulation's refrigeration doors are available in custom sizes to insure best commercial application, ready for installation.
Door Construction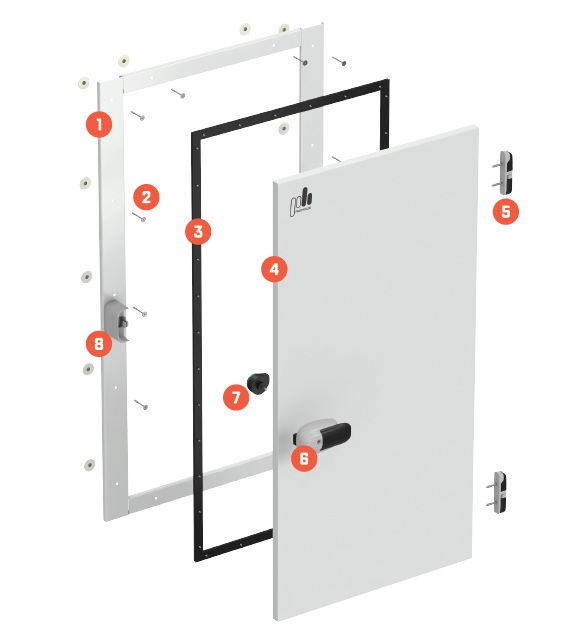 Overhead metal frame
Frame installation kit (optional)
Fermod 67 dual rubber gasket
Door leaf with PU insulation
Fermod 473 hinges
Fermod 521 external handle with key
Fermod 521 internal handle
Response part of Fermod 521 lock
Door Leaf
For the door leaf we use sturdy galvanized steel sheets 0.6 mm thick, which provide utmost durability with multi-layer protection: anti-corrosion coating, base paint and protective coating in various colors. Coating thickness is 25 μm.
You can order the door leaf in RAL 9003 or in any color of your choice.
Depending on the purpose of the cold room or freezer you can order HSDL H made with stainless steel AISI 304 for milk, cheese, meat and other food facilities, or AISI 430 for non-food facilities, Food Safe, PVDF or Granite Farm coating.
The doors are wrapped in 50 μm thick film to prevent damage when transporting or mounting, the film is easily removed after the installation.
Door Frame
Door frame is produced of 2 mm thick steel sheet and painted with the color of your choice or standard white RAL 9003.
PH Insulation doors and frames are fully customizable with a choice of colors and steel: stainless steel frame AISI 304 for food facilities or AISI 430 – for non-food ones.
Thermal Insulation
PH Insulation doors allow you to keep heat or cold effectively with rigid polyurethane foam PUR core.
Foam density: up to 50 kg/m3 / 3,1 pcf.
Thermal conductivity: 0,022 W/m*K.
Door Hardware
HSLD H is equipped with hardware by the top French door hardware manufacturer Fermod:
Door locks come with keys and emergency opener from inside

Highly elastic double seal keeps the door airtight at temperatures as low as –30 °C (–22 °F)

Door hinges are made of impact-resistant plastic and are adjustable in 3 dimensions Internal embedded elements in the door leaf provide for secure hardware operation.

Low-temperature and freezer doors come with frame heating.
Door Options
Right or left opening

Viewing window

Medium temperature doors for cold rooms or low temperature doors for freezers

Bumper made of stainless steel AISI 304 or AISI 430, checkered plate, or impact-resistant LDPE plastic

With or without threshold

Any color by RAL catalogue

Monorail channel

Various metals: Pural Farm, Granite Farm, Food Safe, PVDF, stainless steel AISI 304 or AISI 430
Download
Hinged Single Leaf Door Brochure
Request a Quote
Цены
#PRICE_PRINT#
Возможно изготовление дверей по индивидуальным размерам заказчика.

Возможно изготовление дверей по индивидуальным размерам заказчика.
Наполнитель - жёсткий пенополиуретан производства R&D центра Профхолод. Плотность до 50 кг/м2. Коэффициент теплопроводности k = 0,022 Вт/м*К.
Покрытие (в том числе и торцы) - оцинкованная сталь толщиной не менее 0,5 мм. Полимерное покрытие по каталогу RAL. Поверхность металла защищена плёнкой толщиной 50 мкм.
Замки всех дверей имеют запорный механизм и функцию аварийного открывания изнутри.
Герметизация дверей по примеру - резиновый уплотнитель европейского производства.
В дверях для морозильных камер используется уплотнитель с двойным профилем.
Стоимость дополнительных опций для двустворчатой двери - РДО
Наименование
Краткое наименование
Цена с НДС
ПЭН обогрева дверной рамы (для НИЗКОтемпературных камер, ниже 0°С). Цена за 1 погонный метр
Н
450
Комплект крепления рамки к сэндвич панели с проёмом
КРС РДО
1 150
Комплект крепления рамки к кирпичной стене
КРК
500
Обустройство дверного проёма в сэндвич панели
&nbsp&nbsp&nbsp&nbsp&nbsp&nbsp&nbsp&nbsp&nbsp ПСТДП
&nbsp &nbsp 4 700
Покрытие нерж. сталь (одна сторона)
AISI 304 (для пищевых продуктов)
AISI 304
2 150
Цена за 1 м2 дверного проёма
AISI 430 (для непищевых продуктов)
AISI 430
1 380
Рама из нержавеющей стали для РДОП
AISI 304 (для пищевых продуктов)
1 310
Цена за 1 погонный метр
AISI 430 (для непищевых продуктов)
760
Рама из нержавеющей стали для РДОП R
AISI 304 (для пищевых продуктов)
1 230
Цена за 1 погонный метр
AISI 430 (для непищевых продуктов)
710
Обустройство рамы под монорельс
3 000
Внутреннее открывание двери РДОП
20 711
Внутреннее открывание двери РДОП R
8 921
Окно. Одинарный стеклопакет. Пластик 400Х400 мм
4 230
Окно. Одинарный стеклопакет. Пластик 400Х600 мм
4 700
Облегченный порог RAL. Цена за 1 погонный метр
1 950
Облегченный порог AISI 304. Цена за 1 погонный метр
3 454
Облегченный порог AISI 430. Цена за 1 погонный метр
2 743
Утепленный порог AISI 304. Цена за 1 погонный метр
5 528
Утепленный порог AISI 430. Цена за 1 погонный метр
2 988
Комплект метизов из нержавеющей стали 1кв.м
350
Комплект крепления рамы к металлоконструкции
300
Скрытое крепление
3 390
Скрытое крепление для рамы AISI 304
4 000
Скрытое крепление для рамы AISI 430
4 000
Пандус стационарный
Высота
пандуса
Ширина пандуса
800
900
1000
1100
1200
1300
1400
1500
1600
50
12 841
13 920
14 572
15 459
16 111
17 190
17 842
18 494
19 809
60
13 007
14 122
14 777
15 668
16 323
17 438
18 093
18 748
20 099
80
13 338
14 525
15 186
16 083
16 745
17 931
18 593
19 254
20 677
100
13 669
14 927
15 595
16 499
17 166
18 425
19 092
19 760
21 254
120
14 001
15 332
16 006
16 916
17 590
18 920
19 594
20 268
21 834
150
14 499
15 936
16 620
17 539
18 223
19 661
20 344
21 028
22 702
200
15 327
16 944
17 643
18 579
19 278
20 895
21 595
22 294
24 147
Пандус приставной
Высота
пандуса
Ширина пандуса
800
900
1000
1100
1200
1300
1400
1500
1600
50
9 746
10 825
11 477
12 128
13 207
13 859
14 511
15 163
16 242
60
9 870
10 985
11 639
12 294
13 409
14 064
14 719
15 374
16 489
80
10 116
11 303
11 964
12 626
13 812
14 473
15 135
15 796
16 983
100
10 363
11 621
12 289
12 957
14 215
14 883
15 550
16 218
17 476
120
10 611
11 941
12 615
13 289
14 619
15 293
15 967
16 641
17 971
150
10 981
12 419
13 102
13 786
15 224
15 907
16 591
17 274
18 712
200
11 598
13 215
13 915
14 614
16 231
16 931
17 630
18 330
19 947
Отбойники на полотно двери
Тип материала отбойника
Толщина мм
Цена за м2
Цена за п/м
Верх 0,25 м
Низ 0,5 м
AISI 304
1,5
5 473
1 368
2 737
AISI 430
1,5
3 900
975
1 950
Квинтет
1,5
3 948
987
1 974
ПНД (пластик) плоский
4,0
2 209
552
1 105
распашные одностворчатые холодильные двери