Gas-Tight and CA Warehouses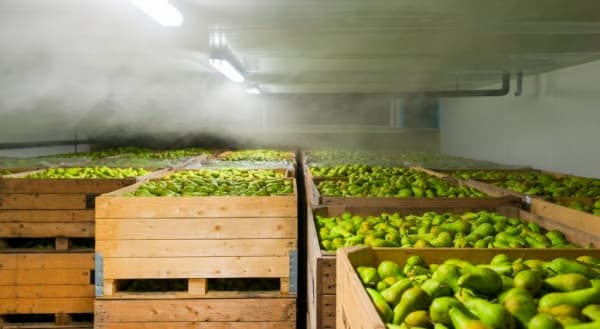 Толщина: в зависимости от технического задания
Наполнитель: PIR Premier
The primary concern when making gas-tight and controlled gas environment warehouses for fruit and vegetable storage is their sealing.
Global food losses have been documented at around 25% to 50% of production due to lack of cold chain infrastructure. In Russia this figure amounts to 30-40%, in India – up to 16%. Each year food loss and waste cost roughly $1 trillion in losses around the world. Most of the losses in the cold chain of fruit and vegetable supply occur during the period of product storage.
PH Insulation offers modern sandwich panels made with fire-resistant PIR polyisocyanurate or PUR polyurethane foam core and gas-tight sliding doors for the construction of sealed warehouses and cold storage rooms with CA to preserve and ripen fruits, vegetables and berries.
Unique Docking "Spike-Groove" Lock: a Guarantee of Integrity
The primary tightness of warehouses with CA made of PH Insulation sandwich panels is provided with the unique configuration of a "spike-groove" lock which is 20 mm deep securing minimal cold or heat loss at the joint.
PH Insulation locks provide:
maximum thermal insulation and waterproofing of joints of sandwich panels which is approved by air and steam protection certificate

rigid connection of the panels by the foam due to the conical chambers

the minimum flow rate of foam during panels docking
Depending on the thickness of the wall panels, the "spike-groove" lock can be single, double or triple.
Why Buy Sandwich Panels for Gas-Tight Warehouses in PH Insulation?
You can rely on our 16 years of experience and our production lines to:
Receive sandwich panels of standard or individual sizes right in time. Our two continuous production lines produce sandwich panels with polyisocyanurate PIR Premier and PUR Classic core with a capacity of 3.500.000 square meters of sandwich panels per year.

Enjoy easiness of installation. Our design solutions allow you to assemble the necessary constructions easy and fast.

Be confident about the quality of our production. Continuous production lines eliminate the human factor and our R&D center creates unique solutions used in 15 countries around the world. Since 2005 PH Insulation has been producing sandwich panels with polyurethane foam and meets all the requirements of professional contractors.

Rely on support from PH Insulation managers and tech specialists who will offer you a quick solution for your questions. Each request counts. Since its foundation in 2005, PH Insulation is committed to provide quick and honest answers to all your questions. Our specialists also can visit your facilities and consult your construction teams.

Reduce the operating costs of buildings with unique thermal insulation properties of our sandwich panels with PIR Premier and PUR Classic core, which significantly reduce the requirements for the capacity of refrigeration units. The panels empower you to use less powerful and therefore, less expensive energy consuming refrigeration equipment.
Delivery
PH Insulation will deliver your order worldwide. Save your time and energy by using our delivery services. To deliver your order fast and safely PH Insulation chooses professional carriers with better pricing using online auctions.
Request a Quote