PH Insulation will present the most advanced energy saving technologies at the UzAgroExpo. The event will be held in Tashkent, Uzbekistan, on November 22-24, 2023. PH Insulation's booth number is A05 at Pavilion 1.
UzAgroExpo will bring together agricultural experts, building design professionals, logistics specialists and will provide comprehensive insights into how to leverage the cutting-edge energy-saving technologies, to foster the rapid growth and advancement of the nation's agriculture sector. The agro-industrial complex in Uzbekistan grew by 4.1% in the first nine months of 2023, with a projected growth of 4% for 2024.
PH Insulation's energy efficient construction materials are perfect solution for construction of meat processing and dairy facilities, vegetable and fruit storages, refrigeration and freezing chambers, including controlled atmosphere storages, food production workshops and various industrial buildings.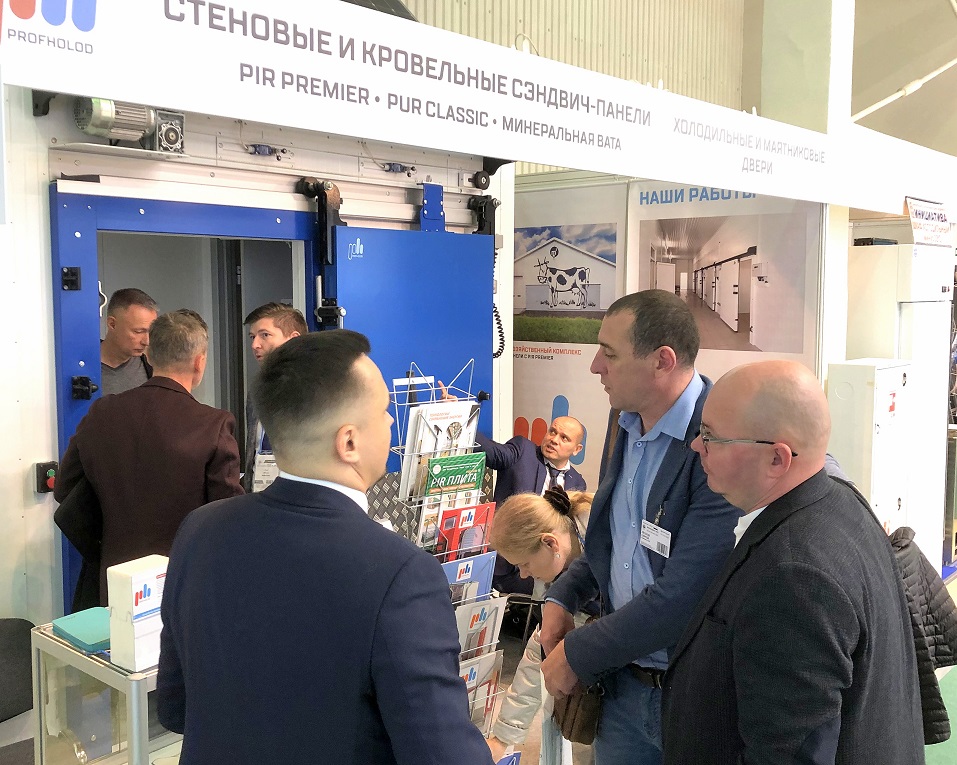 At the PH Insulation booth, visitors will be able to learn about the benefits of using:
PIR Premier wall and roof sandwich panels. Boasting a uniquely low thermal conductivity of 0.0194 W/m*K, PIR Premier sandwich panels are produced according to the European standard and have a CE certificate. PIR Premier sandwich panels are the best choice for construction of CA refrigerated chambers for ripening of fruits, berries and vegetables
PUR Classic wall sandwich panels with Italian eccentric locks, which allow to increase the strength of the structure and reduce construction time wall and roof sandwich panels with mineral wool, produced in accordance with the national GOST technical standard 32603-2021 for buildings with increased fire safety requirements
PH Insulation refrigeration doors. PH Insulation offers 18 types of doors for construction of agricultural facilities, including single- and double-leaf doors, refrigeration doors, traffic swinging doors to separate production and other premises, and special airtight sliding doors for fruit and vegetable controlled atmosphere storage modular cold rooms with eccentric locks. The modular structure enables swift assembly and disassembly of cold rooms, increasing the speed of installation due to the pre-installed door
Solar Sandwich system — a green energy combination of PIR Premier insulated panels with solar panels. The system allows to save up to 30% on air conditioning or heating multi-purpose insulated boards PIR Plita® in paper, foil, film, or fiberglass for insulation of buildings and construction of flat roofs
Especially for the agro-industrial complex and food production facilities, PH Insulation manufactures sandwich panels and doors with non-standard coatings:
Food Safe for meat, dairy shops. Absolutely safe for direct contact with food. Coating thickness: 120 µm, RUV 4, RC 5
PVDF for barns, poultry houses. PVDF boasts high corrosion resistance, high UV resistance. Coating thickness: 35 µm, RUV 4, RC 4
AISI 304, ISI 316, AISI 321 stainless steel for meat processing plants, slaughterhouses, meat cutting, cold stores for fruit storage
other coatings for specific needs
PH Insulation sandwich panels and cold room doors are designed to meet the diverse needs of the agricultural and cold chain industry, offering a wide range of color options and customizable coatings on each side, providing contractors with flexible and cost-effective solutions that align with their construction budgets. Notably, contractors often choose to employ RAL on the external surface of the walls, while opting for premium materials like stainless steel or other specialized coatings for the workshops within the building. This strategic approach ensures both functional efficiency and aesthetic excellence, further solidifying PH Insulation's commitment to delivering exceptional solutions for the business sector.
With over a decade of experience in Uzbekistan, PH Insulation has established itself as a trusted partner in the nation's agricultural industry. Currently PH Insulation takes part in discussions surrounding construction of a major fruit storage facility in Fergana. PIR Premier sandwich panels have been identified as the ideal solution for this project, providing superior insulation and energy efficiency. PH Insulation looks forward to collaborating with partners in Uzbekistan to bring this exciting project to fruition.
For a complete list of the objects you are interested in please send a request to hello@profholod.com
UzAgroExpo-2023 will be held at Uzexpocentre NEC, Tashkent, Uzbekistan on November 22-24, 2023.