Fire-proof (PIR) sandwich panels acquired the interest of the visitors of MosBuild 2012 exhibition
[26.04.2012]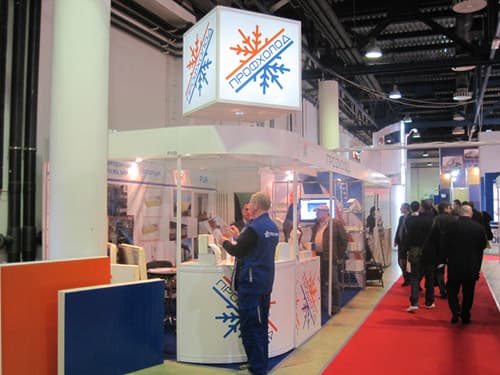 This year at MosBuild exhibition, ProfHolod demonstrated to the visitors the panels coming from the most modern in Russia line by (PuMa, Italy) for the manufacturing of structural wall and roofing sandwich panels. The line was tested in Italy and now it is under installation at the new plant in Shelkovo, Moscow region. As the heat insulator, we use polyurethane foam PUR and fire-proof polyisocyanurate PIR, the receipt of which was created under Profholod's exclusive order, by the world leading chemical manufacturer – DowChemical.
Technical solutions for construction units, presented in life-size at ProfHolod's booth, acquired a great interest of the construction field professionals, visitors of MosBuild. More and more often the design and construction organizations receive the requests from the investors, who want to erect sandwich panel buildings with superior heat insulation properties in comparison with the traditionally used in our country since the middle of the last century sandwich panels with mineral wool filler.
Sandwich panels PIR, meeting the modern energy-efficiency requirements, were presented by ProfHolod at their booth. The heat conduction coefficient of polyisocyanurate (PIR) is 0,02 W/(m*K), which allows the customer to save up to 50% of energy consumption, compared to the common building materials.

Get more news
Company news