Main page

Press releases

Reducing thermal conductivity and increasing safety: ProfHolod presents a new pin lock for sliding refrigeration doors
Reducing thermal conductivity and increasing safety: ProfHolod presents a new pin lock for sliding refrigeration doors

Array
(
    [ID] => 14586
    [~ID] => 14586
    [NAME] => Сниженная теплопроводность и повышенная безопасность: «ПрофХолод» представляет штифтовой замок собственного производства для откатных холодильных дверей
    [~NAME] => Сниженная теплопроводность и повышенная безопасность: «ПрофХолод» представляет штифтовой замок собственного производства для откатных холодильных дверей
    [IBLOCK_ID] => 1
    [~IBLOCK_ID] => 1
    [IBLOCK_SECTION_ID] => 
    [~IBLOCK_SECTION_ID] => 
    [DETAIL_TEXT] => 


	 «ПрофХолод» представляет штифтовой замок собственной разработки для откатных холодильных дверей. 






	 В конструкции нового замка учтены недостатки, присущие замкам других производителей:






	 - теплопроводность нового замка по сравнению с европейскими аналогами снижена на 10% за счет уменьшения количества металлических деталей в корпусе






	 - замок стал безопаснее: новая конструкция позволяет в случае необходимости открыть холодильную дверь изнутри






	 - за счет универсальной формы замок «ПрофХолода» можно установить взамен любого другого замка на откатных холодильных дверях












	 Игорь Приходько, начальник технического отдела Производственно-технического департамента «ПрофХолода»: «Пластиковые замки на откатных дверях в случае их поломки можно заменить на штифтовые замки «ПрофХолода» в течение 5 минут — достаточно просверлить сквозное отверстие в полотне двери, вставить замок в подготовленное отверстие и закрутить три самореза с внутренней стороны».












	 Новый замок продолжает серию усиленной фурнитуры «ПрофХолод», которая разрабатывается с учетом жестких условий эксплуатации холодильных и морозильных камер в России. В 2018 году «ПрофХолод» представил металлические кронштейны, ручки и латунные ролики для откатных дверей, которые служат в 1,5 раза дольше по сравнению с пластиковыми аналогами. В 2019 году — собственный электропривод, который в тестовом режиме прошел 150 000 циклов открывания-закрывания.












	 В 2019 году «ПрофХолод» произвел более 8 000 холодильных, маятниковых и технологических дверей 10 типов на своей и европейской фурнитуре для партнеров в России, странах СНГ и Европы.












	 По вопросам приобретения штифтовых замков и другой фурнитуры «ПрофХолода» обращайтесь к вашему персональному менеджеру или по телефону 8 (800) 700-01-37, звонок по России бесплатный.






 




    [~DETAIL_TEXT] => 


	 «ПрофХолод» представляет штифтовой замок собственной разработки для откатных холодильных дверей. 






	 В конструкции нового замка учтены недостатки, присущие замкам других производителей:






	 - теплопроводность нового замка по сравнению с европейскими аналогами снижена на 10% за счет уменьшения количества металлических деталей в корпусе






	 - замок стал безопаснее: новая конструкция позволяет в случае необходимости открыть холодильную дверь изнутри






	 - за счет универсальной формы замок «ПрофХолода» можно установить взамен любого другого замка на откатных холодильных дверях












	 Игорь Приходько, начальник технического отдела Производственно-технического департамента «ПрофХолода»: «Пластиковые замки на откатных дверях в случае их поломки можно заменить на штифтовые замки «ПрофХолода» в течение 5 минут — достаточно просверлить сквозное отверстие в полотне двери, вставить замок в подготовленное отверстие и закрутить три самореза с внутренней стороны».












	 Новый замок продолжает серию усиленной фурнитуры «ПрофХолод», которая разрабатывается с учетом жестких условий эксплуатации холодильных и морозильных камер в России. В 2018 году «ПрофХолод» представил металлические кронштейны, ручки и латунные ролики для откатных дверей, которые служат в 1,5 раза дольше по сравнению с пластиковыми аналогами. В 2019 году — собственный электропривод, который в тестовом режиме прошел 150 000 циклов открывания-закрывания.












	 В 2019 году «ПрофХолод» произвел более 8 000 холодильных, маятниковых и технологических дверей 10 типов на своей и европейской фурнитуре для партнеров в России, странах СНГ и Европы.












	 По вопросам приобретения штифтовых замков и другой фурнитуры «ПрофХолода» обращайтесь к вашему персональному менеджеру или по телефону 8 (800) 700-01-37, звонок по России бесплатный.






 




    [DETAIL_TEXT_TYPE] => html
    [~DETAIL_TEXT_TYPE] => html
    [PREVIEW_TEXT] => Новый замок продолжает линейку модернизированной фурнитуры «ПрофХолод» для холодильных дверей
    [~PREVIEW_TEXT] => Новый замок продолжает линейку модернизированной фурнитуры «ПрофХолод» для холодильных дверей
    [PREVIEW_TEXT_TYPE] => text
    [~PREVIEW_TEXT_TYPE] => text
    [DETAIL_PICTURE] => Array
        (
            [ID] => 69670
            [TIMESTAMP_X] => 06.04.2020 11:08:10
            [MODULE_ID] => iblock
            [HEIGHT] => 634
            [WIDTH] => 901
            [FILE_SIZE] => 35127
            [CONTENT_TYPE] => image/jpeg
            [SUBDIR] => iblock/b4a
            [FILE_NAME] => zamok_.jpg
            [ORIGINAL_NAME] => zamok_.jpg
            [DESCRIPTION] => 
            [HANDLER_ID] => 
            [EXTERNAL_ID] => f7890c0558e42ca1e9e06b353320e564
            [~src] => 
            [SRC] => /upload/iblock/b4a/zamok_.jpg
            [UNSAFE_SRC] => /upload/iblock/b4a/zamok_.jpg
            [SAFE_SRC] => /upload/iblock/b4a/zamok_.jpg
            [ALT] => Сниженная теплопроводность и повышенная безопасность: «ПрофХолод» представляет штифтовой замок собственного производства для откатных холодильных дверей
            [TITLE] => Сниженная теплопроводность и повышенная безопасность: «ПрофХолод» представляет штифтовой замок собственного производства для откатных холодильных дверей
        )

    [~DETAIL_PICTURE] => 69670
    [TIMESTAMP_X] => 06.04.2020 11:08:10
    [~TIMESTAMP_X] => 06.04.2020 11:08:10
    [ACTIVE_FROM] => 23.03.2020 12:01:00
    [~ACTIVE_FROM] => 23.03.2020 12:01:00
    [LIST_PAGE_URL] => /press/news/
    [~LIST_PAGE_URL] => /press/news/
    [DETAIL_PAGE_URL] => /press/news/Snizhennaya-teploprovodnost-i-povyshennaya-bezopasnost-ProfKHolod-predstavlyaet-shtiftovoy-zamok-sob/
    [~DETAIL_PAGE_URL] => /press/news/Snizhennaya-teploprovodnost-i-povyshennaya-bezopasnost-ProfKHolod-predstavlyaet-shtiftovoy-zamok-sob/
    [LANG_DIR] => /
    [~LANG_DIR] => /
    [CODE] => Snizhennaya-teploprovodnost-i-povyshennaya-bezopasnost-ProfKHolod-predstavlyaet-shtiftovoy-zamok-sob
    [~CODE] => Snizhennaya-teploprovodnost-i-povyshennaya-bezopasnost-ProfKHolod-predstavlyaet-shtiftovoy-zamok-sob
    [EXTERNAL_ID] => 14586
    [~EXTERNAL_ID] => 14586
    [IBLOCK_TYPE_ID] => news
    [~IBLOCK_TYPE_ID] => news
    [IBLOCK_CODE] => furniture_news_s1
    [~IBLOCK_CODE] => furniture_news_s1
    [IBLOCK_EXTERNAL_ID] => furniture_news_s1
    [~IBLOCK_EXTERNAL_ID] => furniture_news_s1
    [LID] => en
    [~LID] => en
    [NAV_RESULT] => 
    [DISPLAY_ACTIVE_FROM] => 23.03.2020
    [IPROPERTY_VALUES] => Array
        (
        )

    [FIELDS] => Array
        (
        )

    [PROPERTIES] => Array
        (
            [TITLE] => Array
                (
                    [ID] => 59
                    [TIMESTAMP_X] => 2020-07-16 09:03:06
                    [IBLOCK_ID] => 1
                    [NAME] => Заголовок
                    [ACTIVE] => Y
                    [SORT] => 100
                    [CODE] => TITLE
                    [DEFAULT_VALUE] => 
                    [PROPERTY_TYPE] => S
                    [ROW_COUNT] => 1
                    [COL_COUNT] => 30
                    [LIST_TYPE] => L
                    [MULTIPLE] => N
                    [XML_ID] => 59
                    [FILE_TYPE] => 
                    [MULTIPLE_CNT] => 5
                    [TMP_ID] => 
                    [LINK_IBLOCK_ID] => 0
                    [WITH_DESCRIPTION] => N
                    [SEARCHABLE] => N
                    [FILTRABLE] => N
                    [IS_REQUIRED] => N
                    [VERSION] => 1
                    [USER_TYPE] => 
                    [USER_TYPE_SETTINGS] => 
                    [HINT] => 
                    [PROPERTY_VALUE_ID] => 
                    [VALUE] => 
                    [DESCRIPTION] => 
                    [VALUE_ENUM] => 
                    [VALUE_XML_ID] => 
                    [VALUE_SORT] => 
                    [~VALUE] => 
                    [~DESCRIPTION] => 
                    [~NAME] => Заголовок
                    [~DEFAULT_VALUE] => 
                )

            [KEYWORDS] => Array
                (
                    [ID] => 60
                    [TIMESTAMP_X] => 2020-07-16 09:03:06
                    [IBLOCK_ID] => 1
                    [NAME] => Ключевые слова
                    [ACTIVE] => Y
                    [SORT] => 200
                    [CODE] => KEYWORDS
                    [DEFAULT_VALUE] => 
                    [PROPERTY_TYPE] => S
                    [ROW_COUNT] => 1
                    [COL_COUNT] => 30
                    [LIST_TYPE] => L
                    [MULTIPLE] => N
                    [XML_ID] => 60
                    [FILE_TYPE] => 
                    [MULTIPLE_CNT] => 5
                    [TMP_ID] => 
                    [LINK_IBLOCK_ID] => 0
                    [WITH_DESCRIPTION] => N
                    [SEARCHABLE] => N
                    [FILTRABLE] => N
                    [IS_REQUIRED] => N
                    [VERSION] => 1
                    [USER_TYPE] => 
                    [USER_TYPE_SETTINGS] => 
                    [HINT] => 
                    [PROPERTY_VALUE_ID] => 
                    [VALUE] => 
                    [DESCRIPTION] => 
                    [VALUE_ENUM] => 
                    [VALUE_XML_ID] => 
                    [VALUE_SORT] => 
                    [~VALUE] => 
                    [~DESCRIPTION] => 
                    [~NAME] => Ключевые слова
                    [~DEFAULT_VALUE] => 
                )

            [DESCRIPTION] => Array
                (
                    [ID] => 61
                    [TIMESTAMP_X] => 2020-07-16 09:03:06
                    [IBLOCK_ID] => 1
                    [NAME] => Описание
                    [ACTIVE] => Y
                    [SORT] => 300
                    [CODE] => DESCRIPTION
                    [DEFAULT_VALUE] => 
                    [PROPERTY_TYPE] => S
                    [ROW_COUNT] => 1
                    [COL_COUNT] => 30
                    [LIST_TYPE] => L
                    [MULTIPLE] => N
                    [XML_ID] => 61
                    [FILE_TYPE] => 
                    [MULTIPLE_CNT] => 5
                    [TMP_ID] => 
                    [LINK_IBLOCK_ID] => 0
                    [WITH_DESCRIPTION] => N
                    [SEARCHABLE] => N
                    [FILTRABLE] => N
                    [IS_REQUIRED] => N
                    [VERSION] => 1
                    [USER_TYPE] => 
                    [USER_TYPE_SETTINGS] => 
                    [HINT] => 
                    [PROPERTY_VALUE_ID] => 
                    [VALUE] => 
                    [DESCRIPTION] => 
                    [VALUE_ENUM] => 
                    [VALUE_XML_ID] => 
                    [VALUE_SORT] => 
                    [~VALUE] => 
                    [~DESCRIPTION] => 
                    [~NAME] => Описание
                    [~DEFAULT_VALUE] => 
                )

            [SUBSCRIBE_TEXT] => Array
                (
                    [ID] => 85
                    [TIMESTAMP_X] => 2020-07-16 09:03:06
                    [IBLOCK_ID] => 1
                    [NAME] => Текст для рассылки
                    [ACTIVE] => Y
                    [SORT] => 400
                    [CODE] => SUBSCRIBE_TEXT
                    [DEFAULT_VALUE] => Array
                        (
                            [TEXT] => 
                            [TYPE] => HTML
                        )

                    [PROPERTY_TYPE] => S
                    [ROW_COUNT] => 1
                    [COL_COUNT] => 30
                    [LIST_TYPE] => L
                    [MULTIPLE] => N
                    [XML_ID] => 85
                    [FILE_TYPE] => 
                    [MULTIPLE_CNT] => 5
                    [TMP_ID] => 
                    [LINK_IBLOCK_ID] => 0
                    [WITH_DESCRIPTION] => N
                    [SEARCHABLE] => N
                    [FILTRABLE] => N
                    [IS_REQUIRED] => N
                    [VERSION] => 1
                    [USER_TYPE] => HTML
                    [USER_TYPE_SETTINGS] => Array
                        (
                            [height] => 200
                        )

                    [HINT] => 
                    [PROPERTY_VALUE_ID] => 
                    [VALUE] => 
                    [DESCRIPTION] => 
                    [VALUE_ENUM] => 
                    [VALUE_XML_ID] => 
                    [VALUE_SORT] => 
                    [~VALUE] => 
                    [~DESCRIPTION] => 
                    [~NAME] => Текст для рассылки
                    [~DEFAULT_VALUE] => Array
                        (
                            [TEXT] => 
                            [TYPE] => HTML
                        )

                )

            [VIDEO] => Array
                (
                    [ID] => 89
                    [TIMESTAMP_X] => 2020-07-16 09:03:06
                    [IBLOCK_ID] => 1
                    [NAME] => Видео
                    [ACTIVE] => Y
                    [SORT] => 500
                    [CODE] => VIDEO
                    [DEFAULT_VALUE] => Array
                        (
                        )

                    [PROPERTY_TYPE] => S
                    [ROW_COUNT] => 1
                    [COL_COUNT] => 30
                    [LIST_TYPE] => L
                    [MULTIPLE] => N
                    [XML_ID] => 89
                    [FILE_TYPE] => 
                    [MULTIPLE_CNT] => 5
                    [TMP_ID] => 
                    [LINK_IBLOCK_ID] => 0
                    [WITH_DESCRIPTION] => N
                    [SEARCHABLE] => N
                    [FILTRABLE] => N
                    [IS_REQUIRED] => N
                    [VERSION] => 1
                    [USER_TYPE] => video
                    [USER_TYPE_SETTINGS] => Array
                        (
                            [BUFFER_LENGTH] => 10
                            [CONTROLBAR] => bottom
                            [AUTOSTART] => N
                            [VOLUME] => 90
                            [SKIN] => 
                            [FLASHVARS] => 
                            [WMODE_FLV] => transparent
                            [BGCOLOR] => FFFFFF
                            [COLOR] => 000000
                            [OVER_COLOR] => 000000
                            [SCREEN_COLOR] => 000000
                            [SILVERVARS] => 
                            [WMODE_WMV] => windowless
                            [WIDTH] => 400
                            [HEIGHT] => 300
                        )

                    [HINT] => 
                    [PROPERTY_VALUE_ID] => 
                    [VALUE] => Array
                        (
                        )

                    [DESCRIPTION] => 
                    [VALUE_ENUM] => 
                    [VALUE_XML_ID] => 
                    [VALUE_SORT] => 
                    [~VALUE] => Array
                        (
                        )

                    [~DESCRIPTION] => 
                    [~NAME] => Видео
                    [~DEFAULT_VALUE] => Array
                        (
                        )

                )

            [SHORT_DESCRIPTION_EMAIL] => Array
                (
                    [ID] => 520
                    [TIMESTAMP_X] => 2020-07-16 09:03:06
                    [IBLOCK_ID] => 1
                    [NAME] => Краткое описание для рассылки
                    [ACTIVE] => Y
                    [SORT] => 500
                    [CODE] => SHORT_DESCRIPTION_EMAIL
                    [DEFAULT_VALUE] => Array
                        (
                            [TEXT] => 
                            [TYPE] => HTML
                        )

                    [PROPERTY_TYPE] => S
                    [ROW_COUNT] => 1
                    [COL_COUNT] => 30
                    [LIST_TYPE] => L
                    [MULTIPLE] => N
                    [XML_ID] => 520
                    [FILE_TYPE] => 
                    [MULTIPLE_CNT] => 5
                    [TMP_ID] => 
                    [LINK_IBLOCK_ID] => 0
                    [WITH_DESCRIPTION] => N
                    [SEARCHABLE] => N
                    [FILTRABLE] => N
                    [IS_REQUIRED] => N
                    [VERSION] => 1
                    [USER_TYPE] => HTML
                    [USER_TYPE_SETTINGS] => Array
                        (
                            [height] => 200
                        )

                    [HINT] => 
                    [PROPERTY_VALUE_ID] => 
                    [VALUE] => 
                    [DESCRIPTION] => 
                    [VALUE_ENUM] => 
                    [VALUE_XML_ID] => 
                    [VALUE_SORT] => 
                    [~VALUE] => 
                    [~DESCRIPTION] => 
                    [~NAME] => Краткое описание для рассылки
                    [~DEFAULT_VALUE] => Array
                        (
                            [TEXT] => 
                            [TYPE] => HTML
                        )

                )

            [VIDEO_PREV] => Array
                (
                    [ID] => 90
                    [TIMESTAMP_X] => 2020-07-16 09:03:06
                    [IBLOCK_ID] => 1
                    [NAME] => Превью видео
                    [ACTIVE] => Y
                    [SORT] => 600
                    [CODE] => VIDEO_PREV
                    [DEFAULT_VALUE] => 
                    [PROPERTY_TYPE] => F
                    [ROW_COUNT] => 1
                    [COL_COUNT] => 30
                    [LIST_TYPE] => L
                    [MULTIPLE] => N
                    [XML_ID] => 90
                    [FILE_TYPE] => 
                    [MULTIPLE_CNT] => 5
                    [TMP_ID] => 
                    [LINK_IBLOCK_ID] => 0
                    [WITH_DESCRIPTION] => N
                    [SEARCHABLE] => N
                    [FILTRABLE] => N
                    [IS_REQUIRED] => N
                    [VERSION] => 1
                    [USER_TYPE] => 
                    [USER_TYPE_SETTINGS] => 
                    [HINT] => 
                    [PROPERTY_VALUE_ID] => 
                    [VALUE] => 
                    [DESCRIPTION] => 
                    [VALUE_ENUM] => 
                    [VALUE_XML_ID] => 
                    [VALUE_SORT] => 
                    [~VALUE] => 
                    [~DESCRIPTION] => 
                    [~NAME] => Превью видео
                    [~DEFAULT_VALUE] => 
                )

            [AFTER_VIDEO] => Array
                (
                    [ID] => 94
                    [TIMESTAMP_X] => 2020-07-16 09:03:06
                    [IBLOCK_ID] => 1
                    [NAME] => Текст после видео
                    [ACTIVE] => Y
                    [SORT] => 700
                    [CODE] => AFTER_VIDEO
                    [DEFAULT_VALUE] => Array
                        (
                            [TEXT] => 
                            [TYPE] => HTML
                        )

                    [PROPERTY_TYPE] => S
                    [ROW_COUNT] => 1
                    [COL_COUNT] => 30
                    [LIST_TYPE] => L
                    [MULTIPLE] => N
                    [XML_ID] => 94
                    [FILE_TYPE] => 
                    [MULTIPLE_CNT] => 5
                    [TMP_ID] => 
                    [LINK_IBLOCK_ID] => 0
                    [WITH_DESCRIPTION] => N
                    [SEARCHABLE] => N
                    [FILTRABLE] => N
                    [IS_REQUIRED] => N
                    [VERSION] => 1
                    [USER_TYPE] => HTML
                    [USER_TYPE_SETTINGS] => Array
                        (
                            [height] => 200
                        )

                    [HINT] => 
                    [PROPERTY_VALUE_ID] => 
                    [VALUE] => 
                    [DESCRIPTION] => 
                    [VALUE_ENUM] => 
                    [VALUE_XML_ID] => 
                    [VALUE_SORT] => 
                    [~VALUE] => 
                    [~DESCRIPTION] => 
                    [~NAME] => Текст после видео
                    [~DEFAULT_VALUE] => Array
                        (
                            [TEXT] => 
                            [TYPE] => HTML
                        )

                )

            [en_TITLE] => Array
                (
                    [ID] => 113
                    [TIMESTAMP_X] => 2020-07-16 09:03:06
                    [IBLOCK_ID] => 1
                    [NAME] => TITLE (eng.)
                    [ACTIVE] => Y
                    [SORT] => 2010
                    [CODE] => en_TITLE
                    [DEFAULT_VALUE] => 
                    [PROPERTY_TYPE] => S
                    [ROW_COUNT] => 1
                    [COL_COUNT] => 30
                    [LIST_TYPE] => L
                    [MULTIPLE] => N
                    [XML_ID] => 113
                    [FILE_TYPE] => 
                    [MULTIPLE_CNT] => 5
                    [TMP_ID] => 
                    [LINK_IBLOCK_ID] => 0
                    [WITH_DESCRIPTION] => N
                    [SEARCHABLE] => N
                    [FILTRABLE] => N
                    [IS_REQUIRED] => N
                    [VERSION] => 1
                    [USER_TYPE] => 
                    [USER_TYPE_SETTINGS] => 
                    [HINT] => 
                    [PROPERTY_VALUE_ID] => 
                    [VALUE] => 
                    [DESCRIPTION] => 
                    [VALUE_ENUM] => 
                    [VALUE_XML_ID] => 
                    [VALUE_SORT] => 
                    [~VALUE] => 
                    [~DESCRIPTION] => 
                    [~NAME] => TITLE (eng.)
                    [~DEFAULT_VALUE] => 
                )

            [en_KEYWORDS] => Array
                (
                    [ID] => 114
                    [TIMESTAMP_X] => 2020-07-16 09:03:06
                    [IBLOCK_ID] => 1
                    [NAME] => KEYWORDS (eng.)
                    [ACTIVE] => Y
                    [SORT] => 2020
                    [CODE] => en_KEYWORDS
                    [DEFAULT_VALUE] => 
                    [PROPERTY_TYPE] => S
                    [ROW_COUNT] => 1
                    [COL_COUNT] => 30
                    [LIST_TYPE] => L
                    [MULTIPLE] => N
                    [XML_ID] => 114
                    [FILE_TYPE] => 
                    [MULTIPLE_CNT] => 5
                    [TMP_ID] => 
                    [LINK_IBLOCK_ID] => 0
                    [WITH_DESCRIPTION] => N
                    [SEARCHABLE] => N
                    [FILTRABLE] => N
                    [IS_REQUIRED] => N
                    [VERSION] => 1
                    [USER_TYPE] => 
                    [USER_TYPE_SETTINGS] => 
                    [HINT] => 
                    [PROPERTY_VALUE_ID] => 
                    [VALUE] => 
                    [DESCRIPTION] => 
                    [VALUE_ENUM] => 
                    [VALUE_XML_ID] => 
                    [VALUE_SORT] => 
                    [~VALUE] => 
                    [~DESCRIPTION] => 
                    [~NAME] => KEYWORDS (eng.)
                    [~DEFAULT_VALUE] => 
                )

            [en_DESCRIPTION] => Array
                (
                    [ID] => 115
                    [TIMESTAMP_X] => 2020-07-16 09:03:06
                    [IBLOCK_ID] => 1
                    [NAME] => DESCRIPTION (eng.)
                    [ACTIVE] => Y
                    [SORT] => 2030
                    [CODE] => en_DESCRIPTION
                    [DEFAULT_VALUE] => 
                    [PROPERTY_TYPE] => S
                    [ROW_COUNT] => 1
                    [COL_COUNT] => 30
                    [LIST_TYPE] => L
                    [MULTIPLE] => N
                    [XML_ID] => 115
                    [FILE_TYPE] => 
                    [MULTIPLE_CNT] => 5
                    [TMP_ID] => 
                    [LINK_IBLOCK_ID] => 0
                    [WITH_DESCRIPTION] => N
                    [SEARCHABLE] => N
                    [FILTRABLE] => N
                    [IS_REQUIRED] => N
                    [VERSION] => 1
                    [USER_TYPE] => 
                    [USER_TYPE_SETTINGS] => 
                    [HINT] => 
                    [PROPERTY_VALUE_ID] => 
                    [VALUE] => 
                    [DESCRIPTION] => 
                    [VALUE_ENUM] => 
                    [VALUE_XML_ID] => 
                    [VALUE_SORT] => 
                    [~VALUE] => 
                    [~DESCRIPTION] => 
                    [~NAME] => DESCRIPTION (eng.)
                    [~DEFAULT_VALUE] => 
                )

            [en_SUBSCRIBE_TEXT] => Array
                (
                    [ID] => 116
                    [TIMESTAMP_X] => 2020-07-16 09:03:06
                    [IBLOCK_ID] => 1
                    [NAME] => Текст для рассылки (eng.)
                    [ACTIVE] => Y
                    [SORT] => 2040
                    [CODE] => en_SUBSCRIBE_TEXT
                    [DEFAULT_VALUE] => Array
                        (
                            [TEXT] => 
                            [TYPE] => HTML
                        )

                    [PROPERTY_TYPE] => S
                    [ROW_COUNT] => 1
                    [COL_COUNT] => 30
                    [LIST_TYPE] => L
                    [MULTIPLE] => N
                    [XML_ID] => 116
                    [FILE_TYPE] => 
                    [MULTIPLE_CNT] => 5
                    [TMP_ID] => 
                    [LINK_IBLOCK_ID] => 0
                    [WITH_DESCRIPTION] => N
                    [SEARCHABLE] => N
                    [FILTRABLE] => N
                    [IS_REQUIRED] => N
                    [VERSION] => 1
                    [USER_TYPE] => HTML
                    [USER_TYPE_SETTINGS] => Array
                        (
                            [height] => 200
                        )

                    [HINT] => 
                    [PROPERTY_VALUE_ID] => 
                    [VALUE] => 
                    [DESCRIPTION] => 
                    [VALUE_ENUM] => 
                    [VALUE_XML_ID] => 
                    [VALUE_SORT] => 
                    [~VALUE] => 
                    [~DESCRIPTION] => 
                    [~NAME] => Текст для рассылки (eng.)
                    [~DEFAULT_VALUE] => Array
                        (
                            [TEXT] => 
                            [TYPE] => HTML
                        )

                )

            [en_AFTER_VIDEO] => Array
                (
                    [ID] => 117
                    [TIMESTAMP_X] => 2020-07-16 09:03:06
                    [IBLOCK_ID] => 1
                    [NAME] => Текст после видео  (eng.)
                    [ACTIVE] => Y
                    [SORT] => 2050
                    [CODE] => en_AFTER_VIDEO
                    [DEFAULT_VALUE] => Array
                        (
                            [TEXT] => 
                            [TYPE] => HTML
                        )

                    [PROPERTY_TYPE] => S
                    [ROW_COUNT] => 1
                    [COL_COUNT] => 30
                    [LIST_TYPE] => L
                    [MULTIPLE] => N
                    [XML_ID] => 117
                    [FILE_TYPE] => 
                    [MULTIPLE_CNT] => 5
                    [TMP_ID] => 
                    [LINK_IBLOCK_ID] => 0
                    [WITH_DESCRIPTION] => N
                    [SEARCHABLE] => N
                    [FILTRABLE] => N
                    [IS_REQUIRED] => N
                    [VERSION] => 1
                    [USER_TYPE] => HTML
                    [USER_TYPE_SETTINGS] => Array
                        (
                            [height] => 200
                        )

                    [HINT] => 
                    [PROPERTY_VALUE_ID] => 
                    [VALUE] => 
                    [DESCRIPTION] => 
                    [VALUE_ENUM] => 
                    [VALUE_XML_ID] => 
                    [VALUE_SORT] => 
                    [~VALUE] => 
                    [~DESCRIPTION] => 
                    [~NAME] => Текст после видео  (eng.)
                    [~DEFAULT_VALUE] => Array
                        (
                            [TEXT] => 
                            [TYPE] => HTML
                        )

                )

            [en_NAME] => Array
                (
                    [ID] => 118
                    [TIMESTAMP_X] => 2020-07-16 09:03:06
                    [IBLOCK_ID] => 1
                    [NAME] => Название (eng.)
                    [ACTIVE] => Y
                    [SORT] => 2060
                    [CODE] => en_NAME
                    [DEFAULT_VALUE] => 
                    [PROPERTY_TYPE] => S
                    [ROW_COUNT] => 1
                    [COL_COUNT] => 30
                    [LIST_TYPE] => L
                    [MULTIPLE] => N
                    [XML_ID] => 118
                    [FILE_TYPE] => 
                    [MULTIPLE_CNT] => 5
                    [TMP_ID] => 
                    [LINK_IBLOCK_ID] => 0
                    [WITH_DESCRIPTION] => N
                    [SEARCHABLE] => N
                    [FILTRABLE] => N
                    [IS_REQUIRED] => N
                    [VERSION] => 1
                    [USER_TYPE] => 
                    [USER_TYPE_SETTINGS] => 
                    [HINT] => 
                    [PROPERTY_VALUE_ID] => 163252
                    [VALUE] => Reducing thermal conductivity and increasing safety: ProfHolod presents a new pin lock for sliding refrigeration doors
                    [DESCRIPTION] => 
                    [VALUE_ENUM] => 
                    [VALUE_XML_ID] => 
                    [VALUE_SORT] => 
                    [~VALUE] => Reducing thermal conductivity and increasing safety: ProfHolod presents a new pin lock for sliding refrigeration doors
                    [~DESCRIPTION] => 
                    [~NAME] => Название (eng.)
                    [~DEFAULT_VALUE] => 
                )

            [en_PREVIEW_TEXT] => Array
                (
                    [ID] => 119
                    [TIMESTAMP_X] => 2020-07-16 09:03:06
                    [IBLOCK_ID] => 1
                    [NAME] => Анонс (eng.)
                    [ACTIVE] => Y
                    [SORT] => 2070
                    [CODE] => en_PREVIEW_TEXT
                    [DEFAULT_VALUE] => Array
                        (
                            [TEXT] => 
                            [TYPE] => HTML
                        )

                    [PROPERTY_TYPE] => S
                    [ROW_COUNT] => 1
                    [COL_COUNT] => 30
                    [LIST_TYPE] => L
                    [MULTIPLE] => N
                    [XML_ID] => 119
                    [FILE_TYPE] => 
                    [MULTIPLE_CNT] => 5
                    [TMP_ID] => 
                    [LINK_IBLOCK_ID] => 0
                    [WITH_DESCRIPTION] => N
                    [SEARCHABLE] => N
                    [FILTRABLE] => N
                    [IS_REQUIRED] => N
                    [VERSION] => 1
                    [USER_TYPE] => HTML
                    [USER_TYPE_SETTINGS] => Array
                        (
                            [height] => 200
                        )

                    [HINT] => 
                    [PROPERTY_VALUE_ID] => 163253
                    [VALUE] => Array
                        (
                            [TEXT] => New lock expands ProfHolod's range of reinforced hardware for refrigeration doors  
                            [TYPE] => HTML
                        )

                    [DESCRIPTION] => 
                    [VALUE_ENUM] => 
                    [VALUE_XML_ID] => 
                    [VALUE_SORT] => 
                    [~VALUE] => Array
                        (
                            [TEXT] => New lock expands ProfHolod's range of reinforced hardware for refrigeration doors  
                            [TYPE] => HTML
                        )

                    [~DESCRIPTION] => 
                    [~NAME] => Анонс (eng.)
                    [~DEFAULT_VALUE] => Array
                        (
                            [TEXT] => 
                            [TYPE] => HTML
                        )

                )

            [en_DETAIL_TEXT] => Array
                (
                    [ID] => 120
                    [TIMESTAMP_X] => 2020-07-16 09:03:06
                    [IBLOCK_ID] => 1
                    [NAME] => Новость детально (eng.)
                    [ACTIVE] => Y
                    [SORT] => 2080
                    [CODE] => en_DETAIL_TEXT
                    [DEFAULT_VALUE] => Array
                        (
                            [TEXT] => 
                            [TYPE] => HTML
                        )

                    [PROPERTY_TYPE] => S
                    [ROW_COUNT] => 1
                    [COL_COUNT] => 30
                    [LIST_TYPE] => L
                    [MULTIPLE] => N
                    [XML_ID] => 120
                    [FILE_TYPE] => 
                    [MULTIPLE_CNT] => 5
                    [TMP_ID] => 
                    [LINK_IBLOCK_ID] => 0
                    [WITH_DESCRIPTION] => N
                    [SEARCHABLE] => N
                    [FILTRABLE] => N
                    [IS_REQUIRED] => N
                    [VERSION] => 1
                    [USER_TYPE] => HTML
                    [USER_TYPE_SETTINGS] => Array
                        (
                            [height] => 200
                        )

                    [HINT] => 
                    [PROPERTY_VALUE_ID] => 163254
                    [VALUE] => Array
                        (
                            [TEXT] => <p>
	 PH Insulation, which is known in Russia under the brand name ProfHolod, is proud to present a new lock for sliding refrigeration doors, designed and manufactured in-house. The new lock has been developed as an improvement over other  manufacturers' locks. 
</p>
<p>
	 It benefits from:<br>
	 - reduced thermal conductivity, 10% lower than European analogue, thanks to fewer metal parts inside the lock<br>
	 - increased safety, as the new design allows a refrigeration door to be opened from the inside if necessary  <br>
	 - universal shape design, so the lock can replace any other lock in sliding refrigeration doors<br>
 <br>
	 "It will take less then 5 mintues to replace plastic locks on sliding doors in case of breakage - just drill a through hole in the door leaf, insert the lock into the hole and twist three screws on the inside," says Igor Prikhodko, head of the PH Insulation Production and Technical Department's technical unit.<br>
 <br>
	 The new lock expands PH Insulation's range of in-house reinforced hardware which can endure the harsh treatment and operating conditions of refrigerators and freezers in Russia.
</p>
<p>
	 In 2018, PH Insulation introduced metal brackets, handles and brass rollers for sliding doors, which last 1.5 times longer compared to plastic analogues from Europe. In 2019, PH Insulation developed the electric drive, which was rolled out after extensive tests, passing 150,000 open-close cycles in test mode. Also in 2019, PH Insulation produced more than 8,000 refrigerating, swinging and technological doors in multiple varieties, with its own and European hardware, for partners in Russia, the CIS countries and Europe.<br>
 <br>
	 For consultations on choosing the right hardware for your refrigeration doors, please contact your personal manager or call +7 (495) 240-8314 landline, or +7 (925) 745-0137 on Viber, WhatsApp, or Telegram messengers.
</p>
<p>
 <img width="631" alt="zamok_.jpg" src="/upload/medialibrary/58d/zamok_.jpg" height="444" title="zamok_.jpg">
                            [TYPE] => HTML
                        )

                    [DESCRIPTION] => 
                    [VALUE_ENUM] => 
                    [VALUE_XML_ID] => 
                    [VALUE_SORT] => 
                    [~VALUE] => Array
                        (
                            [TEXT] => 


	 PH Insulation, which is known in Russia under the brand name ProfHolod, is proud to present a new lock for sliding refrigeration doors, designed and manufactured in-house. The new lock has been developed as an improvement over other  manufacturers' locks. 






	 It benefits from:

	 - reduced thermal conductivity, 10% lower than European analogue, thanks to fewer metal parts inside the lock

	 - increased safety, as the new design allows a refrigeration door to be opened from the inside if necessary  

	 - universal shape design, so the lock can replace any other lock in sliding refrigeration doors

 

	 "It will take less then 5 mintues to replace plastic locks on sliding doors in case of breakage - just drill a through hole in the door leaf, insert the lock into the hole and twist three screws on the inside," says Igor Prikhodko, head of the PH Insulation Production and Technical Department's technical unit.

 

	 The new lock expands PH Insulation's range of in-house reinforced hardware which can endure the harsh treatment and operating conditions of refrigerators and freezers in Russia.






	 In 2018, PH Insulation introduced metal brackets, handles and brass rollers for sliding doors, which last 1.5 times longer compared to plastic analogues from Europe. In 2019, PH Insulation developed the electric drive, which was rolled out after extensive tests, passing 150,000 open-close cycles in test mode. Also in 2019, PH Insulation produced more than 8,000 refrigerating, swinging and technological doors in multiple varieties, with its own and European hardware, for partners in Russia, the CIS countries and Europe.

 

	 For consultations on choosing the right hardware for your refrigeration doors, please contact your personal manager or call +7 (495) 240-8314 landline, or +7 (925) 745-0137 on Viber, WhatsApp, or Telegram messengers.






 
                            [TYPE] => HTML
                        )

                    [~DESCRIPTION] => 
                    [~NAME] => Новость детально (eng.)
                    [~DEFAULT_VALUE] => Array
                        (
                            [TEXT] => 
                            [TYPE] => HTML
                        )

                )

            [HIDE_ON_RU] => Array
                (
                    [ID] => 532
                    [TIMESTAMP_X] => 2020-07-16 09:03:06
                    [IBLOCK_ID] => 1
                    [NAME] => Не отображать на РУ
                    [ACTIVE] => Y
                    [SORT] => 2500
                    [CODE] => HIDE_ON_RU
                    [DEFAULT_VALUE] => 
                    [PROPERTY_TYPE] => L
                    [ROW_COUNT] => 1
                    [COL_COUNT] => 30
                    [LIST_TYPE] => C
                    [MULTIPLE] => N
                    [XML_ID] => 532
                    [FILE_TYPE] => 
                    [MULTIPLE_CNT] => 5
                    [TMP_ID] => 
                    [LINK_IBLOCK_ID] => 0
                    [WITH_DESCRIPTION] => N
                    [SEARCHABLE] => N
                    [FILTRABLE] => N
                    [IS_REQUIRED] => N
                    [VERSION] => 1
                    [USER_TYPE] => 
                    [USER_TYPE_SETTINGS] => 
                    [HINT] => 
                    [PROPERTY_VALUE_ID] => 
                    [VALUE] => 
                    [DESCRIPTION] => 
                    [VALUE_ENUM] => 
                    [VALUE_XML_ID] => 
                    [VALUE_SORT] => 
                    [VALUE_ENUM_ID] => 
                    [~VALUE] => 
                    [~DESCRIPTION] => 
                    [~NAME] => Не отображать на РУ
                    [~DEFAULT_VALUE] => 
                )

        )

    [DISPLAY_PROPERTIES] => Array
        (
        )

    [IBLOCK] => Array
        (
            [ID] => 1
            [~ID] => 1
            [TIMESTAMP_X] => 26.05.2020 15:55:21
            [~TIMESTAMP_X] => 26.05.2020 15:55:21
            [IBLOCK_TYPE_ID] => news
            [~IBLOCK_TYPE_ID] => news
            [LID] => en
            [~LID] => en
            [CODE] => furniture_news_s1
            [~CODE] => furniture_news_s1
            [NAME] => Новые продукты и решения
            [~NAME] => Новые продукты и решения
            [ACTIVE] => Y
            [~ACTIVE] => Y
            [SORT] => 500
            [~SORT] => 500
            [LIST_PAGE_URL] => /news/press/
            [~LIST_PAGE_URL] => /news/press/
            [DETAIL_PAGE_URL] => #SITE_DIR#press/news/#ELEMENT_CODE#/
            [~DETAIL_PAGE_URL] => #SITE_DIR#press/news/#ELEMENT_CODE#/
            [SECTION_PAGE_URL] => 
            [~SECTION_PAGE_URL] => 
            [PICTURE] => 
            [~PICTURE] => 
            [DESCRIPTION] => 
            [~DESCRIPTION] => 
            [DESCRIPTION_TYPE] => text
            [~DESCRIPTION_TYPE] => text
            [RSS_TTL] => 24
            [~RSS_TTL] => 24
            [RSS_ACTIVE] => Y
            [~RSS_ACTIVE] => Y
            [RSS_FILE_ACTIVE] => N
            [~RSS_FILE_ACTIVE] => N
            [RSS_FILE_LIMIT] => 0
            [~RSS_FILE_LIMIT] => 0
            [RSS_FILE_DAYS] => 0
            [~RSS_FILE_DAYS] => 0
            [RSS_YANDEX_ACTIVE] => N
            [~RSS_YANDEX_ACTIVE] => N
            [XML_ID] => furniture_news_s1
            [~XML_ID] => furniture_news_s1
            [TMP_ID] => 
            [~TMP_ID] => 
            [INDEX_ELEMENT] => Y
            [~INDEX_ELEMENT] => Y
            [INDEX_SECTION] => N
            [~INDEX_SECTION] => N
            [WORKFLOW] => N
            [~WORKFLOW] => N
            [BIZPROC] => N
            [~BIZPROC] => N
            [SECTION_CHOOSER] => L
            [~SECTION_CHOOSER] => L
            [LIST_MODE] => 
            [~LIST_MODE] => 
            [VERSION] => 1
            [~VERSION] => 1
            [LAST_CONV_ELEMENT] => 0
            [~LAST_CONV_ELEMENT] => 0
            [EDIT_FILE_BEFORE] => 
            [~EDIT_FILE_BEFORE] => 
            [EDIT_FILE_AFTER] => 
            [~EDIT_FILE_AFTER] => 
            [SECTIONS_NAME] => Разделы
            [~SECTIONS_NAME] => Разделы
            [SECTION_NAME] => Раздел
            [~SECTION_NAME] => Раздел
            [ELEMENTS_NAME] => Новости
            [~ELEMENTS_NAME] => Новости
            [ELEMENT_NAME] => Новость
            [~ELEMENT_NAME] => Новость
            [SOCNET_GROUP_ID] => 
            [~SOCNET_GROUP_ID] => 
            [RIGHTS_MODE] => S
            [~RIGHTS_MODE] => S
            [SECTION_PROPERTY] => 
            [~SECTION_PROPERTY] => 
            [PROPERTY_INDEX] => 
            [~PROPERTY_INDEX] => 
            [CANONICAL_PAGE_URL] => 
            [~CANONICAL_PAGE_URL] => 
            [EXTERNAL_ID] => furniture_news_s1
            [~EXTERNAL_ID] => furniture_news_s1
            [LANG_DIR] => /
            [~LANG_DIR] => /
            [SERVER_NAME] => profholod.com
            [~SERVER_NAME] => profholod.com
        )

    [SECTION] => Array
        (
            [PATH] => Array
                (
                )

        )

    [SECTION_URL] => 
    [META_TAGS] => Array
        (
            [BROWSER_TITLE] => 
            [KEYWORDS] => 
            [DESCRIPTION] => 
        )

    [META_TEMPLATES] => Array
        (
            [TITLE] => Reducing thermal conductivity and increasing safety: ProfHolod presents a new pin lock for sliding refrigeration doors - News Profholod
            [KEYWORDS] => 
            [DESCRIPTION] => New lock expands ProfHolod's range of reinforced hardware for refrigeration doors  
            [H1] => Reducing thermal conductivity and increasing safety: ProfHolod presents a new pin lock for sliding refrigeration doors
        )

    [EN_NAME] => Reducing thermal conductivity and increasing safety: ProfHolod presents a new pin lock for sliding refrigeration doors
    [EN_DETAIL_TEXT] => Array
        (
            [TEXT] => <p>
	 PH Insulation, which is known in Russia under the brand name ProfHolod, is proud to present a new lock for sliding refrigeration doors, designed and manufactured in-house. The new lock has been developed as an improvement over other  manufacturers' locks. 
</p>
<p>
	 It benefits from:<br>
	 - reduced thermal conductivity, 10% lower than European analogue, thanks to fewer metal parts inside the lock<br>
	 - increased safety, as the new design allows a refrigeration door to be opened from the inside if necessary  <br>
	 - universal shape design, so the lock can replace any other lock in sliding refrigeration doors<br>
 <br>
	 "It will take less then 5 mintues to replace plastic locks on sliding doors in case of breakage - just drill a through hole in the door leaf, insert the lock into the hole and twist three screws on the inside," says Igor Prikhodko, head of the PH Insulation Production and Technical Department's technical unit.<br>
 <br>
	 The new lock expands PH Insulation's range of in-house reinforced hardware which can endure the harsh treatment and operating conditions of refrigerators and freezers in Russia.
</p>
<p>
	 In 2018, PH Insulation introduced metal brackets, handles and brass rollers for sliding doors, which last 1.5 times longer compared to plastic analogues from Europe. In 2019, PH Insulation developed the electric drive, which was rolled out after extensive tests, passing 150,000 open-close cycles in test mode. Also in 2019, PH Insulation produced more than 8,000 refrigerating, swinging and technological doors in multiple varieties, with its own and European hardware, for partners in Russia, the CIS countries and Europe.<br>
 <br>
	 For consultations on choosing the right hardware for your refrigeration doors, please contact your personal manager or call +7 (495) 240-8314 landline, or +7 (925) 745-0137 on Viber, WhatsApp, or Telegram messengers.
</p>
<p>
 <img width="631" alt="zamok_.jpg" src="/upload/medialibrary/58d/zamok_.jpg" height="444" title="zamok_.jpg">
            [TYPE] => HTML
        )

)

[23.03.2020]
PH Insulation, which is known in Russia under the brand name ProfHolod, is proud to present a new lock for sliding refrigeration doors, designed and manufactured in-house. The new lock has been developed as an improvement over other manufacturers' locks.
It benefits from:
- reduced thermal conductivity, 10% lower than European analogue, thanks to fewer metal parts inside the lock
- increased safety, as the new design allows a refrigeration door to be opened from the inside if necessary
- universal shape design, so the lock can replace any other lock in sliding refrigeration doors

"It will take less then 5 mintues to replace plastic locks on sliding doors in case of breakage - just drill a through hole in the door leaf, insert the lock into the hole and twist three screws on the inside," says Igor Prikhodko, head of the PH Insulation Production and Technical Department's technical unit.

The new lock expands PH Insulation's range of in-house reinforced hardware which can endure the harsh treatment and operating conditions of refrigerators and freezers in Russia.
In 2018, PH Insulation introduced metal brackets, handles and brass rollers for sliding doors, which last 1.5 times longer compared to plastic analogues from Europe. In 2019, PH Insulation developed the electric drive, which was rolled out after extensive tests, passing 150,000 open-close cycles in test mode. Also in 2019, PH Insulation produced more than 8,000 refrigerating, swinging and technological doors in multiple varieties, with its own and European hardware, for partners in Russia, the CIS countries and Europe.

For consultations on choosing the right hardware for your refrigeration doors, please contact your personal manager or call +7 (495) 240-8314 landline, or +7 (925) 745-0137 on Viber, WhatsApp, or Telegram messengers.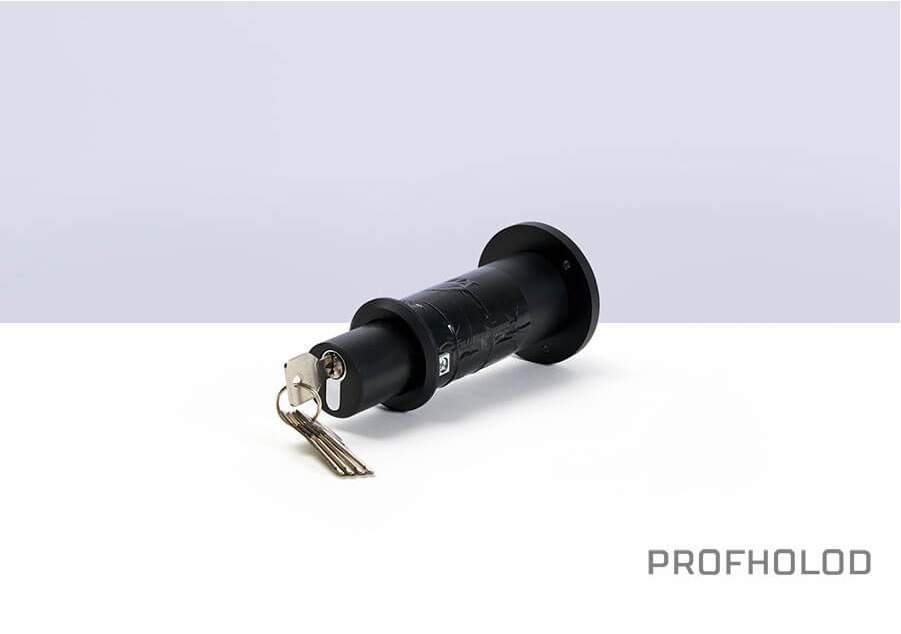 Back to
Company news