Main page

Press releases

The magnificent eight: ProfHolod manufactured more than 8 000 cold room and industrial doors in 2019
The magnificent eight: ProfHolod manufactured more than 8 000 cold room and industrial doors in 2019

Array
(
    [ID] => 14525
    [~ID] => 14525
    [NAME] => «ПрофХолод» произвел с начала года более 8 тысяч холодильных и промышленных дверей
    [~NAME] => «ПрофХолод» произвел с начала года более 8 тысяч холодильных и промышленных дверей
    [IBLOCK_ID] => 1
    [~IBLOCK_ID] => 1
    [IBLOCK_SECTION_ID] => 
    [~IBLOCK_SECTION_ID] => 
    [DETAIL_TEXT] => 


	 21 декабря 2019 года «ПрофХолод» произвел 8-тысячную дверь с начала года – распашную одностворчатую полупотайную. Юбилейная холодильная дверь размером 1200 мм на 1850 мм и толщиной 80 мм стандартного белого цвета RAL 9003/RAL 9003 поможет расширить холодильную камеру на фармацевтическом производстве в подмосковном Подольске. В комплексную поставку вошли две двери РДОП и более 80 кв. м сэндвич-панелей толщиной 80 мм.






	 Распашные полупотайные двери производства «ПрофХолод» утоплены в раму для эффективного прерывания мостов холода и выступают из стены на 40 мм независимо от толщины полотна. Двери «ПрофХолод» комплектуются фурнитурой признанных мировых лидеров: французского производителя «Фермод» или немецкого «Райбах».






	 «ПрофХолод» открыл производство дверей в 2008 году и в настоящее время производит 10 типов дверей для холодильных камер и производственных помещений: распашные, откатные, технологические, маятниковые, вентиляционные клапаны для фрукто- и овощехранилищ. Для теплоизоляции дверей используется жесткий пенополиуретан PUR Classic плотностью до 50 кг/м2. Коэффициент теплопроводности 0,022 Вт/(м*К).






	 Двери «ПрофХолода» установлены на объектах в более чем 10 странах мира, включая Израиль, США, Армению, Грузию, Беларусь, Казахстан, Таджикистан, Узбекистан.






   



    [~DETAIL_TEXT] => 


	 21 декабря 2019 года «ПрофХолод» произвел 8-тысячную дверь с начала года – распашную одностворчатую полупотайную. Юбилейная холодильная дверь размером 1200 мм на 1850 мм и толщиной 80 мм стандартного белого цвета RAL 9003/RAL 9003 поможет расширить холодильную камеру на фармацевтическом производстве в подмосковном Подольске. В комплексную поставку вошли две двери РДОП и более 80 кв. м сэндвич-панелей толщиной 80 мм.






	 Распашные полупотайные двери производства «ПрофХолод» утоплены в раму для эффективного прерывания мостов холода и выступают из стены на 40 мм независимо от толщины полотна. Двери «ПрофХолод» комплектуются фурнитурой признанных мировых лидеров: французского производителя «Фермод» или немецкого «Райбах».






	 «ПрофХолод» открыл производство дверей в 2008 году и в настоящее время производит 10 типов дверей для холодильных камер и производственных помещений: распашные, откатные, технологические, маятниковые, вентиляционные клапаны для фрукто- и овощехранилищ. Для теплоизоляции дверей используется жесткий пенополиуретан PUR Classic плотностью до 50 кг/м2. Коэффициент теплопроводности 0,022 Вт/(м*К).






	 Двери «ПрофХолода» установлены на объектах в более чем 10 странах мира, включая Израиль, США, Армению, Грузию, Беларусь, Казахстан, Таджикистан, Узбекистан.






   



    [DETAIL_TEXT_TYPE] => html
    [~DETAIL_TEXT_TYPE] => html
    [PREVIEW_TEXT] => Юбилейная 8-тысячная дверь произведена для фармацевтического производства в Подмосковье
    [~PREVIEW_TEXT] => Юбилейная 8-тысячная дверь произведена для фармацевтического производства в Подмосковье
    [PREVIEW_TEXT_TYPE] => text
    [~PREVIEW_TEXT_TYPE] => text
    [DETAIL_PICTURE] => 
    [~DETAIL_PICTURE] => 
    [TIMESTAMP_X] => 23.04.2020 13:57:48
    [~TIMESTAMP_X] => 23.04.2020 13:57:48
    [ACTIVE_FROM] => 25.12.2019 13:51:00
    [~ACTIVE_FROM] => 25.12.2019 13:51:00
    [LIST_PAGE_URL] => /press/news/
    [~LIST_PAGE_URL] => /press/news/
    [DETAIL_PAGE_URL] => /press/news/ProfKHolod-proizvel-s-nachala-goda-bolee-8-tysyach-kholodilnykh-i-promyshlennykh-dverey/
    [~DETAIL_PAGE_URL] => /press/news/ProfKHolod-proizvel-s-nachala-goda-bolee-8-tysyach-kholodilnykh-i-promyshlennykh-dverey/
    [LANG_DIR] => /
    [~LANG_DIR] => /
    [CODE] => ProfKHolod-proizvel-s-nachala-goda-bolee-8-tysyach-kholodilnykh-i-promyshlennykh-dverey
    [~CODE] => ProfKHolod-proizvel-s-nachala-goda-bolee-8-tysyach-kholodilnykh-i-promyshlennykh-dverey
    [EXTERNAL_ID] => 14525
    [~EXTERNAL_ID] => 14525
    [IBLOCK_TYPE_ID] => news
    [~IBLOCK_TYPE_ID] => news
    [IBLOCK_CODE] => furniture_news_s1
    [~IBLOCK_CODE] => furniture_news_s1
    [IBLOCK_EXTERNAL_ID] => furniture_news_s1
    [~IBLOCK_EXTERNAL_ID] => furniture_news_s1
    [LID] => en
    [~LID] => en
    [NAV_RESULT] => 
    [DISPLAY_ACTIVE_FROM] => 25.12.2019
    [IPROPERTY_VALUES] => Array
        (
        )

    [FIELDS] => Array
        (
        )

    [PROPERTIES] => Array
        (
            [TITLE] => Array
                (
                    [ID] => 59
                    [TIMESTAMP_X] => 2019-01-11 17:32:41
                    [IBLOCK_ID] => 1
                    [NAME] => Заголовок
                    [ACTIVE] => Y
                    [SORT] => 100
                    [CODE] => TITLE
                    [DEFAULT_VALUE] => 
                    [PROPERTY_TYPE] => S
                    [ROW_COUNT] => 1
                    [COL_COUNT] => 30
                    [LIST_TYPE] => L
                    [MULTIPLE] => N
                    [XML_ID] => 
                    [FILE_TYPE] => 
                    [MULTIPLE_CNT] => 5
                    [TMP_ID] => 
                    [LINK_IBLOCK_ID] => 0
                    [WITH_DESCRIPTION] => N
                    [SEARCHABLE] => N
                    [FILTRABLE] => N
                    [IS_REQUIRED] => N
                    [VERSION] => 1
                    [USER_TYPE] => 
                    [USER_TYPE_SETTINGS] => 
                    [HINT] => 
                    [PROPERTY_VALUE_ID] => 
                    [VALUE] => 
                    [DESCRIPTION] => 
                    [VALUE_ENUM] => 
                    [VALUE_XML_ID] => 
                    [VALUE_SORT] => 
                    [~VALUE] => 
                    [~DESCRIPTION] => 
                    [~NAME] => Заголовок
                    [~DEFAULT_VALUE] => 
                )

            [KEYWORDS] => Array
                (
                    [ID] => 60
                    [TIMESTAMP_X] => 2019-01-11 17:32:41
                    [IBLOCK_ID] => 1
                    [NAME] => Ключевые слова
                    [ACTIVE] => Y
                    [SORT] => 200
                    [CODE] => KEYWORDS
                    [DEFAULT_VALUE] => 
                    [PROPERTY_TYPE] => S
                    [ROW_COUNT] => 1
                    [COL_COUNT] => 30
                    [LIST_TYPE] => L
                    [MULTIPLE] => N
                    [XML_ID] => 
                    [FILE_TYPE] => 
                    [MULTIPLE_CNT] => 5
                    [TMP_ID] => 
                    [LINK_IBLOCK_ID] => 0
                    [WITH_DESCRIPTION] => N
                    [SEARCHABLE] => N
                    [FILTRABLE] => N
                    [IS_REQUIRED] => N
                    [VERSION] => 1
                    [USER_TYPE] => 
                    [USER_TYPE_SETTINGS] => 
                    [HINT] => 
                    [PROPERTY_VALUE_ID] => 
                    [VALUE] => 
                    [DESCRIPTION] => 
                    [VALUE_ENUM] => 
                    [VALUE_XML_ID] => 
                    [VALUE_SORT] => 
                    [~VALUE] => 
                    [~DESCRIPTION] => 
                    [~NAME] => Ключевые слова
                    [~DEFAULT_VALUE] => 
                )

            [DESCRIPTION] => Array
                (
                    [ID] => 61
                    [TIMESTAMP_X] => 2019-01-11 17:32:41
                    [IBLOCK_ID] => 1
                    [NAME] => Описание
                    [ACTIVE] => Y
                    [SORT] => 300
                    [CODE] => DESCRIPTION
                    [DEFAULT_VALUE] => 
                    [PROPERTY_TYPE] => S
                    [ROW_COUNT] => 1
                    [COL_COUNT] => 30
                    [LIST_TYPE] => L
                    [MULTIPLE] => N
                    [XML_ID] => 
                    [FILE_TYPE] => 
                    [MULTIPLE_CNT] => 5
                    [TMP_ID] => 
                    [LINK_IBLOCK_ID] => 0
                    [WITH_DESCRIPTION] => N
                    [SEARCHABLE] => N
                    [FILTRABLE] => N
                    [IS_REQUIRED] => N
                    [VERSION] => 1
                    [USER_TYPE] => 
                    [USER_TYPE_SETTINGS] => 
                    [HINT] => 
                    [PROPERTY_VALUE_ID] => 164544
                    [VALUE] => 21 декабря 2019 года «ПрофХолод» произвел 8-тысячную дверь с начала года – распашную одностворчатую полупотайную. Юбилейная холодильная дверь поможет расширить холодильную камеру на фармацевтическом производстве в подмосковном Подольске
                    [DESCRIPTION] => 
                    [VALUE_ENUM] => 
                    [VALUE_XML_ID] => 
                    [VALUE_SORT] => 
                    [~VALUE] => 21 декабря 2019 года «ПрофХолод» произвел 8-тысячную дверь с начала года – распашную одностворчатую полупотайную. Юбилейная холодильная дверь поможет расширить холодильную камеру на фармацевтическом производстве в подмосковном Подольске
                    [~DESCRIPTION] => 
                    [~NAME] => Описание
                    [~DEFAULT_VALUE] => 
                )

            [SUBSCRIBE_TEXT] => Array
                (
                    [ID] => 85
                    [TIMESTAMP_X] => 2019-01-11 17:32:41
                    [IBLOCK_ID] => 1
                    [NAME] => Текст для рассылки
                    [ACTIVE] => Y
                    [SORT] => 400
                    [CODE] => SUBSCRIBE_TEXT
                    [DEFAULT_VALUE] => Array
                        (
                            [TEXT] => 
                            [TYPE] => HTML
                        )

                    [PROPERTY_TYPE] => S
                    [ROW_COUNT] => 1
                    [COL_COUNT] => 30
                    [LIST_TYPE] => L
                    [MULTIPLE] => N
                    [XML_ID] => 
                    [FILE_TYPE] => 
                    [MULTIPLE_CNT] => 5
                    [TMP_ID] => 
                    [LINK_IBLOCK_ID] => 0
                    [WITH_DESCRIPTION] => N
                    [SEARCHABLE] => N
                    [FILTRABLE] => N
                    [IS_REQUIRED] => N
                    [VERSION] => 1
                    [USER_TYPE] => HTML
                    [USER_TYPE_SETTINGS] => Array
                        (
                            [height] => 200
                        )

                    [HINT] => 
                    [PROPERTY_VALUE_ID] => 
                    [VALUE] => 
                    [DESCRIPTION] => 
                    [VALUE_ENUM] => 
                    [VALUE_XML_ID] => 
                    [VALUE_SORT] => 
                    [~VALUE] => 
                    [~DESCRIPTION] => 
                    [~NAME] => Текст для рассылки
                    [~DEFAULT_VALUE] => Array
                        (
                            [TEXT] => 
                            [TYPE] => HTML
                        )

                )

            [VIDEO] => Array
                (
                    [ID] => 89
                    [TIMESTAMP_X] => 2019-01-11 17:32:41
                    [IBLOCK_ID] => 1
                    [NAME] => Видео
                    [ACTIVE] => Y
                    [SORT] => 500
                    [CODE] => VIDEO
                    [DEFAULT_VALUE] => Array
                        (
                        )

                    [PROPERTY_TYPE] => S
                    [ROW_COUNT] => 1
                    [COL_COUNT] => 30
                    [LIST_TYPE] => L
                    [MULTIPLE] => N
                    [XML_ID] => 
                    [FILE_TYPE] => 
                    [MULTIPLE_CNT] => 5
                    [TMP_ID] => 
                    [LINK_IBLOCK_ID] => 0
                    [WITH_DESCRIPTION] => N
                    [SEARCHABLE] => N
                    [FILTRABLE] => N
                    [IS_REQUIRED] => N
                    [VERSION] => 1
                    [USER_TYPE] => video
                    [USER_TYPE_SETTINGS] => Array
                        (
                            [BUFFER_LENGTH] => 10
                            [CONTROLBAR] => bottom
                            [AUTOSTART] => N
                            [VOLUME] => 90
                            [SKIN] => 
                            [FLASHVARS] => 
                            [WMODE_FLV] => transparent
                            [BGCOLOR] => FFFFFF
                            [COLOR] => 000000
                            [OVER_COLOR] => 000000
                            [SCREEN_COLOR] => 000000
                            [SILVERVARS] => 
                            [WMODE_WMV] => windowless
                            [WIDTH] => 400
                            [HEIGHT] => 300
                        )

                    [HINT] => 
                    [PROPERTY_VALUE_ID] => 
                    [VALUE] => Array
                        (
                        )

                    [DESCRIPTION] => 
                    [VALUE_ENUM] => 
                    [VALUE_XML_ID] => 
                    [VALUE_SORT] => 
                    [~VALUE] => Array
                        (
                        )

                    [~DESCRIPTION] => 
                    [~NAME] => Видео
                    [~DEFAULT_VALUE] => Array
                        (
                        )

                )

            [SHORT_DESCRIPTION_EMAIL] => Array
                (
                    [ID] => 520
                    [TIMESTAMP_X] => 2019-07-25 15:58:49
                    [IBLOCK_ID] => 1
                    [NAME] => Краткое описание для рассылки
                    [ACTIVE] => Y
                    [SORT] => 500
                    [CODE] => SHORT_DESCRIPTION_EMAIL
                    [DEFAULT_VALUE] => Array
                        (
                            [TEXT] => 
                            [TYPE] => HTML
                        )

                    [PROPERTY_TYPE] => S
                    [ROW_COUNT] => 1
                    [COL_COUNT] => 30
                    [LIST_TYPE] => L
                    [MULTIPLE] => N
                    [XML_ID] => 
                    [FILE_TYPE] => 
                    [MULTIPLE_CNT] => 5
                    [TMP_ID] => 
                    [LINK_IBLOCK_ID] => 0
                    [WITH_DESCRIPTION] => N
                    [SEARCHABLE] => N
                    [FILTRABLE] => N
                    [IS_REQUIRED] => N
                    [VERSION] => 1
                    [USER_TYPE] => HTML
                    [USER_TYPE_SETTINGS] => Array
                        (
                            [height] => 200
                        )

                    [HINT] => 
                    [PROPERTY_VALUE_ID] => 
                    [VALUE] => 
                    [DESCRIPTION] => 
                    [VALUE_ENUM] => 
                    [VALUE_XML_ID] => 
                    [VALUE_SORT] => 
                    [~VALUE] => 
                    [~DESCRIPTION] => 
                    [~NAME] => Краткое описание для рассылки
                    [~DEFAULT_VALUE] => Array
                        (
                            [TEXT] => 
                            [TYPE] => HTML
                        )

                )

            [VIDEO_PREV] => Array
                (
                    [ID] => 90
                    [TIMESTAMP_X] => 2019-01-11 17:32:41
                    [IBLOCK_ID] => 1
                    [NAME] => Превью видео
                    [ACTIVE] => Y
                    [SORT] => 600
                    [CODE] => VIDEO_PREV
                    [DEFAULT_VALUE] => 
                    [PROPERTY_TYPE] => F
                    [ROW_COUNT] => 1
                    [COL_COUNT] => 30
                    [LIST_TYPE] => L
                    [MULTIPLE] => N
                    [XML_ID] => 
                    [FILE_TYPE] => 
                    [MULTIPLE_CNT] => 5
                    [TMP_ID] => 
                    [LINK_IBLOCK_ID] => 0
                    [WITH_DESCRIPTION] => N
                    [SEARCHABLE] => N
                    [FILTRABLE] => N
                    [IS_REQUIRED] => N
                    [VERSION] => 1
                    [USER_TYPE] => 
                    [USER_TYPE_SETTINGS] => 
                    [HINT] => 
                    [PROPERTY_VALUE_ID] => 
                    [VALUE] => 
                    [DESCRIPTION] => 
                    [VALUE_ENUM] => 
                    [VALUE_XML_ID] => 
                    [VALUE_SORT] => 
                    [~VALUE] => 
                    [~DESCRIPTION] => 
                    [~NAME] => Превью видео
                    [~DEFAULT_VALUE] => 
                )

            [AFTER_VIDEO] => Array
                (
                    [ID] => 94
                    [TIMESTAMP_X] => 2019-01-11 17:32:41
                    [IBLOCK_ID] => 1
                    [NAME] => Текст после видео
                    [ACTIVE] => Y
                    [SORT] => 700
                    [CODE] => AFTER_VIDEO
                    [DEFAULT_VALUE] => Array
                        (
                            [TEXT] => 
                            [TYPE] => HTML
                        )

                    [PROPERTY_TYPE] => S
                    [ROW_COUNT] => 1
                    [COL_COUNT] => 30
                    [LIST_TYPE] => L
                    [MULTIPLE] => N
                    [XML_ID] => 
                    [FILE_TYPE] => 
                    [MULTIPLE_CNT] => 5
                    [TMP_ID] => 
                    [LINK_IBLOCK_ID] => 0
                    [WITH_DESCRIPTION] => N
                    [SEARCHABLE] => N
                    [FILTRABLE] => N
                    [IS_REQUIRED] => N
                    [VERSION] => 1
                    [USER_TYPE] => HTML
                    [USER_TYPE_SETTINGS] => Array
                        (
                            [height] => 200
                        )

                    [HINT] => 
                    [PROPERTY_VALUE_ID] => 
                    [VALUE] => 
                    [DESCRIPTION] => 
                    [VALUE_ENUM] => 
                    [VALUE_XML_ID] => 
                    [VALUE_SORT] => 
                    [~VALUE] => 
                    [~DESCRIPTION] => 
                    [~NAME] => Текст после видео
                    [~DEFAULT_VALUE] => Array
                        (
                            [TEXT] => 
                            [TYPE] => HTML
                        )

                )

            [en_TITLE] => Array
                (
                    [ID] => 113
                    [TIMESTAMP_X] => 2019-01-11 17:32:41
                    [IBLOCK_ID] => 1
                    [NAME] => TITLE (eng.)
                    [ACTIVE] => Y
                    [SORT] => 2010
                    [CODE] => en_TITLE
                    [DEFAULT_VALUE] => 
                    [PROPERTY_TYPE] => S
                    [ROW_COUNT] => 1
                    [COL_COUNT] => 30
                    [LIST_TYPE] => L
                    [MULTIPLE] => N
                    [XML_ID] => 
                    [FILE_TYPE] => 
                    [MULTIPLE_CNT] => 5
                    [TMP_ID] => 
                    [LINK_IBLOCK_ID] => 0
                    [WITH_DESCRIPTION] => N
                    [SEARCHABLE] => N
                    [FILTRABLE] => N
                    [IS_REQUIRED] => N
                    [VERSION] => 1
                    [USER_TYPE] => 
                    [USER_TYPE_SETTINGS] => 
                    [HINT] => 
                    [PROPERTY_VALUE_ID] => 
                    [VALUE] => 
                    [DESCRIPTION] => 
                    [VALUE_ENUM] => 
                    [VALUE_XML_ID] => 
                    [VALUE_SORT] => 
                    [~VALUE] => 
                    [~DESCRIPTION] => 
                    [~NAME] => TITLE (eng.)
                    [~DEFAULT_VALUE] => 
                )

            [en_KEYWORDS] => Array
                (
                    [ID] => 114
                    [TIMESTAMP_X] => 2019-01-11 17:32:41
                    [IBLOCK_ID] => 1
                    [NAME] => KEYWORDS (eng.)
                    [ACTIVE] => Y
                    [SORT] => 2020
                    [CODE] => en_KEYWORDS
                    [DEFAULT_VALUE] => 
                    [PROPERTY_TYPE] => S
                    [ROW_COUNT] => 1
                    [COL_COUNT] => 30
                    [LIST_TYPE] => L
                    [MULTIPLE] => N
                    [XML_ID] => 
                    [FILE_TYPE] => 
                    [MULTIPLE_CNT] => 5
                    [TMP_ID] => 
                    [LINK_IBLOCK_ID] => 0
                    [WITH_DESCRIPTION] => N
                    [SEARCHABLE] => N
                    [FILTRABLE] => N
                    [IS_REQUIRED] => N
                    [VERSION] => 1
                    [USER_TYPE] => 
                    [USER_TYPE_SETTINGS] => 
                    [HINT] => 
                    [PROPERTY_VALUE_ID] => 
                    [VALUE] => 
                    [DESCRIPTION] => 
                    [VALUE_ENUM] => 
                    [VALUE_XML_ID] => 
                    [VALUE_SORT] => 
                    [~VALUE] => 
                    [~DESCRIPTION] => 
                    [~NAME] => KEYWORDS (eng.)
                    [~DEFAULT_VALUE] => 
                )

            [en_DESCRIPTION] => Array
                (
                    [ID] => 115
                    [TIMESTAMP_X] => 2019-01-11 17:32:41
                    [IBLOCK_ID] => 1
                    [NAME] => DESCRIPTION (eng.)
                    [ACTIVE] => Y
                    [SORT] => 2030
                    [CODE] => en_DESCRIPTION
                    [DEFAULT_VALUE] => 
                    [PROPERTY_TYPE] => S
                    [ROW_COUNT] => 1
                    [COL_COUNT] => 30
                    [LIST_TYPE] => L
                    [MULTIPLE] => N
                    [XML_ID] => 
                    [FILE_TYPE] => 
                    [MULTIPLE_CNT] => 5
                    [TMP_ID] => 
                    [LINK_IBLOCK_ID] => 0
                    [WITH_DESCRIPTION] => N
                    [SEARCHABLE] => N
                    [FILTRABLE] => N
                    [IS_REQUIRED] => N
                    [VERSION] => 1
                    [USER_TYPE] => 
                    [USER_TYPE_SETTINGS] => 
                    [HINT] => 
                    [PROPERTY_VALUE_ID] => 
                    [VALUE] => 
                    [DESCRIPTION] => 
                    [VALUE_ENUM] => 
                    [VALUE_XML_ID] => 
                    [VALUE_SORT] => 
                    [~VALUE] => 
                    [~DESCRIPTION] => 
                    [~NAME] => DESCRIPTION (eng.)
                    [~DEFAULT_VALUE] => 
                )

            [en_SUBSCRIBE_TEXT] => Array
                (
                    [ID] => 116
                    [TIMESTAMP_X] => 2019-01-11 17:32:41
                    [IBLOCK_ID] => 1
                    [NAME] => Текст для рассылки (eng.)
                    [ACTIVE] => Y
                    [SORT] => 2040
                    [CODE] => en_SUBSCRIBE_TEXT
                    [DEFAULT_VALUE] => Array
                        (
                            [TEXT] => 
                            [TYPE] => HTML
                        )

                    [PROPERTY_TYPE] => S
                    [ROW_COUNT] => 1
                    [COL_COUNT] => 30
                    [LIST_TYPE] => L
                    [MULTIPLE] => N
                    [XML_ID] => 
                    [FILE_TYPE] => 
                    [MULTIPLE_CNT] => 5
                    [TMP_ID] => 
                    [LINK_IBLOCK_ID] => 0
                    [WITH_DESCRIPTION] => N
                    [SEARCHABLE] => N
                    [FILTRABLE] => N
                    [IS_REQUIRED] => N
                    [VERSION] => 1
                    [USER_TYPE] => HTML
                    [USER_TYPE_SETTINGS] => Array
                        (
                            [height] => 200
                        )

                    [HINT] => 
                    [PROPERTY_VALUE_ID] => 
                    [VALUE] => 
                    [DESCRIPTION] => 
                    [VALUE_ENUM] => 
                    [VALUE_XML_ID] => 
                    [VALUE_SORT] => 
                    [~VALUE] => 
                    [~DESCRIPTION] => 
                    [~NAME] => Текст для рассылки (eng.)
                    [~DEFAULT_VALUE] => Array
                        (
                            [TEXT] => 
                            [TYPE] => HTML
                        )

                )

            [en_AFTER_VIDEO] => Array
                (
                    [ID] => 117
                    [TIMESTAMP_X] => 2019-01-11 17:32:41
                    [IBLOCK_ID] => 1
                    [NAME] => Текст после видео  (eng.)
                    [ACTIVE] => Y
                    [SORT] => 2050
                    [CODE] => en_AFTER_VIDEO
                    [DEFAULT_VALUE] => Array
                        (
                            [TEXT] => 
                            [TYPE] => HTML
                        )

                    [PROPERTY_TYPE] => S
                    [ROW_COUNT] => 1
                    [COL_COUNT] => 30
                    [LIST_TYPE] => L
                    [MULTIPLE] => N
                    [XML_ID] => 
                    [FILE_TYPE] => 
                    [MULTIPLE_CNT] => 5
                    [TMP_ID] => 
                    [LINK_IBLOCK_ID] => 0
                    [WITH_DESCRIPTION] => N
                    [SEARCHABLE] => N
                    [FILTRABLE] => N
                    [IS_REQUIRED] => N
                    [VERSION] => 1
                    [USER_TYPE] => HTML
                    [USER_TYPE_SETTINGS] => Array
                        (
                            [height] => 200
                        )

                    [HINT] => 
                    [PROPERTY_VALUE_ID] => 
                    [VALUE] => 
                    [DESCRIPTION] => 
                    [VALUE_ENUM] => 
                    [VALUE_XML_ID] => 
                    [VALUE_SORT] => 
                    [~VALUE] => 
                    [~DESCRIPTION] => 
                    [~NAME] => Текст после видео  (eng.)
                    [~DEFAULT_VALUE] => Array
                        (
                            [TEXT] => 
                            [TYPE] => HTML
                        )

                )

            [en_NAME] => Array
                (
                    [ID] => 118
                    [TIMESTAMP_X] => 2019-01-11 17:32:41
                    [IBLOCK_ID] => 1
                    [NAME] => Название (eng.)
                    [ACTIVE] => Y
                    [SORT] => 2060
                    [CODE] => en_NAME
                    [DEFAULT_VALUE] => 
                    [PROPERTY_TYPE] => S
                    [ROW_COUNT] => 1
                    [COL_COUNT] => 30
                    [LIST_TYPE] => L
                    [MULTIPLE] => N
                    [XML_ID] => 
                    [FILE_TYPE] => 
                    [MULTIPLE_CNT] => 5
                    [TMP_ID] => 
                    [LINK_IBLOCK_ID] => 0
                    [WITH_DESCRIPTION] => N
                    [SEARCHABLE] => N
                    [FILTRABLE] => N
                    [IS_REQUIRED] => N
                    [VERSION] => 1
                    [USER_TYPE] => 
                    [USER_TYPE_SETTINGS] => 
                    [HINT] => 
                    [PROPERTY_VALUE_ID] => 158111
                    [VALUE] => The magnificent eight: ProfHolod manufactured more than 8 000 cold room and industrial doors in 2019
                    [DESCRIPTION] => 
                    [VALUE_ENUM] => 
                    [VALUE_XML_ID] => 
                    [VALUE_SORT] => 
                    [~VALUE] => The magnificent eight: ProfHolod manufactured more than 8 000 cold room and industrial doors in 2019
                    [~DESCRIPTION] => 
                    [~NAME] => Название (eng.)
                    [~DEFAULT_VALUE] => 
                )

            [en_PREVIEW_TEXT] => Array
                (
                    [ID] => 119
                    [TIMESTAMP_X] => 2019-01-11 17:32:41
                    [IBLOCK_ID] => 1
                    [NAME] => Анонс (eng.)
                    [ACTIVE] => Y
                    [SORT] => 2070
                    [CODE] => en_PREVIEW_TEXT
                    [DEFAULT_VALUE] => Array
                        (
                            [TEXT] => 
                            [TYPE] => HTML
                        )

                    [PROPERTY_TYPE] => S
                    [ROW_COUNT] => 1
                    [COL_COUNT] => 30
                    [LIST_TYPE] => L
                    [MULTIPLE] => N
                    [XML_ID] => 
                    [FILE_TYPE] => 
                    [MULTIPLE_CNT] => 5
                    [TMP_ID] => 
                    [LINK_IBLOCK_ID] => 0
                    [WITH_DESCRIPTION] => N
                    [SEARCHABLE] => N
                    [FILTRABLE] => N
                    [IS_REQUIRED] => N
                    [VERSION] => 1
                    [USER_TYPE] => HTML
                    [USER_TYPE_SETTINGS] => Array
                        (
                            [height] => 200
                        )

                    [HINT] => 
                    [PROPERTY_VALUE_ID] => 158112
                    [VALUE] => Array
                        (
                            [TEXT] => The milestone 8 000 door is manufactured for pharmaceutical production in the Moscow region
                            [TYPE] => HTML
                        )

                    [DESCRIPTION] => 
                    [VALUE_ENUM] => 
                    [VALUE_XML_ID] => 
                    [VALUE_SORT] => 
                    [~VALUE] => Array
                        (
                            [TEXT] => The milestone 8 000 door is manufactured for pharmaceutical production in the Moscow region
                            [TYPE] => HTML
                        )

                    [~DESCRIPTION] => 
                    [~NAME] => Анонс (eng.)
                    [~DEFAULT_VALUE] => Array
                        (
                            [TEXT] => 
                            [TYPE] => HTML
                        )

                )

            [en_DETAIL_TEXT] => Array
                (
                    [ID] => 120
                    [TIMESTAMP_X] => 2019-01-11 17:32:41
                    [IBLOCK_ID] => 1
                    [NAME] => Новость детально (eng.)
                    [ACTIVE] => Y
                    [SORT] => 2080
                    [CODE] => en_DETAIL_TEXT
                    [DEFAULT_VALUE] => Array
                        (
                            [TEXT] => 
                            [TYPE] => HTML
                        )

                    [PROPERTY_TYPE] => S
                    [ROW_COUNT] => 1
                    [COL_COUNT] => 30
                    [LIST_TYPE] => L
                    [MULTIPLE] => N
                    [XML_ID] => 
                    [FILE_TYPE] => 
                    [MULTIPLE_CNT] => 5
                    [TMP_ID] => 
                    [LINK_IBLOCK_ID] => 0
                    [WITH_DESCRIPTION] => N
                    [SEARCHABLE] => N
                    [FILTRABLE] => N
                    [IS_REQUIRED] => N
                    [VERSION] => 1
                    [USER_TYPE] => HTML
                    [USER_TYPE_SETTINGS] => Array
                        (
                            [height] => 200
                        )

                    [HINT] => 
                    [PROPERTY_VALUE_ID] => 158113
                    [VALUE] => Array
                        (
                            [TEXT] => <p>
	 ProfHolod, the largest Russian PU insulated sandwich panels manufacturer, has announced crossing the 8 000 refrigerated door production milestone since the beginning of the year.
</p>
<p>
	 The 8000 figure was reached while manufacturing a hinged single leaf half-hidden door, size 1200 mm by 1850 mm and a thickness of 80 mm with standard white RAL 9003 / RAL 9003 coating. The door was manufactured to expand a cold room for a pharmaceutical production in Podolsk, Moscow Region. The aggregated order for the customer includes two HSLD H doors and more than 80 square meters of ProfHolod sandwich panels with a thickness of 80 mm.
</p>
<p>
	 ProfHolod HSLD H doors are recessed into the frame to effectively break the cold bridges. ProfHolod doors are equipped with hardware of prominent manufacturers: French Fermod or German Rahrbach.
</p>
<p>
	 ProfHolod commenced the refrigerated door production in 2008, and by now manufactures 10 types of doors for cold rooms and industrial usage: hinged, sliding, industrial, swinging, ventilation doors for fruit and vegetable stores. The doors are insulated with PUR Classic rigid polyurethane foam with a density of up to 50 kg/m2. Thermal conductivity of PUR Classic stands at 0.022 W/(m*K).
</p>
<p>
	 ProfHolod manufactures and exports refrigerated doors to more than 10 countries, including Israel, USA, Armenia, Georgia, Belarus, Kazakhstan, Tajikistan, Uzbekistan.
</p>
<p style="text-align: center;">
 <a href="/upload/medialibrary/92f/Распашная-одностворчатая-дверьПрофХолод.jpg" rel="group" class="grouped_elements"> <img width="500" alt="The magnificent eight: ProfHolod manufactured more than 8 000 cold room and industrial doors in 2019" src="/upload/medialibrary/92f/Распашная-одностворчатая-дверьПрофХолод.jpg" height="493" style="width: 500px;" title="The magnificent eight: ProfHolod manufactured more than 8 000 cold room and industrial doors in 2019"> </a>
</p>
                            [TYPE] => HTML
                        )

                    [DESCRIPTION] => 
                    [VALUE_ENUM] => 
                    [VALUE_XML_ID] => 
                    [VALUE_SORT] => 
                    [~VALUE] => Array
                        (
                            [TEXT] => 


	 ProfHolod, the largest Russian PU insulated sandwich panels manufacturer, has announced crossing the 8 000 refrigerated door production milestone since the beginning of the year.






	 The 8000 figure was reached while manufacturing a hinged single leaf half-hidden door, size 1200 mm by 1850 mm and a thickness of 80 mm with standard white RAL 9003 / RAL 9003 coating. The door was manufactured to expand a cold room for a pharmaceutical production in Podolsk, Moscow Region. The aggregated order for the customer includes two HSLD H doors and more than 80 square meters of ProfHolod sandwich panels with a thickness of 80 mm.






	 ProfHolod HSLD H doors are recessed into the frame to effectively break the cold bridges. ProfHolod doors are equipped with hardware of prominent manufacturers: French Fermod or German Rahrbach.






	 ProfHolod commenced the refrigerated door production in 2008, and by now manufactures 10 types of doors for cold rooms and industrial usage: hinged, sliding, industrial, swinging, ventilation doors for fruit and vegetable stores. The doors are insulated with PUR Classic rigid polyurethane foam with a density of up to 50 kg/m2. Thermal conductivity of PUR Classic stands at 0.022 W/(m*K).






	 ProfHolod manufactures and exports refrigerated doors to more than 10 countries, including Israel, USA, Armenia, Georgia, Belarus, Kazakhstan, Tajikistan, Uzbekistan.






   



                            [TYPE] => HTML
                        )

                    [~DESCRIPTION] => 
                    [~NAME] => Новость детально (eng.)
                    [~DEFAULT_VALUE] => Array
                        (
                            [TEXT] => 
                            [TYPE] => HTML
                        )

                )

        )

    [DISPLAY_PROPERTIES] => Array
        (
        )

    [IBLOCK] => Array
        (
            [ID] => 1
            [~ID] => 1
            [TIMESTAMP_X] => 16.01.2020 17:45:39
            [~TIMESTAMP_X] => 16.01.2020 17:45:39
            [IBLOCK_TYPE_ID] => news
            [~IBLOCK_TYPE_ID] => news
            [LID] => en
            [~LID] => en
            [CODE] => furniture_news_s1
            [~CODE] => furniture_news_s1
            [NAME] => Новости
            [~NAME] => Новости
            [ACTIVE] => Y
            [~ACTIVE] => Y
            [SORT] => 500
            [~SORT] => 500
            [LIST_PAGE_URL] => /news/press/
            [~LIST_PAGE_URL] => /news/press/
            [DETAIL_PAGE_URL] => #SITE_DIR#press/news/#ELEMENT_CODE#/
            [~DETAIL_PAGE_URL] => #SITE_DIR#press/news/#ELEMENT_CODE#/
            [SECTION_PAGE_URL] => 
            [~SECTION_PAGE_URL] => 
            [PICTURE] => 
            [~PICTURE] => 
            [DESCRIPTION] => 
            [~DESCRIPTION] => 
            [DESCRIPTION_TYPE] => text
            [~DESCRIPTION_TYPE] => text
            [RSS_TTL] => 24
            [~RSS_TTL] => 24
            [RSS_ACTIVE] => Y
            [~RSS_ACTIVE] => Y
            [RSS_FILE_ACTIVE] => N
            [~RSS_FILE_ACTIVE] => N
            [RSS_FILE_LIMIT] => 0
            [~RSS_FILE_LIMIT] => 0
            [RSS_FILE_DAYS] => 0
            [~RSS_FILE_DAYS] => 0
            [RSS_YANDEX_ACTIVE] => N
            [~RSS_YANDEX_ACTIVE] => N
            [XML_ID] => furniture_news_s1
            [~XML_ID] => furniture_news_s1
            [TMP_ID] => 
            [~TMP_ID] => 
            [INDEX_ELEMENT] => Y
            [~INDEX_ELEMENT] => Y
            [INDEX_SECTION] => N
            [~INDEX_SECTION] => N
            [WORKFLOW] => N
            [~WORKFLOW] => N
            [BIZPROC] => N
            [~BIZPROC] => N
            [SECTION_CHOOSER] => L
            [~SECTION_CHOOSER] => L
            [LIST_MODE] => 
            [~LIST_MODE] => 
            [VERSION] => 1
            [~VERSION] => 1
            [LAST_CONV_ELEMENT] => 0
            [~LAST_CONV_ELEMENT] => 0
            [EDIT_FILE_BEFORE] => 
            [~EDIT_FILE_BEFORE] => 
            [EDIT_FILE_AFTER] => 
            [~EDIT_FILE_AFTER] => 
            [SECTIONS_NAME] => Разделы
            [~SECTIONS_NAME] => Разделы
            [SECTION_NAME] => Раздел
            [~SECTION_NAME] => Раздел
            [ELEMENTS_NAME] => Новости
            [~ELEMENTS_NAME] => Новости
            [ELEMENT_NAME] => Новость
            [~ELEMENT_NAME] => Новость
            [SOCNET_GROUP_ID] => 
            [~SOCNET_GROUP_ID] => 
            [RIGHTS_MODE] => S
            [~RIGHTS_MODE] => S
            [SECTION_PROPERTY] => 
            [~SECTION_PROPERTY] => 
            [PROPERTY_INDEX] => 
            [~PROPERTY_INDEX] => 
            [CANONICAL_PAGE_URL] => 
            [~CANONICAL_PAGE_URL] => 
            [EXTERNAL_ID] => furniture_news_s1
            [~EXTERNAL_ID] => furniture_news_s1
            [LANG_DIR] => /
            [~LANG_DIR] => /
            [SERVER_NAME] => profholod.com
            [~SERVER_NAME] => profholod.com
        )

    [SECTION] => Array
        (
            [PATH] => Array
                (
                )

        )

    [SECTION_URL] => 
    [META_TAGS] => Array
        (
            [BROWSER_TITLE] => 
            [KEYWORDS] => 
            [DESCRIPTION] => 
        )

    [META_TEMPLATES] => Array
        (
            [TITLE] => The magnificent eight: ProfHolod manufactured more than 8 000 cold room and industrial doors in 2019 - News Profholod
            [KEYWORDS] => 
            [DESCRIPTION] => The milestone 8 000 door is manufactured for pharmaceutical production in the Moscow region
            [H1] => The magnificent eight: ProfHolod manufactured more than 8 000 cold room and industrial doors in 2019
        )

    [EN_NAME] => The magnificent eight: ProfHolod manufactured more than 8 000 cold room and industrial doors in 2019
    [EN_DETAIL_TEXT] => Array
        (
            [TEXT] => <p>
	 ProfHolod, the largest Russian PU insulated sandwich panels manufacturer, has announced crossing the 8 000 refrigerated door production milestone since the beginning of the year.
</p>
<p>
	 The 8000 figure was reached while manufacturing a hinged single leaf half-hidden door, size 1200 mm by 1850 mm and a thickness of 80 mm with standard white RAL 9003 / RAL 9003 coating. The door was manufactured to expand a cold room for a pharmaceutical production in Podolsk, Moscow Region. The aggregated order for the customer includes two HSLD H doors and more than 80 square meters of ProfHolod sandwich panels with a thickness of 80 mm.
</p>
<p>
	 ProfHolod HSLD H doors are recessed into the frame to effectively break the cold bridges. ProfHolod doors are equipped with hardware of prominent manufacturers: French Fermod or German Rahrbach.
</p>
<p>
	 ProfHolod commenced the refrigerated door production in 2008, and by now manufactures 10 types of doors for cold rooms and industrial usage: hinged, sliding, industrial, swinging, ventilation doors for fruit and vegetable stores. The doors are insulated with PUR Classic rigid polyurethane foam with a density of up to 50 kg/m2. Thermal conductivity of PUR Classic stands at 0.022 W/(m*K).
</p>
<p>
	 ProfHolod manufactures and exports refrigerated doors to more than 10 countries, including Israel, USA, Armenia, Georgia, Belarus, Kazakhstan, Tajikistan, Uzbekistan.
</p>
<p style="text-align: center;">
 <a href="/upload/medialibrary/92f/Распашная-одностворчатая-дверьПрофХолод.jpg" rel="group" class="grouped_elements"> <img width="500" alt="The magnificent eight: ProfHolod manufactured more than 8 000 cold room and industrial doors in 2019" src="/upload/medialibrary/92f/Распашная-одностворчатая-дверьПрофХолод.jpg" height="493" style="width: 500px;" title="The magnificent eight: ProfHolod manufactured more than 8 000 cold room and industrial doors in 2019"> </a>
</p>
            [TYPE] => HTML
        )

)

[25.12.2019]
ProfHolod, the largest Russian PU insulated sandwich panels manufacturer, has announced crossing the 8 000 refrigerated door production milestone since the beginning of the year.
The 8000 figure was reached while manufacturing a hinged single leaf half-hidden door, size 1200 mm by 1850 mm and a thickness of 80 mm with standard white RAL 9003 / RAL 9003 coating. The door was manufactured to expand a cold room for a pharmaceutical production in Podolsk, Moscow Region. The aggregated order for the customer includes two HSLD H doors and more than 80 square meters of ProfHolod sandwich panels with a thickness of 80 mm.
ProfHolod HSLD H doors are recessed into the frame to effectively break the cold bridges. ProfHolod doors are equipped with hardware of prominent manufacturers: French Fermod or German Rahrbach.
ProfHolod commenced the refrigerated door production in 2008, and by now manufactures 10 types of doors for cold rooms and industrial usage: hinged, sliding, industrial, swinging, ventilation doors for fruit and vegetable stores. The doors are insulated with PUR Classic rigid polyurethane foam with a density of up to 50 kg/m2. Thermal conductivity of PUR Classic stands at 0.022 W/(m*K).
ProfHolod manufactures and exports refrigerated doors to more than 10 countries, including Israel, USA, Armenia, Georgia, Belarus, Kazakhstan, Tajikistan, Uzbekistan.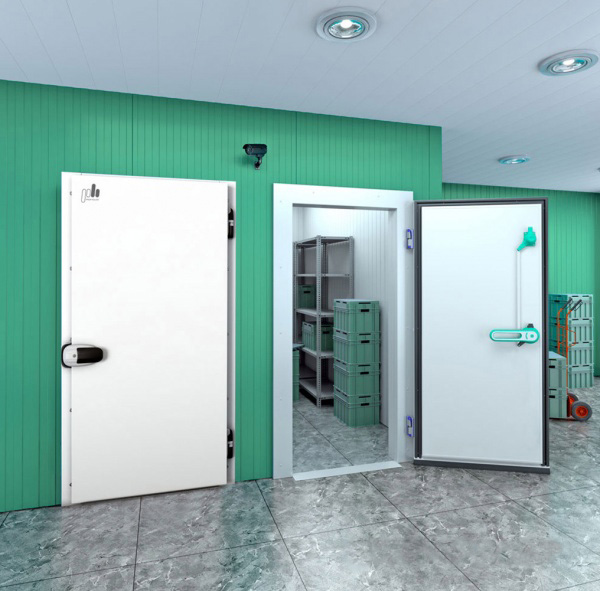 Back to
Company news