ProfHolod unveils new corporate logo and brands' new positioning
[18.11.2019]
ProfHolod, the leading Russian manufacturer of PIR insulated panels revealed new logo, corporate identity and positioning. The evolution comes with new corporate strategy based on deep expertise of polyurethane creation process and its commitment to save energy resources of the planet.
In 15 years, ProfHolod has evolved from a small company that specialized in the production of sandwich panels with polyurethane foam for the refrigeration industry, to a market leader, an expert in innovative heat management technologies. Today, energy-efficient ProfHolod products are used in agriculture, manufacturing, warehousing, restaurant business, pharmaceuticals and other industries.
Three years ago, in its own R&D center, ProfHolod created customized polyisocyanurate foam PIR Premier blend with the best components from around the world. PIR Premier sandwich panels are certified according to the European standard EN 14509 and are used in more than 12 countries from the USA to the Middle East.
ProfHolod also released its global mission statement, which reads "ProfHolod strongly believes that Russia can deliver to the world the most advanced insulation products for temperature controlled environments. Empowering the business to save energy and money".
«At the very inception of our business we have chosen to dive deep into the technology, seeing into all the details of the demand and production of insulated panels", said ProfHolod CEO Sergey Tokmakov. "And at some point, when we opened our own R&D center, created our customized PIR blend and moved to launching polyethers' production, we realized that we are far beyond the previous logo".
New brand identity reflects new status of ProfHolod. We have become a technology-savvy company, an expert in PIR-systems making and a leader of the Russian market. Today we empower our clients all around the world to save energy, use the most efficient materials to lower operational costs and cut down on consumption of the Earth's energy resources".
Today ProfHolod produces PIR Premier, PUR classic, mineral wool insulated panels, 10 types of cold room and industry doors, PIR PLITA and Kroshka PIR multi-purpose insulator, shaped elements, green energy solutions: solar panels mounted on roof panels with polyurethane.
The new corporate identity has become more dynamic and modern with rounded elements. The new logo spells out two letters P and H for a short version of ProfHolod. The use of Latin letters reflects the global presence of the company. The technology of polyurethane foam production is expressed in the angle of the letters. The inclination symbolizes the fluidity of PU and the optimal angle of supply of the PIR system to the line. Two colors, orange and blue, indicate the heat and cold temperatures that ProfHolod products allow business to control. The black and white version of the new logo is environmentally friendly: it uses less ink for printing due to the contour shape of the first part of the symbol.
ProfHolod will showcase the new identity at the upcoming YugAgro exhibition in Krasnodar and the BIG 5 international trade fair in the United Arab Emirates.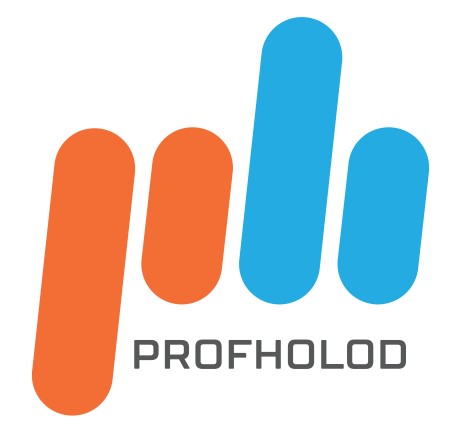 Get more news
Company news