Main page

Press releases

PH Insulation Delivers Turnkey Passage for Moscow Hospital Infectious Disease Unit
PH Insulation Delivers Turnkey Passage for Moscow Hospital Infectious Disease Unit

Array
(
    [ID] => 14659
    [~ID] => 14659
    [NAME] => Оперативно и под ключ: «ПрофХолод» построил переход в инфекционный блок для московской больницы
    [~NAME] => Оперативно и под ключ: «ПрофХолод» построил переход в инфекционный блок для московской больницы
    [IBLOCK_ID] => 1
    [~IBLOCK_ID] => 1
    [IBLOCK_SECTION_ID] => 
    [~IBLOCK_SECTION_ID] => 
    [DETAIL_TEXT] => 


	 Меньше недели понадобилось «ПрофХолоду», чтобы произвести сэндвич-панели и двери и сдать под ключ новый больничный шлюз-переход в инфекционный блок. Шлюз в срочном порядке оборудован в московской больнице для приема пациентов с коронавирусом.






	 Специалисты Департамента технических решений «ПрофХолода» рассчитали необходимое количество сэндвич-панелей и предложили подходящую конструкцию двери. «ПрофХолод» оперативно смонтировал всю конструкцию под ключ с помощью партнерской строительной компании. 






	 Непрерывные итальянские линии «ПрофХолода» по производству сэндвич-панелей в Московской и Тульской областях выпускают строительные материалы для создания объектов здравоохранения, пищевых производств, которые относятся к числу организаций, обеспечивающих население продуктами питания и товарами первой необходимости.






	 Сэндвич-панели с пенополиуретаном используются для строительства помещений любого назначения: от складских, фармацевтических, больничных до производственных. Панели герметичны, не требуют внутренней отделки и позволяют сократить затраты на охлаждение или обогрев помещения за счет теплопроводности 0,022 Вт/м*К. 






	 Технологические двери используются для зонирования и обеспечивают удобное наблюдение за помещением через овальные смотровые окна. Технологические двери легко эксплуатировать и обслуживать, они имеют современный дизайн и комплектуются надежной немецкой фурнитурой. 






	 Шлюз дополнительно укомплектован ПВХ-завесами, которые закрывают проемы, защищают помещение от сквозняков и пыли. 






	 Чтобы получить бесплатную консультацию по оперативному строительству больниц и других быстровозводимых объектов и зданий, обращайтесь по телефону 8 (800) 700-01-37, звонок по России бесплатный.






 







 







 




    [~DETAIL_TEXT] => 


	 Меньше недели понадобилось «ПрофХолоду», чтобы произвести сэндвич-панели и двери и сдать под ключ новый больничный шлюз-переход в инфекционный блок. Шлюз в срочном порядке оборудован в московской больнице для приема пациентов с коронавирусом.






	 Специалисты Департамента технических решений «ПрофХолода» рассчитали необходимое количество сэндвич-панелей и предложили подходящую конструкцию двери. «ПрофХолод» оперативно смонтировал всю конструкцию под ключ с помощью партнерской строительной компании. 






	 Непрерывные итальянские линии «ПрофХолода» по производству сэндвич-панелей в Московской и Тульской областях выпускают строительные материалы для создания объектов здравоохранения, пищевых производств, которые относятся к числу организаций, обеспечивающих население продуктами питания и товарами первой необходимости.






	 Сэндвич-панели с пенополиуретаном используются для строительства помещений любого назначения: от складских, фармацевтических, больничных до производственных. Панели герметичны, не требуют внутренней отделки и позволяют сократить затраты на охлаждение или обогрев помещения за счет теплопроводности 0,022 Вт/м*К. 






	 Технологические двери используются для зонирования и обеспечивают удобное наблюдение за помещением через овальные смотровые окна. Технологические двери легко эксплуатировать и обслуживать, они имеют современный дизайн и комплектуются надежной немецкой фурнитурой. 






	 Шлюз дополнительно укомплектован ПВХ-завесами, которые закрывают проемы, защищают помещение от сквозняков и пыли. 






	 Чтобы получить бесплатную консультацию по оперативному строительству больниц и других быстровозводимых объектов и зданий, обращайтесь по телефону 8 (800) 700-01-37, звонок по России бесплатный.






 







 







 




    [DETAIL_TEXT_TYPE] => html
    [~DETAIL_TEXT_TYPE] => html
    [PREVIEW_TEXT] => «ПрофХолод» обустроил новый блок для пациентов с COVID-19 из сэндвич-панелей и технологических дверей
    [~PREVIEW_TEXT] => «ПрофХолод» обустроил новый блок для пациентов с COVID-19 из сэндвич-панелей и технологических дверей
    [PREVIEW_TEXT_TYPE] => text
    [~PREVIEW_TEXT_TYPE] => text
    [DETAIL_PICTURE] => Array
        (
            [ID] => 70519
            [TIMESTAMP_X] => 09.04.2020 12:22:09
            [MODULE_ID] => iblock
            [HEIGHT] => 717
            [WIDTH] => 590
            [FILE_SIZE] => 32781
            [CONTENT_TYPE] => image/jpeg
            [SUBDIR] => iblock/df4
            [FILE_NAME] => 1б.jpeg
            [ORIGINAL_NAME] => 1б.jpeg
            [DESCRIPTION] => 
            [HANDLER_ID] => 
            [EXTERNAL_ID] => 60048e1bc25fe6fb58aa517b954e54b1
            [~src] => 
            [SRC] => /upload/iblock/df4/1%D0%B1.jpeg
            [UNSAFE_SRC] => /upload/iblock/df4/1б.jpeg
            [SAFE_SRC] => /upload/iblock/df4/1%D0%B1.jpeg
            [ALT] => Оперативно и под ключ: «ПрофХолод» построил переход в инфекционный блок для московской больницы
            [TITLE] => Оперативно и под ключ: «ПрофХолод» построил переход в инфекционный блок для московской больницы
        )

    [~DETAIL_PICTURE] => 70519
    [TIMESTAMP_X] => 09.04.2020 12:22:09
    [~TIMESTAMP_X] => 09.04.2020 12:22:09
    [ACTIVE_FROM] => 07.04.2020 14:11:00
    [~ACTIVE_FROM] => 07.04.2020 14:11:00
    [LIST_PAGE_URL] => /press/news/
    [~LIST_PAGE_URL] => /press/news/
    [DETAIL_PAGE_URL] => /press/news/Operativno-i-pod-klyuch-ProfKHolod-postroil-perekhod-v-infektsionnyy-blok-dlya-moskovskoy-bolnitsy/
    [~DETAIL_PAGE_URL] => /press/news/Operativno-i-pod-klyuch-ProfKHolod-postroil-perekhod-v-infektsionnyy-blok-dlya-moskovskoy-bolnitsy/
    [LANG_DIR] => /
    [~LANG_DIR] => /
    [CODE] => Operativno-i-pod-klyuch-ProfKHolod-postroil-perekhod-v-infektsionnyy-blok-dlya-moskovskoy-bolnitsy
    [~CODE] => Operativno-i-pod-klyuch-ProfKHolod-postroil-perekhod-v-infektsionnyy-blok-dlya-moskovskoy-bolnitsy
    [EXTERNAL_ID] => 14659
    [~EXTERNAL_ID] => 14659
    [IBLOCK_TYPE_ID] => news
    [~IBLOCK_TYPE_ID] => news
    [IBLOCK_CODE] => furniture_news_s1
    [~IBLOCK_CODE] => furniture_news_s1
    [IBLOCK_EXTERNAL_ID] => furniture_news_s1
    [~IBLOCK_EXTERNAL_ID] => furniture_news_s1
    [LID] => en
    [~LID] => en
    [NAV_RESULT] => 
    [DISPLAY_ACTIVE_FROM] => 07.04.2020
    [IPROPERTY_VALUES] => Array
        (
        )

    [FIELDS] => Array
        (
        )

    [PROPERTIES] => Array
        (
            [TITLE] => Array
                (
                    [ID] => 59
                    [TIMESTAMP_X] => 2020-07-16 09:03:06
                    [IBLOCK_ID] => 1
                    [NAME] => Заголовок
                    [ACTIVE] => Y
                    [SORT] => 100
                    [CODE] => TITLE
                    [DEFAULT_VALUE] => 
                    [PROPERTY_TYPE] => S
                    [ROW_COUNT] => 1
                    [COL_COUNT] => 30
                    [LIST_TYPE] => L
                    [MULTIPLE] => N
                    [XML_ID] => 59
                    [FILE_TYPE] => 
                    [MULTIPLE_CNT] => 5
                    [TMP_ID] => 
                    [LINK_IBLOCK_ID] => 0
                    [WITH_DESCRIPTION] => N
                    [SEARCHABLE] => N
                    [FILTRABLE] => N
                    [IS_REQUIRED] => N
                    [VERSION] => 1
                    [USER_TYPE] => 
                    [USER_TYPE_SETTINGS] => 
                    [HINT] => 
                    [PROPERTY_VALUE_ID] => 
                    [VALUE] => 
                    [DESCRIPTION] => 
                    [VALUE_ENUM] => 
                    [VALUE_XML_ID] => 
                    [VALUE_SORT] => 
                    [~VALUE] => 
                    [~DESCRIPTION] => 
                    [~NAME] => Заголовок
                    [~DEFAULT_VALUE] => 
                )

            [KEYWORDS] => Array
                (
                    [ID] => 60
                    [TIMESTAMP_X] => 2020-07-16 09:03:06
                    [IBLOCK_ID] => 1
                    [NAME] => Ключевые слова
                    [ACTIVE] => Y
                    [SORT] => 200
                    [CODE] => KEYWORDS
                    [DEFAULT_VALUE] => 
                    [PROPERTY_TYPE] => S
                    [ROW_COUNT] => 1
                    [COL_COUNT] => 30
                    [LIST_TYPE] => L
                    [MULTIPLE] => N
                    [XML_ID] => 60
                    [FILE_TYPE] => 
                    [MULTIPLE_CNT] => 5
                    [TMP_ID] => 
                    [LINK_IBLOCK_ID] => 0
                    [WITH_DESCRIPTION] => N
                    [SEARCHABLE] => N
                    [FILTRABLE] => N
                    [IS_REQUIRED] => N
                    [VERSION] => 1
                    [USER_TYPE] => 
                    [USER_TYPE_SETTINGS] => 
                    [HINT] => 
                    [PROPERTY_VALUE_ID] => 
                    [VALUE] => 
                    [DESCRIPTION] => 
                    [VALUE_ENUM] => 
                    [VALUE_XML_ID] => 
                    [VALUE_SORT] => 
                    [~VALUE] => 
                    [~DESCRIPTION] => 
                    [~NAME] => Ключевые слова
                    [~DEFAULT_VALUE] => 
                )

            [DESCRIPTION] => Array
                (
                    [ID] => 61
                    [TIMESTAMP_X] => 2020-07-16 09:03:06
                    [IBLOCK_ID] => 1
                    [NAME] => Описание
                    [ACTIVE] => Y
                    [SORT] => 300
                    [CODE] => DESCRIPTION
                    [DEFAULT_VALUE] => 
                    [PROPERTY_TYPE] => S
                    [ROW_COUNT] => 1
                    [COL_COUNT] => 30
                    [LIST_TYPE] => L
                    [MULTIPLE] => N
                    [XML_ID] => 61
                    [FILE_TYPE] => 
                    [MULTIPLE_CNT] => 5
                    [TMP_ID] => 
                    [LINK_IBLOCK_ID] => 0
                    [WITH_DESCRIPTION] => N
                    [SEARCHABLE] => N
                    [FILTRABLE] => N
                    [IS_REQUIRED] => N
                    [VERSION] => 1
                    [USER_TYPE] => 
                    [USER_TYPE_SETTINGS] => 
                    [HINT] => 
                    [PROPERTY_VALUE_ID] => 
                    [VALUE] => 
                    [DESCRIPTION] => 
                    [VALUE_ENUM] => 
                    [VALUE_XML_ID] => 
                    [VALUE_SORT] => 
                    [~VALUE] => 
                    [~DESCRIPTION] => 
                    [~NAME] => Описание
                    [~DEFAULT_VALUE] => 
                )

            [SUBSCRIBE_TEXT] => Array
                (
                    [ID] => 85
                    [TIMESTAMP_X] => 2020-07-16 09:03:06
                    [IBLOCK_ID] => 1
                    [NAME] => Текст для рассылки
                    [ACTIVE] => Y
                    [SORT] => 400
                    [CODE] => SUBSCRIBE_TEXT
                    [DEFAULT_VALUE] => Array
                        (
                            [TEXT] => 
                            [TYPE] => HTML
                        )

                    [PROPERTY_TYPE] => S
                    [ROW_COUNT] => 1
                    [COL_COUNT] => 30
                    [LIST_TYPE] => L
                    [MULTIPLE] => N
                    [XML_ID] => 85
                    [FILE_TYPE] => 
                    [MULTIPLE_CNT] => 5
                    [TMP_ID] => 
                    [LINK_IBLOCK_ID] => 0
                    [WITH_DESCRIPTION] => N
                    [SEARCHABLE] => N
                    [FILTRABLE] => N
                    [IS_REQUIRED] => N
                    [VERSION] => 1
                    [USER_TYPE] => HTML
                    [USER_TYPE_SETTINGS] => Array
                        (
                            [height] => 200
                        )

                    [HINT] => 
                    [PROPERTY_VALUE_ID] => 
                    [VALUE] => 
                    [DESCRIPTION] => 
                    [VALUE_ENUM] => 
                    [VALUE_XML_ID] => 
                    [VALUE_SORT] => 
                    [~VALUE] => 
                    [~DESCRIPTION] => 
                    [~NAME] => Текст для рассылки
                    [~DEFAULT_VALUE] => Array
                        (
                            [TEXT] => 
                            [TYPE] => HTML
                        )

                )

            [VIDEO] => Array
                (
                    [ID] => 89
                    [TIMESTAMP_X] => 2020-07-16 09:03:06
                    [IBLOCK_ID] => 1
                    [NAME] => Видео
                    [ACTIVE] => Y
                    [SORT] => 500
                    [CODE] => VIDEO
                    [DEFAULT_VALUE] => Array
                        (
                        )

                    [PROPERTY_TYPE] => S
                    [ROW_COUNT] => 1
                    [COL_COUNT] => 30
                    [LIST_TYPE] => L
                    [MULTIPLE] => N
                    [XML_ID] => 89
                    [FILE_TYPE] => 
                    [MULTIPLE_CNT] => 5
                    [TMP_ID] => 
                    [LINK_IBLOCK_ID] => 0
                    [WITH_DESCRIPTION] => N
                    [SEARCHABLE] => N
                    [FILTRABLE] => N
                    [IS_REQUIRED] => N
                    [VERSION] => 1
                    [USER_TYPE] => video
                    [USER_TYPE_SETTINGS] => Array
                        (
                            [BUFFER_LENGTH] => 10
                            [CONTROLBAR] => bottom
                            [AUTOSTART] => N
                            [VOLUME] => 90
                            [SKIN] => 
                            [FLASHVARS] => 
                            [WMODE_FLV] => transparent
                            [BGCOLOR] => FFFFFF
                            [COLOR] => 000000
                            [OVER_COLOR] => 000000
                            [SCREEN_COLOR] => 000000
                            [SILVERVARS] => 
                            [WMODE_WMV] => windowless
                            [WIDTH] => 400
                            [HEIGHT] => 300
                        )

                    [HINT] => 
                    [PROPERTY_VALUE_ID] => 
                    [VALUE] => Array
                        (
                        )

                    [DESCRIPTION] => 
                    [VALUE_ENUM] => 
                    [VALUE_XML_ID] => 
                    [VALUE_SORT] => 
                    [~VALUE] => Array
                        (
                        )

                    [~DESCRIPTION] => 
                    [~NAME] => Видео
                    [~DEFAULT_VALUE] => Array
                        (
                        )

                )

            [SHORT_DESCRIPTION_EMAIL] => Array
                (
                    [ID] => 520
                    [TIMESTAMP_X] => 2020-07-16 09:03:06
                    [IBLOCK_ID] => 1
                    [NAME] => Краткое описание для рассылки
                    [ACTIVE] => Y
                    [SORT] => 500
                    [CODE] => SHORT_DESCRIPTION_EMAIL
                    [DEFAULT_VALUE] => Array
                        (
                            [TEXT] => 
                            [TYPE] => HTML
                        )

                    [PROPERTY_TYPE] => S
                    [ROW_COUNT] => 1
                    [COL_COUNT] => 30
                    [LIST_TYPE] => L
                    [MULTIPLE] => N
                    [XML_ID] => 520
                    [FILE_TYPE] => 
                    [MULTIPLE_CNT] => 5
                    [TMP_ID] => 
                    [LINK_IBLOCK_ID] => 0
                    [WITH_DESCRIPTION] => N
                    [SEARCHABLE] => N
                    [FILTRABLE] => N
                    [IS_REQUIRED] => N
                    [VERSION] => 1
                    [USER_TYPE] => HTML
                    [USER_TYPE_SETTINGS] => Array
                        (
                            [height] => 200
                        )

                    [HINT] => 
                    [PROPERTY_VALUE_ID] => 
                    [VALUE] => 
                    [DESCRIPTION] => 
                    [VALUE_ENUM] => 
                    [VALUE_XML_ID] => 
                    [VALUE_SORT] => 
                    [~VALUE] => 
                    [~DESCRIPTION] => 
                    [~NAME] => Краткое описание для рассылки
                    [~DEFAULT_VALUE] => Array
                        (
                            [TEXT] => 
                            [TYPE] => HTML
                        )

                )

            [VIDEO_PREV] => Array
                (
                    [ID] => 90
                    [TIMESTAMP_X] => 2020-07-16 09:03:06
                    [IBLOCK_ID] => 1
                    [NAME] => Превью видео
                    [ACTIVE] => Y
                    [SORT] => 600
                    [CODE] => VIDEO_PREV
                    [DEFAULT_VALUE] => 
                    [PROPERTY_TYPE] => F
                    [ROW_COUNT] => 1
                    [COL_COUNT] => 30
                    [LIST_TYPE] => L
                    [MULTIPLE] => N
                    [XML_ID] => 90
                    [FILE_TYPE] => 
                    [MULTIPLE_CNT] => 5
                    [TMP_ID] => 
                    [LINK_IBLOCK_ID] => 0
                    [WITH_DESCRIPTION] => N
                    [SEARCHABLE] => N
                    [FILTRABLE] => N
                    [IS_REQUIRED] => N
                    [VERSION] => 1
                    [USER_TYPE] => 
                    [USER_TYPE_SETTINGS] => 
                    [HINT] => 
                    [PROPERTY_VALUE_ID] => 
                    [VALUE] => 
                    [DESCRIPTION] => 
                    [VALUE_ENUM] => 
                    [VALUE_XML_ID] => 
                    [VALUE_SORT] => 
                    [~VALUE] => 
                    [~DESCRIPTION] => 
                    [~NAME] => Превью видео
                    [~DEFAULT_VALUE] => 
                )

            [AFTER_VIDEO] => Array
                (
                    [ID] => 94
                    [TIMESTAMP_X] => 2020-07-16 09:03:06
                    [IBLOCK_ID] => 1
                    [NAME] => Текст после видео
                    [ACTIVE] => Y
                    [SORT] => 700
                    [CODE] => AFTER_VIDEO
                    [DEFAULT_VALUE] => Array
                        (
                            [TEXT] => 
                            [TYPE] => HTML
                        )

                    [PROPERTY_TYPE] => S
                    [ROW_COUNT] => 1
                    [COL_COUNT] => 30
                    [LIST_TYPE] => L
                    [MULTIPLE] => N
                    [XML_ID] => 94
                    [FILE_TYPE] => 
                    [MULTIPLE_CNT] => 5
                    [TMP_ID] => 
                    [LINK_IBLOCK_ID] => 0
                    [WITH_DESCRIPTION] => N
                    [SEARCHABLE] => N
                    [FILTRABLE] => N
                    [IS_REQUIRED] => N
                    [VERSION] => 1
                    [USER_TYPE] => HTML
                    [USER_TYPE_SETTINGS] => Array
                        (
                            [height] => 200
                        )

                    [HINT] => 
                    [PROPERTY_VALUE_ID] => 
                    [VALUE] => 
                    [DESCRIPTION] => 
                    [VALUE_ENUM] => 
                    [VALUE_XML_ID] => 
                    [VALUE_SORT] => 
                    [~VALUE] => 
                    [~DESCRIPTION] => 
                    [~NAME] => Текст после видео
                    [~DEFAULT_VALUE] => Array
                        (
                            [TEXT] => 
                            [TYPE] => HTML
                        )

                )

            [en_TITLE] => Array
                (
                    [ID] => 113
                    [TIMESTAMP_X] => 2020-07-16 09:03:06
                    [IBLOCK_ID] => 1
                    [NAME] => TITLE (eng.)
                    [ACTIVE] => Y
                    [SORT] => 2010
                    [CODE] => en_TITLE
                    [DEFAULT_VALUE] => 
                    [PROPERTY_TYPE] => S
                    [ROW_COUNT] => 1
                    [COL_COUNT] => 30
                    [LIST_TYPE] => L
                    [MULTIPLE] => N
                    [XML_ID] => 113
                    [FILE_TYPE] => 
                    [MULTIPLE_CNT] => 5
                    [TMP_ID] => 
                    [LINK_IBLOCK_ID] => 0
                    [WITH_DESCRIPTION] => N
                    [SEARCHABLE] => N
                    [FILTRABLE] => N
                    [IS_REQUIRED] => N
                    [VERSION] => 1
                    [USER_TYPE] => 
                    [USER_TYPE_SETTINGS] => 
                    [HINT] => 
                    [PROPERTY_VALUE_ID] => 
                    [VALUE] => 
                    [DESCRIPTION] => 
                    [VALUE_ENUM] => 
                    [VALUE_XML_ID] => 
                    [VALUE_SORT] => 
                    [~VALUE] => 
                    [~DESCRIPTION] => 
                    [~NAME] => TITLE (eng.)
                    [~DEFAULT_VALUE] => 
                )

            [en_KEYWORDS] => Array
                (
                    [ID] => 114
                    [TIMESTAMP_X] => 2020-07-16 09:03:06
                    [IBLOCK_ID] => 1
                    [NAME] => KEYWORDS (eng.)
                    [ACTIVE] => Y
                    [SORT] => 2020
                    [CODE] => en_KEYWORDS
                    [DEFAULT_VALUE] => 
                    [PROPERTY_TYPE] => S
                    [ROW_COUNT] => 1
                    [COL_COUNT] => 30
                    [LIST_TYPE] => L
                    [MULTIPLE] => N
                    [XML_ID] => 114
                    [FILE_TYPE] => 
                    [MULTIPLE_CNT] => 5
                    [TMP_ID] => 
                    [LINK_IBLOCK_ID] => 0
                    [WITH_DESCRIPTION] => N
                    [SEARCHABLE] => N
                    [FILTRABLE] => N
                    [IS_REQUIRED] => N
                    [VERSION] => 1
                    [USER_TYPE] => 
                    [USER_TYPE_SETTINGS] => 
                    [HINT] => 
                    [PROPERTY_VALUE_ID] => 
                    [VALUE] => 
                    [DESCRIPTION] => 
                    [VALUE_ENUM] => 
                    [VALUE_XML_ID] => 
                    [VALUE_SORT] => 
                    [~VALUE] => 
                    [~DESCRIPTION] => 
                    [~NAME] => KEYWORDS (eng.)
                    [~DEFAULT_VALUE] => 
                )

            [en_DESCRIPTION] => Array
                (
                    [ID] => 115
                    [TIMESTAMP_X] => 2020-07-16 09:03:06
                    [IBLOCK_ID] => 1
                    [NAME] => DESCRIPTION (eng.)
                    [ACTIVE] => Y
                    [SORT] => 2030
                    [CODE] => en_DESCRIPTION
                    [DEFAULT_VALUE] => 
                    [PROPERTY_TYPE] => S
                    [ROW_COUNT] => 1
                    [COL_COUNT] => 30
                    [LIST_TYPE] => L
                    [MULTIPLE] => N
                    [XML_ID] => 115
                    [FILE_TYPE] => 
                    [MULTIPLE_CNT] => 5
                    [TMP_ID] => 
                    [LINK_IBLOCK_ID] => 0
                    [WITH_DESCRIPTION] => N
                    [SEARCHABLE] => N
                    [FILTRABLE] => N
                    [IS_REQUIRED] => N
                    [VERSION] => 1
                    [USER_TYPE] => 
                    [USER_TYPE_SETTINGS] => 
                    [HINT] => 
                    [PROPERTY_VALUE_ID] => 
                    [VALUE] => 
                    [DESCRIPTION] => 
                    [VALUE_ENUM] => 
                    [VALUE_XML_ID] => 
                    [VALUE_SORT] => 
                    [~VALUE] => 
                    [~DESCRIPTION] => 
                    [~NAME] => DESCRIPTION (eng.)
                    [~DEFAULT_VALUE] => 
                )

            [en_SUBSCRIBE_TEXT] => Array
                (
                    [ID] => 116
                    [TIMESTAMP_X] => 2020-07-16 09:03:06
                    [IBLOCK_ID] => 1
                    [NAME] => Текст для рассылки (eng.)
                    [ACTIVE] => Y
                    [SORT] => 2040
                    [CODE] => en_SUBSCRIBE_TEXT
                    [DEFAULT_VALUE] => Array
                        (
                            [TEXT] => 
                            [TYPE] => HTML
                        )

                    [PROPERTY_TYPE] => S
                    [ROW_COUNT] => 1
                    [COL_COUNT] => 30
                    [LIST_TYPE] => L
                    [MULTIPLE] => N
                    [XML_ID] => 116
                    [FILE_TYPE] => 
                    [MULTIPLE_CNT] => 5
                    [TMP_ID] => 
                    [LINK_IBLOCK_ID] => 0
                    [WITH_DESCRIPTION] => N
                    [SEARCHABLE] => N
                    [FILTRABLE] => N
                    [IS_REQUIRED] => N
                    [VERSION] => 1
                    [USER_TYPE] => HTML
                    [USER_TYPE_SETTINGS] => Array
                        (
                            [height] => 200
                        )

                    [HINT] => 
                    [PROPERTY_VALUE_ID] => 
                    [VALUE] => 
                    [DESCRIPTION] => 
                    [VALUE_ENUM] => 
                    [VALUE_XML_ID] => 
                    [VALUE_SORT] => 
                    [~VALUE] => 
                    [~DESCRIPTION] => 
                    [~NAME] => Текст для рассылки (eng.)
                    [~DEFAULT_VALUE] => Array
                        (
                            [TEXT] => 
                            [TYPE] => HTML
                        )

                )

            [en_AFTER_VIDEO] => Array
                (
                    [ID] => 117
                    [TIMESTAMP_X] => 2020-07-16 09:03:06
                    [IBLOCK_ID] => 1
                    [NAME] => Текст после видео  (eng.)
                    [ACTIVE] => Y
                    [SORT] => 2050
                    [CODE] => en_AFTER_VIDEO
                    [DEFAULT_VALUE] => Array
                        (
                            [TEXT] => 
                            [TYPE] => HTML
                        )

                    [PROPERTY_TYPE] => S
                    [ROW_COUNT] => 1
                    [COL_COUNT] => 30
                    [LIST_TYPE] => L
                    [MULTIPLE] => N
                    [XML_ID] => 117
                    [FILE_TYPE] => 
                    [MULTIPLE_CNT] => 5
                    [TMP_ID] => 
                    [LINK_IBLOCK_ID] => 0
                    [WITH_DESCRIPTION] => N
                    [SEARCHABLE] => N
                    [FILTRABLE] => N
                    [IS_REQUIRED] => N
                    [VERSION] => 1
                    [USER_TYPE] => HTML
                    [USER_TYPE_SETTINGS] => Array
                        (
                            [height] => 200
                        )

                    [HINT] => 
                    [PROPERTY_VALUE_ID] => 
                    [VALUE] => 
                    [DESCRIPTION] => 
                    [VALUE_ENUM] => 
                    [VALUE_XML_ID] => 
                    [VALUE_SORT] => 
                    [~VALUE] => 
                    [~DESCRIPTION] => 
                    [~NAME] => Текст после видео  (eng.)
                    [~DEFAULT_VALUE] => Array
                        (
                            [TEXT] => 
                            [TYPE] => HTML
                        )

                )

            [en_NAME] => Array
                (
                    [ID] => 118
                    [TIMESTAMP_X] => 2020-07-16 09:03:06
                    [IBLOCK_ID] => 1
                    [NAME] => Название (eng.)
                    [ACTIVE] => Y
                    [SORT] => 2060
                    [CODE] => en_NAME
                    [DEFAULT_VALUE] => 
                    [PROPERTY_TYPE] => S
                    [ROW_COUNT] => 1
                    [COL_COUNT] => 30
                    [LIST_TYPE] => L
                    [MULTIPLE] => N
                    [XML_ID] => 118
                    [FILE_TYPE] => 
                    [MULTIPLE_CNT] => 5
                    [TMP_ID] => 
                    [LINK_IBLOCK_ID] => 0
                    [WITH_DESCRIPTION] => N
                    [SEARCHABLE] => N
                    [FILTRABLE] => N
                    [IS_REQUIRED] => N
                    [VERSION] => 1
                    [USER_TYPE] => 
                    [USER_TYPE_SETTINGS] => 
                    [HINT] => 
                    [PROPERTY_VALUE_ID] => 163709
                    [VALUE] => PH Insulation Delivers Turnkey Passage for Moscow Hospital Infectious Disease Unit
                    [DESCRIPTION] => 
                    [VALUE_ENUM] => 
                    [VALUE_XML_ID] => 
                    [VALUE_SORT] => 
                    [~VALUE] => PH Insulation Delivers Turnkey Passage for Moscow Hospital Infectious Disease Unit
                    [~DESCRIPTION] => 
                    [~NAME] => Название (eng.)
                    [~DEFAULT_VALUE] => 
                )

            [en_PREVIEW_TEXT] => Array
                (
                    [ID] => 119
                    [TIMESTAMP_X] => 2020-07-16 09:03:06
                    [IBLOCK_ID] => 1
                    [NAME] => Анонс (eng.)
                    [ACTIVE] => Y
                    [SORT] => 2070
                    [CODE] => en_PREVIEW_TEXT
                    [DEFAULT_VALUE] => Array
                        (
                            [TEXT] => 
                            [TYPE] => HTML
                        )

                    [PROPERTY_TYPE] => S
                    [ROW_COUNT] => 1
                    [COL_COUNT] => 30
                    [LIST_TYPE] => L
                    [MULTIPLE] => N
                    [XML_ID] => 119
                    [FILE_TYPE] => 
                    [MULTIPLE_CNT] => 5
                    [TMP_ID] => 
                    [LINK_IBLOCK_ID] => 0
                    [WITH_DESCRIPTION] => N
                    [SEARCHABLE] => N
                    [FILTRABLE] => N
                    [IS_REQUIRED] => N
                    [VERSION] => 1
                    [USER_TYPE] => HTML
                    [USER_TYPE_SETTINGS] => Array
                        (
                            [height] => 200
                        )

                    [HINT] => 
                    [PROPERTY_VALUE_ID] => 163710
                    [VALUE] => Array
                        (
                            [TEXT] => A hospital passage for COVID-19 patients features PH Insulation PU sandwich panels and industrial doors 
                            [TYPE] => TEXT
                        )

                    [DESCRIPTION] => 
                    [VALUE_ENUM] => 
                    [VALUE_XML_ID] => 
                    [VALUE_SORT] => 
                    [~VALUE] => Array
                        (
                            [TEXT] => A hospital passage for COVID-19 patients features PH Insulation PU sandwich panels and industrial doors 
                            [TYPE] => TEXT
                        )

                    [~DESCRIPTION] => 
                    [~NAME] => Анонс (eng.)
                    [~DEFAULT_VALUE] => Array
                        (
                            [TEXT] => 
                            [TYPE] => HTML
                        )

                )

            [en_DETAIL_TEXT] => Array
                (
                    [ID] => 120
                    [TIMESTAMP_X] => 2020-07-16 09:03:06
                    [IBLOCK_ID] => 1
                    [NAME] => Новость детально (eng.)
                    [ACTIVE] => Y
                    [SORT] => 2080
                    [CODE] => en_DETAIL_TEXT
                    [DEFAULT_VALUE] => Array
                        (
                            [TEXT] => 
                            [TYPE] => HTML
                        )

                    [PROPERTY_TYPE] => S
                    [ROW_COUNT] => 1
                    [COL_COUNT] => 30
                    [LIST_TYPE] => L
                    [MULTIPLE] => N
                    [XML_ID] => 120
                    [FILE_TYPE] => 
                    [MULTIPLE_CNT] => 5
                    [TMP_ID] => 
                    [LINK_IBLOCK_ID] => 0
                    [WITH_DESCRIPTION] => N
                    [SEARCHABLE] => N
                    [FILTRABLE] => N
                    [IS_REQUIRED] => N
                    [VERSION] => 1
                    [USER_TYPE] => HTML
                    [USER_TYPE_SETTINGS] => Array
                        (
                            [height] => 200
                        )

                    [HINT] => 
                    [PROPERTY_VALUE_ID] => 163711
                    [VALUE] => Array
                        (
                            [TEXT] => <p>
	 PH Insulation, which is known in Russia under the brand name ProfHolod, in less than a week built a new gateway to the infectious disease unit in a Moscow hospital with PU sandwich panels and industrial doors. The gateway was set up urgently for patients with coronavirus.<br>
 <br>
	 PH Insulation's Technical Solutions Department specialists calculated the required number of sandwich panels and suggested a custom door design. PH Insulation installed the turnkey structure on the hospital premises in partnership with a Moscow construction company.<br>
 <br>
	 Two PH Insulation's continuous sandwich panel production lines in Moscow and Tula regions manufacture PIR Premier, PUR Classic and mineral wool insulated panels for construction of healthcare, food production and other facilities which ensure the supply of people's daily necessities during the coronavirus pandemic.<br>
 <br>
	 Sandwich panels with polyurethane foam are used for fast construction of various types of buildings:  warehouses, pharmaceutical, hospital, production facilities, etc. The PU panels have the elevated hydro and heat insulation properties and are easy to mount. They require no internal finishing and allow to reduce the cost of cooling or heating the premises with its low thermal conductivity index of just 0.022 W/m*K. <br>
 <br>
	 Technological doors are custom made, used for zoning and provide for viewing the room with its oval windows. Technological doors are easy to operate and maintain, boast a modern design and are produced with reliable German hardware installed on them.<br>
 <br>
	 To protect the premises from drafts and dust PH Insulation equipped the hospital gateway with PVC curtains. <br>
 <br>
	 For free consultation on quick-build structures for hospitals or other pre-fabricated facilities and buildings, or to become a partner please call +7 (495) 240-83-14 or send an inquiry to <a href="mailto:info@profholod.com">info@profholod.com</a>.     
</p>
<p>
	<br>
</p>
<p>
 <img width="295" alt="4б.jpeg" src="/upload/medialibrary/200/4б.jpeg" height="358" title="4б.jpeg"> 
</p>
<p>
 <img width="295" alt="1б.jpeg" src="/upload/medialibrary/d42/1б.jpeg" height="359" title="1б.jpeg"> 
</p>
                            [TYPE] => HTML
                        )

                    [DESCRIPTION] => 
                    [VALUE_ENUM] => 
                    [VALUE_XML_ID] => 
                    [VALUE_SORT] => 
                    [~VALUE] => Array
                        (
                            [TEXT] => 


	 PH Insulation, which is known in Russia under the brand name ProfHolod, in less than a week built a new gateway to the infectious disease unit in a Moscow hospital with PU sandwich panels and industrial doors. The gateway was set up urgently for patients with coronavirus.

 

	 PH Insulation's Technical Solutions Department specialists calculated the required number of sandwich panels and suggested a custom door design. PH Insulation installed the turnkey structure on the hospital premises in partnership with a Moscow construction company.

 

	 Two PH Insulation's continuous sandwich panel production lines in Moscow and Tula regions manufacture PIR Premier, PUR Classic and mineral wool insulated panels for construction of healthcare, food production and other facilities which ensure the supply of people's daily necessities during the coronavirus pandemic.

 

	 Sandwich panels with polyurethane foam are used for fast construction of various types of buildings:  warehouses, pharmaceutical, hospital, production facilities, etc. The PU panels have the elevated hydro and heat insulation properties and are easy to mount. They require no internal finishing and allow to reduce the cost of cooling or heating the premises with its low thermal conductivity index of just 0.022 W/m*K. 

 

	 Technological doors are custom made, used for zoning and provide for viewing the room with its oval windows. Technological doors are easy to operate and maintain, boast a modern design and are produced with reliable German hardware installed on them.

 

	 To protect the premises from drafts and dust PH Insulation equipped the hospital gateway with PVC curtains. 

 

	 For free consultation on quick-build structures for hospitals or other pre-fabricated facilities and buildings, or to become a partner please call +7 (495) 240-83-14 or send an inquiry to info@profholod.com.     






	







  






  



                            [TYPE] => HTML
                        )

                    [~DESCRIPTION] => 
                    [~NAME] => Новость детально (eng.)
                    [~DEFAULT_VALUE] => Array
                        (
                            [TEXT] => 
                            [TYPE] => HTML
                        )

                )

            [HIDE_ON_RU] => Array
                (
                    [ID] => 532
                    [TIMESTAMP_X] => 2020-07-16 09:03:06
                    [IBLOCK_ID] => 1
                    [NAME] => Не отображать на РУ
                    [ACTIVE] => Y
                    [SORT] => 2500
                    [CODE] => HIDE_ON_RU
                    [DEFAULT_VALUE] => 
                    [PROPERTY_TYPE] => L
                    [ROW_COUNT] => 1
                    [COL_COUNT] => 30
                    [LIST_TYPE] => C
                    [MULTIPLE] => N
                    [XML_ID] => 532
                    [FILE_TYPE] => 
                    [MULTIPLE_CNT] => 5
                    [TMP_ID] => 
                    [LINK_IBLOCK_ID] => 0
                    [WITH_DESCRIPTION] => N
                    [SEARCHABLE] => N
                    [FILTRABLE] => N
                    [IS_REQUIRED] => N
                    [VERSION] => 1
                    [USER_TYPE] => 
                    [USER_TYPE_SETTINGS] => 
                    [HINT] => 
                    [PROPERTY_VALUE_ID] => 
                    [VALUE] => 
                    [DESCRIPTION] => 
                    [VALUE_ENUM] => 
                    [VALUE_XML_ID] => 
                    [VALUE_SORT] => 
                    [VALUE_ENUM_ID] => 
                    [~VALUE] => 
                    [~DESCRIPTION] => 
                    [~NAME] => Не отображать на РУ
                    [~DEFAULT_VALUE] => 
                )

        )

    [DISPLAY_PROPERTIES] => Array
        (
        )

    [IBLOCK] => Array
        (
            [ID] => 1
            [~ID] => 1
            [TIMESTAMP_X] => 26.05.2020 15:55:21
            [~TIMESTAMP_X] => 26.05.2020 15:55:21
            [IBLOCK_TYPE_ID] => news
            [~IBLOCK_TYPE_ID] => news
            [LID] => en
            [~LID] => en
            [CODE] => furniture_news_s1
            [~CODE] => furniture_news_s1
            [NAME] => Новые продукты и решения
            [~NAME] => Новые продукты и решения
            [ACTIVE] => Y
            [~ACTIVE] => Y
            [SORT] => 500
            [~SORT] => 500
            [LIST_PAGE_URL] => /news/press/
            [~LIST_PAGE_URL] => /news/press/
            [DETAIL_PAGE_URL] => #SITE_DIR#press/news/#ELEMENT_CODE#/
            [~DETAIL_PAGE_URL] => #SITE_DIR#press/news/#ELEMENT_CODE#/
            [SECTION_PAGE_URL] => 
            [~SECTION_PAGE_URL] => 
            [PICTURE] => 
            [~PICTURE] => 
            [DESCRIPTION] => 
            [~DESCRIPTION] => 
            [DESCRIPTION_TYPE] => text
            [~DESCRIPTION_TYPE] => text
            [RSS_TTL] => 24
            [~RSS_TTL] => 24
            [RSS_ACTIVE] => Y
            [~RSS_ACTIVE] => Y
            [RSS_FILE_ACTIVE] => N
            [~RSS_FILE_ACTIVE] => N
            [RSS_FILE_LIMIT] => 0
            [~RSS_FILE_LIMIT] => 0
            [RSS_FILE_DAYS] => 0
            [~RSS_FILE_DAYS] => 0
            [RSS_YANDEX_ACTIVE] => N
            [~RSS_YANDEX_ACTIVE] => N
            [XML_ID] => furniture_news_s1
            [~XML_ID] => furniture_news_s1
            [TMP_ID] => 
            [~TMP_ID] => 
            [INDEX_ELEMENT] => Y
            [~INDEX_ELEMENT] => Y
            [INDEX_SECTION] => N
            [~INDEX_SECTION] => N
            [WORKFLOW] => N
            [~WORKFLOW] => N
            [BIZPROC] => N
            [~BIZPROC] => N
            [SECTION_CHOOSER] => L
            [~SECTION_CHOOSER] => L
            [LIST_MODE] => 
            [~LIST_MODE] => 
            [VERSION] => 1
            [~VERSION] => 1
            [LAST_CONV_ELEMENT] => 0
            [~LAST_CONV_ELEMENT] => 0
            [EDIT_FILE_BEFORE] => 
            [~EDIT_FILE_BEFORE] => 
            [EDIT_FILE_AFTER] => 
            [~EDIT_FILE_AFTER] => 
            [SECTIONS_NAME] => Разделы
            [~SECTIONS_NAME] => Разделы
            [SECTION_NAME] => Раздел
            [~SECTION_NAME] => Раздел
            [ELEMENTS_NAME] => Новости
            [~ELEMENTS_NAME] => Новости
            [ELEMENT_NAME] => Новость
            [~ELEMENT_NAME] => Новость
            [SOCNET_GROUP_ID] => 
            [~SOCNET_GROUP_ID] => 
            [RIGHTS_MODE] => S
            [~RIGHTS_MODE] => S
            [SECTION_PROPERTY] => 
            [~SECTION_PROPERTY] => 
            [PROPERTY_INDEX] => 
            [~PROPERTY_INDEX] => 
            [CANONICAL_PAGE_URL] => 
            [~CANONICAL_PAGE_URL] => 
            [EXTERNAL_ID] => furniture_news_s1
            [~EXTERNAL_ID] => furniture_news_s1
            [LANG_DIR] => /
            [~LANG_DIR] => /
            [SERVER_NAME] => profholod.com
            [~SERVER_NAME] => profholod.com
        )

    [SECTION] => Array
        (
            [PATH] => Array
                (
                )

        )

    [SECTION_URL] => 
    [META_TAGS] => Array
        (
            [BROWSER_TITLE] => 
            [KEYWORDS] => 
            [DESCRIPTION] => 
        )

    [META_TEMPLATES] => Array
        (
            [TITLE] => PH Insulation Delivers Turnkey Passage for Moscow Hospital Infectious Disease Unit - News Profholod
            [KEYWORDS] => 
            [DESCRIPTION] => A hospital passage for COVID-19 patients features PH Insulation PU sandwich panels and industrial doors 
            [H1] => PH Insulation Delivers Turnkey Passage for Moscow Hospital Infectious Disease Unit
        )

    [EN_NAME] => PH Insulation Delivers Turnkey Passage for Moscow Hospital Infectious Disease Unit
    [EN_DETAIL_TEXT] => Array
        (
            [TEXT] => <p>
	 PH Insulation, which is known in Russia under the brand name ProfHolod, in less than a week built a new gateway to the infectious disease unit in a Moscow hospital with PU sandwich panels and industrial doors. The gateway was set up urgently for patients with coronavirus.<br>
 <br>
	 PH Insulation's Technical Solutions Department specialists calculated the required number of sandwich panels and suggested a custom door design. PH Insulation installed the turnkey structure on the hospital premises in partnership with a Moscow construction company.<br>
 <br>
	 Two PH Insulation's continuous sandwich panel production lines in Moscow and Tula regions manufacture PIR Premier, PUR Classic and mineral wool insulated panels for construction of healthcare, food production and other facilities which ensure the supply of people's daily necessities during the coronavirus pandemic.<br>
 <br>
	 Sandwich panels with polyurethane foam are used for fast construction of various types of buildings:  warehouses, pharmaceutical, hospital, production facilities, etc. The PU panels have the elevated hydro and heat insulation properties and are easy to mount. They require no internal finishing and allow to reduce the cost of cooling or heating the premises with its low thermal conductivity index of just 0.022 W/m*K. <br>
 <br>
	 Technological doors are custom made, used for zoning and provide for viewing the room with its oval windows. Technological doors are easy to operate and maintain, boast a modern design and are produced with reliable German hardware installed on them.<br>
 <br>
	 To protect the premises from drafts and dust PH Insulation equipped the hospital gateway with PVC curtains. <br>
 <br>
	 For free consultation on quick-build structures for hospitals or other pre-fabricated facilities and buildings, or to become a partner please call +7 (495) 240-83-14 or send an inquiry to <a href="mailto:info@profholod.com">info@profholod.com</a>.     
</p>
<p>
	<br>
</p>
<p>
 <img width="295" alt="4б.jpeg" src="/upload/medialibrary/200/4б.jpeg" height="358" title="4б.jpeg"> 
</p>
<p>
 <img width="295" alt="1б.jpeg" src="/upload/medialibrary/d42/1б.jpeg" height="359" title="1б.jpeg"> 
</p>
            [TYPE] => HTML
        )

)

[07.04.2020]
PH Insulation, which is known in Russia under the brand name ProfHolod, in less than a week built a new gateway to the infectious disease unit in a Moscow hospital with PU sandwich panels and industrial doors. The gateway was set up urgently for patients with coronavirus.

PH Insulation's Technical Solutions Department specialists calculated the required number of sandwich panels and suggested a custom door design. PH Insulation installed the turnkey structure on the hospital premises in partnership with a Moscow construction company.

Two PH Insulation's continuous sandwich panel production lines in Moscow and Tula regions manufacture PIR Premier, PUR Classic and mineral wool insulated panels for construction of healthcare, food production and other facilities which ensure the supply of people's daily necessities during the coronavirus pandemic.

Sandwich panels with polyurethane foam are used for fast construction of various types of buildings: warehouses, pharmaceutical, hospital, production facilities, etc. The PU panels have the elevated hydro and heat insulation properties and are easy to mount. They require no internal finishing and allow to reduce the cost of cooling or heating the premises with its low thermal conductivity index of just 0.022 W/m*K.

Technological doors are custom made, used for zoning and provide for viewing the room with its oval windows. Technological doors are easy to operate and maintain, boast a modern design and are produced with reliable German hardware installed on them.

To protect the premises from drafts and dust PH Insulation equipped the hospital gateway with PVC curtains.

For free consultation on quick-build structures for hospitals or other pre-fabricated facilities and buildings, or to become a partner please call +7 (495) 240-83-14 or send an inquiry to info@profholod.com.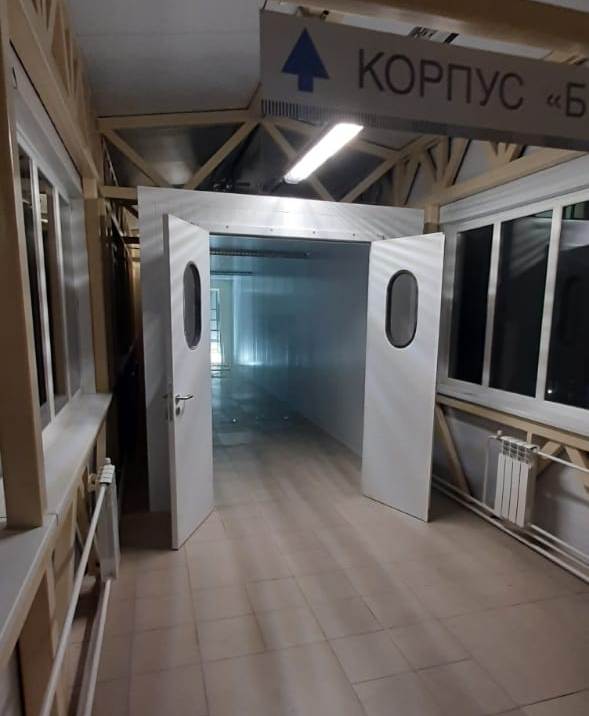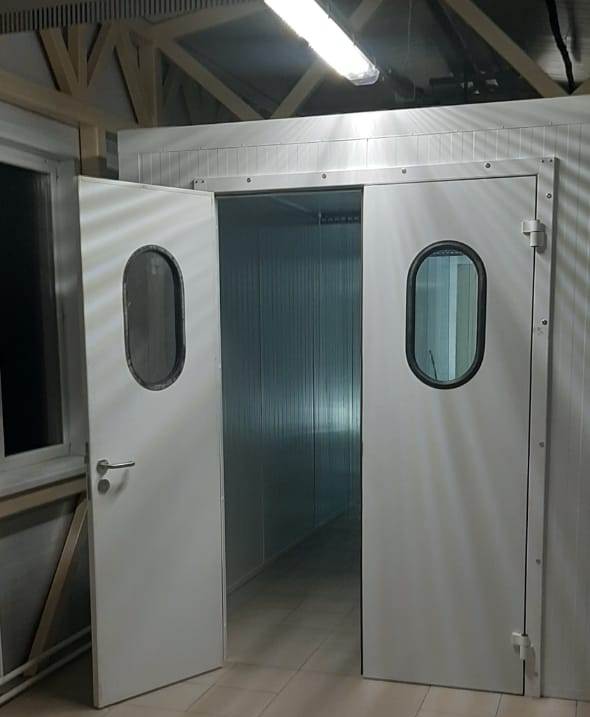 Back to
Company news