Main page

Press releases

PH Insulation Reduces CO2 Emissions by 80,000 kg with Solar Panels at its Manufacturing Site
PH Insulation Reduces CO2 Emissions by 80,000 kg with Solar Panels at its Manufacturing Site

Array
(
    [ID] => 14718
    [~ID] => 14718
    [NAME] => Минус 80 тонн углекислого газа. Солнечные панели на производстве «ПрофХолода» снижают парниковую эмиссию
    [~NAME] => Минус 80 тонн углекислого газа. Солнечные панели на производстве «ПрофХолода» снижают парниковую эмиссию
    [IBLOCK_ID] => 1
    [~IBLOCK_ID] => 1
    [IBLOCK_SECTION_ID] => 
    [~IBLOCK_SECTION_ID] => 
    [DETAIL_TEXT] => 


	 Солнечная электростанция, которая установлена в «ПрофХолоде», предотвратила выброс более 80 тонн углекислого газа в атмосферу за 4 года работы.






 







	 Станция мощностью 27 кВт размещена на стене здания непрерывной линии «ПрофХолода» по производству сэндвич-панелей с PIR Premier в Подмосковье.






	 Солнечные панели выработали за 4 года более 82 тысяч кВтЧ электроэнергии и сэкономили планете более 33 тонн угля или более 4400 деревьев. 80 тысяч кВтЧ примерно эквивалентно трем месяцам работы цеха по производству холодильных и технологических дверей «ПрофХолода».






	 Станция спроектирована и установлена SolarOn — первым производителем солнечных модулей в Армении.






	 Солнечные электростанции, которые устанавливают партнеры «ПрофХолода» на кровельные сэндвич-панели на территориях, обладающих значительным потенциалом инсоляции, могут производить значительно больше электроэнергии ежегодно. Например, станция мощностью 335 кВт, которая установлена в Армении, выработала за год более 500 000 кВтЧ электроэнергии. И это фактически выданная в сеть энергия с учетом всех потерь, в том числе и таких субъективных, как доступность сети.






	 «То есть каждый установленный киловатт мощности данной электростанции, которую спроектировал SolarOn, выдает около 1500 кВтЧ энергии ежегодно, — поясняет Ваге Шарафян, директор департамента технических решений и новых разработок «ПрофХолода». — Важно понимать, что это реальная выданная в сеть энергия. По теоретическим расчетам, исходя из уровня инсоляции на территории страны, можно было ожидать 1650–1750 кВтЧ за установленный киловатт».






	 Прогнозы Solaron по выработке электроэнергии максимально приближены к реальной ситуации. При расчетах учитываются поправки на отключение электроэнергии, когда энергия от солнечной станции не может перейти в сеть.






	 «ПрофХолод» предлагает партнерам сократить затраты на охлаждение или отопление за счет приобретения автономных холодильных камер на солнечных панелях Solaron и готовых решений для кровли: солнечные панели с установкой на сэндвич-панели с PIR Premier.






	 Чтобы получить бесплатную консультацию по использованию солнечной энергии для охлаждения или обогрева вашего объекта, звоните 8-800-700-0137, звонок по России бесплатный.



    [~DETAIL_TEXT] => 


	 Солнечная электростанция, которая установлена в «ПрофХолоде», предотвратила выброс более 80 тонн углекислого газа в атмосферу за 4 года работы.






 







	 Станция мощностью 27 кВт размещена на стене здания непрерывной линии «ПрофХолода» по производству сэндвич-панелей с PIR Premier в Подмосковье.






	 Солнечные панели выработали за 4 года более 82 тысяч кВтЧ электроэнергии и сэкономили планете более 33 тонн угля или более 4400 деревьев. 80 тысяч кВтЧ примерно эквивалентно трем месяцам работы цеха по производству холодильных и технологических дверей «ПрофХолода».






	 Станция спроектирована и установлена SolarOn — первым производителем солнечных модулей в Армении.






	 Солнечные электростанции, которые устанавливают партнеры «ПрофХолода» на кровельные сэндвич-панели на территориях, обладающих значительным потенциалом инсоляции, могут производить значительно больше электроэнергии ежегодно. Например, станция мощностью 335 кВт, которая установлена в Армении, выработала за год более 500 000 кВтЧ электроэнергии. И это фактически выданная в сеть энергия с учетом всех потерь, в том числе и таких субъективных, как доступность сети.






	 «То есть каждый установленный киловатт мощности данной электростанции, которую спроектировал SolarOn, выдает около 1500 кВтЧ энергии ежегодно, — поясняет Ваге Шарафян, директор департамента технических решений и новых разработок «ПрофХолода». — Важно понимать, что это реальная выданная в сеть энергия. По теоретическим расчетам, исходя из уровня инсоляции на территории страны, можно было ожидать 1650–1750 кВтЧ за установленный киловатт».






	 Прогнозы Solaron по выработке электроэнергии максимально приближены к реальной ситуации. При расчетах учитываются поправки на отключение электроэнергии, когда энергия от солнечной станции не может перейти в сеть.






	 «ПрофХолод» предлагает партнерам сократить затраты на охлаждение или отопление за счет приобретения автономных холодильных камер на солнечных панелях Solaron и готовых решений для кровли: солнечные панели с установкой на сэндвич-панели с PIR Premier.






	 Чтобы получить бесплатную консультацию по использованию солнечной энергии для охлаждения или обогрева вашего объекта, звоните 8-800-700-0137, звонок по России бесплатный.



    [DETAIL_TEXT_TYPE] => html
    [~DETAIL_TEXT_TYPE] => html
    [PREVIEW_TEXT] => Солнечная электростанция на непрерывной линии «ПрофХолода» выработала более 82 тысяч кВтЧ электроэнергии за 4 года, предотвратив выброс в атмосферу более 80 тонн углекислого газа
    [~PREVIEW_TEXT] => Солнечная электростанция на непрерывной линии «ПрофХолода» выработала более 82 тысяч кВтЧ электроэнергии за 4 года, предотвратив выброс в атмосферу более 80 тонн углекислого газа
    [PREVIEW_TEXT_TYPE] => text
    [~PREVIEW_TEXT_TYPE] => text
    [DETAIL_PICTURE] => Array
        (
            [ID] => 71833
            [TIMESTAMP_X] => 27.05.2020 10:11:48
            [MODULE_ID] => iblock
            [HEIGHT] => 600
            [WIDTH] => 800
            [FILE_SIZE] => 248450
            [CONTENT_TYPE] => image/jpeg
            [SUBDIR] => iblock/cfd
            [FILE_NAME] => хранение металла (3)1.jpg
            [ORIGINAL_NAME] => хранение металла (3)1.jpg
            [DESCRIPTION] => 
            [HANDLER_ID] => 
            [EXTERNAL_ID] => 28fa4a22e15dbe4506ad6c3fa295f166
            [~src] => 
            [SRC] => /upload/iblock/cfd/%D1%85%D1%80%D0%B0%D0%BD%D0%B5%D0%BD%D0%B8%D0%B5%20%D0%BC%D0%B5%D1%82%D0%B0%D0%BB%D0%BB%D0%B0%20%283%291.jpg
            [UNSAFE_SRC] => /upload/iblock/cfd/хранение металла (3)1.jpg
            [SAFE_SRC] => /upload/iblock/cfd/%D1%85%D1%80%D0%B0%D0%BD%D0%B5%D0%BD%D0%B8%D0%B5%20%D0%BC%D0%B5%D1%82%D0%B0%D0%BB%D0%BB%D0%B0%20%283%291.jpg
            [ALT] => Минус 80 тонн углекислого газа. Солнечные панели на производстве «ПрофХолода» снижают парниковую эмиссию
            [TITLE] => Минус 80 тонн углекислого газа. Солнечные панели на производстве «ПрофХолода» снижают парниковую эмиссию
        )

    [~DETAIL_PICTURE] => 71833
    [TIMESTAMP_X] => 27.05.2020 10:11:48
    [~TIMESTAMP_X] => 27.05.2020 10:11:48
    [ACTIVE_FROM] => 21.05.2020 11:43:00
    [~ACTIVE_FROM] => 21.05.2020 11:43:00
    [LIST_PAGE_URL] => /press/news/
    [~LIST_PAGE_URL] => /press/news/
    [DETAIL_PAGE_URL] => /press/news/Minus-80-tonn-uglekislogo-gaza-Solnechnye-paneli-na-proizvodstve-ProfKHoloda-snizhayut-parnikovuyu-e/
    [~DETAIL_PAGE_URL] => /press/news/Minus-80-tonn-uglekislogo-gaza-Solnechnye-paneli-na-proizvodstve-ProfKHoloda-snizhayut-parnikovuyu-e/
    [LANG_DIR] => /
    [~LANG_DIR] => /
    [CODE] => Minus-80-tonn-uglekislogo-gaza-Solnechnye-paneli-na-proizvodstve-ProfKHoloda-snizhayut-parnikovuyu-e
    [~CODE] => Minus-80-tonn-uglekislogo-gaza-Solnechnye-paneli-na-proizvodstve-ProfKHoloda-snizhayut-parnikovuyu-e
    [EXTERNAL_ID] => 14718
    [~EXTERNAL_ID] => 14718
    [IBLOCK_TYPE_ID] => news
    [~IBLOCK_TYPE_ID] => news
    [IBLOCK_CODE] => furniture_news_s1
    [~IBLOCK_CODE] => furniture_news_s1
    [IBLOCK_EXTERNAL_ID] => furniture_news_s1
    [~IBLOCK_EXTERNAL_ID] => furniture_news_s1
    [LID] => en
    [~LID] => en
    [NAV_RESULT] => 
    [DISPLAY_ACTIVE_FROM] => 21.05.2020
    [IPROPERTY_VALUES] => Array
        (
        )

    [FIELDS] => Array
        (
        )

    [PROPERTIES] => Array
        (
            [TITLE] => Array
                (
                    [ID] => 59
                    [TIMESTAMP_X] => 2019-01-11 17:32:41
                    [IBLOCK_ID] => 1
                    [NAME] => Заголовок
                    [ACTIVE] => Y
                    [SORT] => 100
                    [CODE] => TITLE
                    [DEFAULT_VALUE] => 
                    [PROPERTY_TYPE] => S
                    [ROW_COUNT] => 1
                    [COL_COUNT] => 30
                    [LIST_TYPE] => L
                    [MULTIPLE] => N
                    [XML_ID] => 
                    [FILE_TYPE] => 
                    [MULTIPLE_CNT] => 5
                    [TMP_ID] => 
                    [LINK_IBLOCK_ID] => 0
                    [WITH_DESCRIPTION] => N
                    [SEARCHABLE] => N
                    [FILTRABLE] => N
                    [IS_REQUIRED] => N
                    [VERSION] => 1
                    [USER_TYPE] => 
                    [USER_TYPE_SETTINGS] => 
                    [HINT] => 
                    [PROPERTY_VALUE_ID] => 
                    [VALUE] => 
                    [DESCRIPTION] => 
                    [VALUE_ENUM] => 
                    [VALUE_XML_ID] => 
                    [VALUE_SORT] => 
                    [~VALUE] => 
                    [~DESCRIPTION] => 
                    [~NAME] => Заголовок
                    [~DEFAULT_VALUE] => 
                )

            [KEYWORDS] => Array
                (
                    [ID] => 60
                    [TIMESTAMP_X] => 2019-01-11 17:32:41
                    [IBLOCK_ID] => 1
                    [NAME] => Ключевые слова
                    [ACTIVE] => Y
                    [SORT] => 200
                    [CODE] => KEYWORDS
                    [DEFAULT_VALUE] => 
                    [PROPERTY_TYPE] => S
                    [ROW_COUNT] => 1
                    [COL_COUNT] => 30
                    [LIST_TYPE] => L
                    [MULTIPLE] => N
                    [XML_ID] => 
                    [FILE_TYPE] => 
                    [MULTIPLE_CNT] => 5
                    [TMP_ID] => 
                    [LINK_IBLOCK_ID] => 0
                    [WITH_DESCRIPTION] => N
                    [SEARCHABLE] => N
                    [FILTRABLE] => N
                    [IS_REQUIRED] => N
                    [VERSION] => 1
                    [USER_TYPE] => 
                    [USER_TYPE_SETTINGS] => 
                    [HINT] => 
                    [PROPERTY_VALUE_ID] => 
                    [VALUE] => 
                    [DESCRIPTION] => 
                    [VALUE_ENUM] => 
                    [VALUE_XML_ID] => 
                    [VALUE_SORT] => 
                    [~VALUE] => 
                    [~DESCRIPTION] => 
                    [~NAME] => Ключевые слова
                    [~DEFAULT_VALUE] => 
                )

            [DESCRIPTION] => Array
                (
                    [ID] => 61
                    [TIMESTAMP_X] => 2019-01-11 17:32:41
                    [IBLOCK_ID] => 1
                    [NAME] => Описание
                    [ACTIVE] => Y
                    [SORT] => 300
                    [CODE] => DESCRIPTION
                    [DEFAULT_VALUE] => 
                    [PROPERTY_TYPE] => S
                    [ROW_COUNT] => 1
                    [COL_COUNT] => 30
                    [LIST_TYPE] => L
                    [MULTIPLE] => N
                    [XML_ID] => 
                    [FILE_TYPE] => 
                    [MULTIPLE_CNT] => 5
                    [TMP_ID] => 
                    [LINK_IBLOCK_ID] => 0
                    [WITH_DESCRIPTION] => N
                    [SEARCHABLE] => N
                    [FILTRABLE] => N
                    [IS_REQUIRED] => N
                    [VERSION] => 1
                    [USER_TYPE] => 
                    [USER_TYPE_SETTINGS] => 
                    [HINT] => 
                    [PROPERTY_VALUE_ID] => 
                    [VALUE] => 
                    [DESCRIPTION] => 
                    [VALUE_ENUM] => 
                    [VALUE_XML_ID] => 
                    [VALUE_SORT] => 
                    [~VALUE] => 
                    [~DESCRIPTION] => 
                    [~NAME] => Описание
                    [~DEFAULT_VALUE] => 
                )

            [SUBSCRIBE_TEXT] => Array
                (
                    [ID] => 85
                    [TIMESTAMP_X] => 2019-01-11 17:32:41
                    [IBLOCK_ID] => 1
                    [NAME] => Текст для рассылки
                    [ACTIVE] => Y
                    [SORT] => 400
                    [CODE] => SUBSCRIBE_TEXT
                    [DEFAULT_VALUE] => Array
                        (
                            [TEXT] => 
                            [TYPE] => HTML
                        )

                    [PROPERTY_TYPE] => S
                    [ROW_COUNT] => 1
                    [COL_COUNT] => 30
                    [LIST_TYPE] => L
                    [MULTIPLE] => N
                    [XML_ID] => 
                    [FILE_TYPE] => 
                    [MULTIPLE_CNT] => 5
                    [TMP_ID] => 
                    [LINK_IBLOCK_ID] => 0
                    [WITH_DESCRIPTION] => N
                    [SEARCHABLE] => N
                    [FILTRABLE] => N
                    [IS_REQUIRED] => N
                    [VERSION] => 1
                    [USER_TYPE] => HTML
                    [USER_TYPE_SETTINGS] => Array
                        (
                            [height] => 200
                        )

                    [HINT] => 
                    [PROPERTY_VALUE_ID] => 
                    [VALUE] => 
                    [DESCRIPTION] => 
                    [VALUE_ENUM] => 
                    [VALUE_XML_ID] => 
                    [VALUE_SORT] => 
                    [~VALUE] => 
                    [~DESCRIPTION] => 
                    [~NAME] => Текст для рассылки
                    [~DEFAULT_VALUE] => Array
                        (
                            [TEXT] => 
                            [TYPE] => HTML
                        )

                )

            [VIDEO] => Array
                (
                    [ID] => 89
                    [TIMESTAMP_X] => 2019-01-11 17:32:41
                    [IBLOCK_ID] => 1
                    [NAME] => Видео
                    [ACTIVE] => Y
                    [SORT] => 500
                    [CODE] => VIDEO
                    [DEFAULT_VALUE] => Array
                        (
                        )

                    [PROPERTY_TYPE] => S
                    [ROW_COUNT] => 1
                    [COL_COUNT] => 30
                    [LIST_TYPE] => L
                    [MULTIPLE] => N
                    [XML_ID] => 
                    [FILE_TYPE] => 
                    [MULTIPLE_CNT] => 5
                    [TMP_ID] => 
                    [LINK_IBLOCK_ID] => 0
                    [WITH_DESCRIPTION] => N
                    [SEARCHABLE] => N
                    [FILTRABLE] => N
                    [IS_REQUIRED] => N
                    [VERSION] => 1
                    [USER_TYPE] => video
                    [USER_TYPE_SETTINGS] => Array
                        (
                            [BUFFER_LENGTH] => 10
                            [CONTROLBAR] => bottom
                            [AUTOSTART] => N
                            [VOLUME] => 90
                            [SKIN] => 
                            [FLASHVARS] => 
                            [WMODE_FLV] => transparent
                            [BGCOLOR] => FFFFFF
                            [COLOR] => 000000
                            [OVER_COLOR] => 000000
                            [SCREEN_COLOR] => 000000
                            [SILVERVARS] => 
                            [WMODE_WMV] => windowless
                            [WIDTH] => 400
                            [HEIGHT] => 300
                        )

                    [HINT] => 
                    [PROPERTY_VALUE_ID] => 
                    [VALUE] => Array
                        (
                        )

                    [DESCRIPTION] => 
                    [VALUE_ENUM] => 
                    [VALUE_XML_ID] => 
                    [VALUE_SORT] => 
                    [~VALUE] => Array
                        (
                        )

                    [~DESCRIPTION] => 
                    [~NAME] => Видео
                    [~DEFAULT_VALUE] => Array
                        (
                        )

                )

            [SHORT_DESCRIPTION_EMAIL] => Array
                (
                    [ID] => 520
                    [TIMESTAMP_X] => 2019-07-25 15:58:49
                    [IBLOCK_ID] => 1
                    [NAME] => Краткое описание для рассылки
                    [ACTIVE] => Y
                    [SORT] => 500
                    [CODE] => SHORT_DESCRIPTION_EMAIL
                    [DEFAULT_VALUE] => Array
                        (
                            [TEXT] => 
                            [TYPE] => HTML
                        )

                    [PROPERTY_TYPE] => S
                    [ROW_COUNT] => 1
                    [COL_COUNT] => 30
                    [LIST_TYPE] => L
                    [MULTIPLE] => N
                    [XML_ID] => 
                    [FILE_TYPE] => 
                    [MULTIPLE_CNT] => 5
                    [TMP_ID] => 
                    [LINK_IBLOCK_ID] => 0
                    [WITH_DESCRIPTION] => N
                    [SEARCHABLE] => N
                    [FILTRABLE] => N
                    [IS_REQUIRED] => N
                    [VERSION] => 1
                    [USER_TYPE] => HTML
                    [USER_TYPE_SETTINGS] => Array
                        (
                            [height] => 200
                        )

                    [HINT] => 
                    [PROPERTY_VALUE_ID] => 
                    [VALUE] => 
                    [DESCRIPTION] => 
                    [VALUE_ENUM] => 
                    [VALUE_XML_ID] => 
                    [VALUE_SORT] => 
                    [~VALUE] => 
                    [~DESCRIPTION] => 
                    [~NAME] => Краткое описание для рассылки
                    [~DEFAULT_VALUE] => Array
                        (
                            [TEXT] => 
                            [TYPE] => HTML
                        )

                )

            [VIDEO_PREV] => Array
                (
                    [ID] => 90
                    [TIMESTAMP_X] => 2019-01-11 17:32:41
                    [IBLOCK_ID] => 1
                    [NAME] => Превью видео
                    [ACTIVE] => Y
                    [SORT] => 600
                    [CODE] => VIDEO_PREV
                    [DEFAULT_VALUE] => 
                    [PROPERTY_TYPE] => F
                    [ROW_COUNT] => 1
                    [COL_COUNT] => 30
                    [LIST_TYPE] => L
                    [MULTIPLE] => N
                    [XML_ID] => 
                    [FILE_TYPE] => 
                    [MULTIPLE_CNT] => 5
                    [TMP_ID] => 
                    [LINK_IBLOCK_ID] => 0
                    [WITH_DESCRIPTION] => N
                    [SEARCHABLE] => N
                    [FILTRABLE] => N
                    [IS_REQUIRED] => N
                    [VERSION] => 1
                    [USER_TYPE] => 
                    [USER_TYPE_SETTINGS] => 
                    [HINT] => 
                    [PROPERTY_VALUE_ID] => 
                    [VALUE] => 
                    [DESCRIPTION] => 
                    [VALUE_ENUM] => 
                    [VALUE_XML_ID] => 
                    [VALUE_SORT] => 
                    [~VALUE] => 
                    [~DESCRIPTION] => 
                    [~NAME] => Превью видео
                    [~DEFAULT_VALUE] => 
                )

            [AFTER_VIDEO] => Array
                (
                    [ID] => 94
                    [TIMESTAMP_X] => 2019-01-11 17:32:41
                    [IBLOCK_ID] => 1
                    [NAME] => Текст после видео
                    [ACTIVE] => Y
                    [SORT] => 700
                    [CODE] => AFTER_VIDEO
                    [DEFAULT_VALUE] => Array
                        (
                            [TEXT] => 
                            [TYPE] => HTML
                        )

                    [PROPERTY_TYPE] => S
                    [ROW_COUNT] => 1
                    [COL_COUNT] => 30
                    [LIST_TYPE] => L
                    [MULTIPLE] => N
                    [XML_ID] => 
                    [FILE_TYPE] => 
                    [MULTIPLE_CNT] => 5
                    [TMP_ID] => 
                    [LINK_IBLOCK_ID] => 0
                    [WITH_DESCRIPTION] => N
                    [SEARCHABLE] => N
                    [FILTRABLE] => N
                    [IS_REQUIRED] => N
                    [VERSION] => 1
                    [USER_TYPE] => HTML
                    [USER_TYPE_SETTINGS] => Array
                        (
                            [height] => 200
                        )

                    [HINT] => 
                    [PROPERTY_VALUE_ID] => 
                    [VALUE] => 
                    [DESCRIPTION] => 
                    [VALUE_ENUM] => 
                    [VALUE_XML_ID] => 
                    [VALUE_SORT] => 
                    [~VALUE] => 
                    [~DESCRIPTION] => 
                    [~NAME] => Текст после видео
                    [~DEFAULT_VALUE] => Array
                        (
                            [TEXT] => 
                            [TYPE] => HTML
                        )

                )

            [en_TITLE] => Array
                (
                    [ID] => 113
                    [TIMESTAMP_X] => 2019-01-11 17:32:41
                    [IBLOCK_ID] => 1
                    [NAME] => TITLE (eng.)
                    [ACTIVE] => Y
                    [SORT] => 2010
                    [CODE] => en_TITLE
                    [DEFAULT_VALUE] => 
                    [PROPERTY_TYPE] => S
                    [ROW_COUNT] => 1
                    [COL_COUNT] => 30
                    [LIST_TYPE] => L
                    [MULTIPLE] => N
                    [XML_ID] => 
                    [FILE_TYPE] => 
                    [MULTIPLE_CNT] => 5
                    [TMP_ID] => 
                    [LINK_IBLOCK_ID] => 0
                    [WITH_DESCRIPTION] => N
                    [SEARCHABLE] => N
                    [FILTRABLE] => N
                    [IS_REQUIRED] => N
                    [VERSION] => 1
                    [USER_TYPE] => 
                    [USER_TYPE_SETTINGS] => 
                    [HINT] => 
                    [PROPERTY_VALUE_ID] => 
                    [VALUE] => 
                    [DESCRIPTION] => 
                    [VALUE_ENUM] => 
                    [VALUE_XML_ID] => 
                    [VALUE_SORT] => 
                    [~VALUE] => 
                    [~DESCRIPTION] => 
                    [~NAME] => TITLE (eng.)
                    [~DEFAULT_VALUE] => 
                )

            [en_KEYWORDS] => Array
                (
                    [ID] => 114
                    [TIMESTAMP_X] => 2019-01-11 17:32:41
                    [IBLOCK_ID] => 1
                    [NAME] => KEYWORDS (eng.)
                    [ACTIVE] => Y
                    [SORT] => 2020
                    [CODE] => en_KEYWORDS
                    [DEFAULT_VALUE] => 
                    [PROPERTY_TYPE] => S
                    [ROW_COUNT] => 1
                    [COL_COUNT] => 30
                    [LIST_TYPE] => L
                    [MULTIPLE] => N
                    [XML_ID] => 
                    [FILE_TYPE] => 
                    [MULTIPLE_CNT] => 5
                    [TMP_ID] => 
                    [LINK_IBLOCK_ID] => 0
                    [WITH_DESCRIPTION] => N
                    [SEARCHABLE] => N
                    [FILTRABLE] => N
                    [IS_REQUIRED] => N
                    [VERSION] => 1
                    [USER_TYPE] => 
                    [USER_TYPE_SETTINGS] => 
                    [HINT] => 
                    [PROPERTY_VALUE_ID] => 
                    [VALUE] => 
                    [DESCRIPTION] => 
                    [VALUE_ENUM] => 
                    [VALUE_XML_ID] => 
                    [VALUE_SORT] => 
                    [~VALUE] => 
                    [~DESCRIPTION] => 
                    [~NAME] => KEYWORDS (eng.)
                    [~DEFAULT_VALUE] => 
                )

            [en_DESCRIPTION] => Array
                (
                    [ID] => 115
                    [TIMESTAMP_X] => 2019-01-11 17:32:41
                    [IBLOCK_ID] => 1
                    [NAME] => DESCRIPTION (eng.)
                    [ACTIVE] => Y
                    [SORT] => 2030
                    [CODE] => en_DESCRIPTION
                    [DEFAULT_VALUE] => 
                    [PROPERTY_TYPE] => S
                    [ROW_COUNT] => 1
                    [COL_COUNT] => 30
                    [LIST_TYPE] => L
                    [MULTIPLE] => N
                    [XML_ID] => 
                    [FILE_TYPE] => 
                    [MULTIPLE_CNT] => 5
                    [TMP_ID] => 
                    [LINK_IBLOCK_ID] => 0
                    [WITH_DESCRIPTION] => N
                    [SEARCHABLE] => N
                    [FILTRABLE] => N
                    [IS_REQUIRED] => N
                    [VERSION] => 1
                    [USER_TYPE] => 
                    [USER_TYPE_SETTINGS] => 
                    [HINT] => 
                    [PROPERTY_VALUE_ID] => 
                    [VALUE] => 
                    [DESCRIPTION] => 
                    [VALUE_ENUM] => 
                    [VALUE_XML_ID] => 
                    [VALUE_SORT] => 
                    [~VALUE] => 
                    [~DESCRIPTION] => 
                    [~NAME] => DESCRIPTION (eng.)
                    [~DEFAULT_VALUE] => 
                )

            [en_SUBSCRIBE_TEXT] => Array
                (
                    [ID] => 116
                    [TIMESTAMP_X] => 2019-01-11 17:32:41
                    [IBLOCK_ID] => 1
                    [NAME] => Текст для рассылки (eng.)
                    [ACTIVE] => Y
                    [SORT] => 2040
                    [CODE] => en_SUBSCRIBE_TEXT
                    [DEFAULT_VALUE] => Array
                        (
                            [TEXT] => 
                            [TYPE] => HTML
                        )

                    [PROPERTY_TYPE] => S
                    [ROW_COUNT] => 1
                    [COL_COUNT] => 30
                    [LIST_TYPE] => L
                    [MULTIPLE] => N
                    [XML_ID] => 
                    [FILE_TYPE] => 
                    [MULTIPLE_CNT] => 5
                    [TMP_ID] => 
                    [LINK_IBLOCK_ID] => 0
                    [WITH_DESCRIPTION] => N
                    [SEARCHABLE] => N
                    [FILTRABLE] => N
                    [IS_REQUIRED] => N
                    [VERSION] => 1
                    [USER_TYPE] => HTML
                    [USER_TYPE_SETTINGS] => Array
                        (
                            [height] => 200
                        )

                    [HINT] => 
                    [PROPERTY_VALUE_ID] => 
                    [VALUE] => 
                    [DESCRIPTION] => 
                    [VALUE_ENUM] => 
                    [VALUE_XML_ID] => 
                    [VALUE_SORT] => 
                    [~VALUE] => 
                    [~DESCRIPTION] => 
                    [~NAME] => Текст для рассылки (eng.)
                    [~DEFAULT_VALUE] => Array
                        (
                            [TEXT] => 
                            [TYPE] => HTML
                        )

                )

            [en_AFTER_VIDEO] => Array
                (
                    [ID] => 117
                    [TIMESTAMP_X] => 2019-01-11 17:32:41
                    [IBLOCK_ID] => 1
                    [NAME] => Текст после видео  (eng.)
                    [ACTIVE] => Y
                    [SORT] => 2050
                    [CODE] => en_AFTER_VIDEO
                    [DEFAULT_VALUE] => Array
                        (
                            [TEXT] => 
                            [TYPE] => HTML
                        )

                    [PROPERTY_TYPE] => S
                    [ROW_COUNT] => 1
                    [COL_COUNT] => 30
                    [LIST_TYPE] => L
                    [MULTIPLE] => N
                    [XML_ID] => 
                    [FILE_TYPE] => 
                    [MULTIPLE_CNT] => 5
                    [TMP_ID] => 
                    [LINK_IBLOCK_ID] => 0
                    [WITH_DESCRIPTION] => N
                    [SEARCHABLE] => N
                    [FILTRABLE] => N
                    [IS_REQUIRED] => N
                    [VERSION] => 1
                    [USER_TYPE] => HTML
                    [USER_TYPE_SETTINGS] => Array
                        (
                            [height] => 200
                        )

                    [HINT] => 
                    [PROPERTY_VALUE_ID] => 
                    [VALUE] => 
                    [DESCRIPTION] => 
                    [VALUE_ENUM] => 
                    [VALUE_XML_ID] => 
                    [VALUE_SORT] => 
                    [~VALUE] => 
                    [~DESCRIPTION] => 
                    [~NAME] => Текст после видео  (eng.)
                    [~DEFAULT_VALUE] => Array
                        (
                            [TEXT] => 
                            [TYPE] => HTML
                        )

                )

            [en_NAME] => Array
                (
                    [ID] => 118
                    [TIMESTAMP_X] => 2019-01-11 17:32:41
                    [IBLOCK_ID] => 1
                    [NAME] => Название (eng.)
                    [ACTIVE] => Y
                    [SORT] => 2060
                    [CODE] => en_NAME
                    [DEFAULT_VALUE] => 
                    [PROPERTY_TYPE] => S
                    [ROW_COUNT] => 1
                    [COL_COUNT] => 30
                    [LIST_TYPE] => L
                    [MULTIPLE] => N
                    [XML_ID] => 
                    [FILE_TYPE] => 
                    [MULTIPLE_CNT] => 5
                    [TMP_ID] => 
                    [LINK_IBLOCK_ID] => 0
                    [WITH_DESCRIPTION] => N
                    [SEARCHABLE] => N
                    [FILTRABLE] => N
                    [IS_REQUIRED] => N
                    [VERSION] => 1
                    [USER_TYPE] => 
                    [USER_TYPE_SETTINGS] => 
                    [HINT] => 
                    [PROPERTY_VALUE_ID] => 168029
                    [VALUE] => PH Insulation Reduces CO2 Emissions by 80,000 kg with Solar Panels at its Manufacturing Site
                    [DESCRIPTION] => 
                    [VALUE_ENUM] => 
                    [VALUE_XML_ID] => 
                    [VALUE_SORT] => 
                    [~VALUE] => PH Insulation Reduces CO2 Emissions by 80,000 kg with Solar Panels at its Manufacturing Site
                    [~DESCRIPTION] => 
                    [~NAME] => Название (eng.)
                    [~DEFAULT_VALUE] => 
                )

            [en_PREVIEW_TEXT] => Array
                (
                    [ID] => 119
                    [TIMESTAMP_X] => 2019-01-11 17:32:41
                    [IBLOCK_ID] => 1
                    [NAME] => Анонс (eng.)
                    [ACTIVE] => Y
                    [SORT] => 2070
                    [CODE] => en_PREVIEW_TEXT
                    [DEFAULT_VALUE] => Array
                        (
                            [TEXT] => 
                            [TYPE] => HTML
                        )

                    [PROPERTY_TYPE] => S
                    [ROW_COUNT] => 1
                    [COL_COUNT] => 30
                    [LIST_TYPE] => L
                    [MULTIPLE] => N
                    [XML_ID] => 
                    [FILE_TYPE] => 
                    [MULTIPLE_CNT] => 5
                    [TMP_ID] => 
                    [LINK_IBLOCK_ID] => 0
                    [WITH_DESCRIPTION] => N
                    [SEARCHABLE] => N
                    [FILTRABLE] => N
                    [IS_REQUIRED] => N
                    [VERSION] => 1
                    [USER_TYPE] => HTML
                    [USER_TYPE_SETTINGS] => Array
                        (
                            [height] => 200
                        )

                    [HINT] => 
                    [PROPERTY_VALUE_ID] => 168030
                    [VALUE] => Array
                        (
                            [TEXT] => PH Insulation operates a 27 kW solar power station installed at its manufacturing site in Moscow region
                            [TYPE] => TEXT
                        )

                    [DESCRIPTION] => 
                    [VALUE_ENUM] => 
                    [VALUE_XML_ID] => 
                    [VALUE_SORT] => 
                    [~VALUE] => Array
                        (
                            [TEXT] => PH Insulation operates a 27 kW solar power station installed at its manufacturing site in Moscow region
                            [TYPE] => TEXT
                        )

                    [~DESCRIPTION] => 
                    [~NAME] => Анонс (eng.)
                    [~DEFAULT_VALUE] => Array
                        (
                            [TEXT] => 
                            [TYPE] => HTML
                        )

                )

            [en_DETAIL_TEXT] => Array
                (
                    [ID] => 120
                    [TIMESTAMP_X] => 2019-01-11 17:32:41
                    [IBLOCK_ID] => 1
                    [NAME] => Новость детально (eng.)
                    [ACTIVE] => Y
                    [SORT] => 2080
                    [CODE] => en_DETAIL_TEXT
                    [DEFAULT_VALUE] => Array
                        (
                            [TEXT] => 
                            [TYPE] => HTML
                        )

                    [PROPERTY_TYPE] => S
                    [ROW_COUNT] => 1
                    [COL_COUNT] => 30
                    [LIST_TYPE] => L
                    [MULTIPLE] => N
                    [XML_ID] => 
                    [FILE_TYPE] => 
                    [MULTIPLE_CNT] => 5
                    [TMP_ID] => 
                    [LINK_IBLOCK_ID] => 0
                    [WITH_DESCRIPTION] => N
                    [SEARCHABLE] => N
                    [FILTRABLE] => N
                    [IS_REQUIRED] => N
                    [VERSION] => 1
                    [USER_TYPE] => HTML
                    [USER_TYPE_SETTINGS] => Array
                        (
                            [height] => 200
                        )

                    [HINT] => 
                    [PROPERTY_VALUE_ID] => 168031
                    [VALUE] => Array
                        (
                            [TEXT] => <p>
	 The use of a solar photovoltaic system installed at PH Insulation's production line in Moscow region has allowed PH Insulation to reduce CO2 emissions by more than 80 tons since the power station was commissioned 4 years ago.
</p>
<p>
	<img width="480" alt="хранение металла (3)1.jpg" src="/upload/medialibrary/6f6/хранение%20металла%20(3)1.jpg" height="360" title="хранение металла (3)1.jpg"><br>
</p>
<p>
	PH Insulation continuous line, which produces sandwich panels with PIR Premier core is equipped with 27 kW wall solar station. Solar panels generated more than 82,000 kWh of electricity over 4 years of use and saved the planet more than 33 tons of coal or more than 4,400 trees. 80,000 kWh could power PH Insulation's refrigerated door manufacturing unit for three months.
</p>
<p>
	The solar power station was designed and installed by SolarOn, the first manufacturer of solar modules in Armenia.
</p>
<p>
	Solar panels installed on roof PIR Premier insulated panels can produce significantly more electricity annually in areas with significant insolation potential. A 335-kW power plant installed in Armenia has generated more than 500,000 kWh of electricity per year. That is the actual energy value released to the grid, with all possible losses, including network availability issues.
</p>
<p>
	"In other words, each installed kilowatt of capacity of this power plant in Armenia, which was designed by SolarOn, produces about 1500 kWh of energy per year,' explains Vahe Sharafyan, Director of Department of Technical Solutions and Engineering Research at PH Insulation. "It is important to notice, that we are speaking about the real energy figures released to the network. According to theoretical calculations, based on the level of insolation in the country, we could expect 1650-1750 kWh per kilowatt."
</p>
<p>
	SolarOn's forecasts for power generation of its solar panels are as close as possible to the actual output. The calculations take into account adjustments for power outages, when energy from a solar plant is not transferred to the grid.
</p>
<p>
	PH Insulation encourages its partners to reduce the cost of cooling or heating using the green energy powered cold chambers equipped with SolarOn panels. PH Insulation also offers turnkey roof-top solutions to reduce the emission of CO2: solar panels installed together with PIR Premier sandwich panels.
</p>
<p>
	For free consultation on the use of solar energy for cooling or heating your facility, please call +7 (495) 240-83-14 or send an inquiry to <a href="mailto:info@profholod.com">info@profholod.com</a>.
</p>
                            [TYPE] => HTML
                        )

                    [DESCRIPTION] => 
                    [VALUE_ENUM] => 
                    [VALUE_XML_ID] => 
                    [VALUE_SORT] => 
                    [~VALUE] => Array
                        (
                            [TEXT] => 


	 The use of a solar photovoltaic system installed at PH Insulation's production line in Moscow region has allowed PH Insulation to reduce CO2 emissions by more than 80 tons since the power station was commissioned 4 years ago.






	







	PH Insulation continuous line, which produces sandwich panels with PIR Premier core is equipped with 27 kW wall solar station. Solar panels generated more than 82,000 kWh of electricity over 4 years of use and saved the planet more than 33 tons of coal or more than 4,400 trees. 80,000 kWh could power PH Insulation's refrigerated door manufacturing unit for three months.






	The solar power station was designed and installed by SolarOn, the first manufacturer of solar modules in Armenia.






	Solar panels installed on roof PIR Premier insulated panels can produce significantly more electricity annually in areas with significant insolation potential. A 335-kW power plant installed in Armenia has generated more than 500,000 kWh of electricity per year. That is the actual energy value released to the grid, with all possible losses, including network availability issues.






	"In other words, each installed kilowatt of capacity of this power plant in Armenia, which was designed by SolarOn, produces about 1500 kWh of energy per year,' explains Vahe Sharafyan, Director of Department of Technical Solutions and Engineering Research at PH Insulation. "It is important to notice, that we are speaking about the real energy figures released to the network. According to theoretical calculations, based on the level of insolation in the country, we could expect 1650-1750 kWh per kilowatt."






	SolarOn's forecasts for power generation of its solar panels are as close as possible to the actual output. The calculations take into account adjustments for power outages, when energy from a solar plant is not transferred to the grid.






	PH Insulation encourages its partners to reduce the cost of cooling or heating using the green energy powered cold chambers equipped with SolarOn panels. PH Insulation also offers turnkey roof-top solutions to reduce the emission of CO2: solar panels installed together with PIR Premier sandwich panels.






	For free consultation on the use of solar energy for cooling or heating your facility, please call +7 (495) 240-83-14 or send an inquiry to info@profholod.com.



                            [TYPE] => HTML
                        )

                    [~DESCRIPTION] => 
                    [~NAME] => Новость детально (eng.)
                    [~DEFAULT_VALUE] => Array
                        (
                            [TEXT] => 
                            [TYPE] => HTML
                        )

                )

            [HIDE_ON_RU] => Array
                (
                    [ID] => 532
                    [TIMESTAMP_X] => 2020-06-01 09:10:10
                    [IBLOCK_ID] => 1
                    [NAME] => Не отображать на РУ
                    [ACTIVE] => Y
                    [SORT] => 2500
                    [CODE] => HIDE_ON_RU
                    [DEFAULT_VALUE] => 
                    [PROPERTY_TYPE] => L
                    [ROW_COUNT] => 1
                    [COL_COUNT] => 30
                    [LIST_TYPE] => C
                    [MULTIPLE] => N
                    [XML_ID] => 
                    [FILE_TYPE] => 
                    [MULTIPLE_CNT] => 5
                    [TMP_ID] => 
                    [LINK_IBLOCK_ID] => 0
                    [WITH_DESCRIPTION] => N
                    [SEARCHABLE] => N
                    [FILTRABLE] => N
                    [IS_REQUIRED] => N
                    [VERSION] => 1
                    [USER_TYPE] => 
                    [USER_TYPE_SETTINGS] => 
                    [HINT] => 
                    [PROPERTY_VALUE_ID] => 
                    [VALUE] => 
                    [DESCRIPTION] => 
                    [VALUE_ENUM] => 
                    [VALUE_XML_ID] => 
                    [VALUE_SORT] => 
                    [VALUE_ENUM_ID] => 
                    [~VALUE] => 
                    [~DESCRIPTION] => 
                    [~NAME] => Не отображать на РУ
                    [~DEFAULT_VALUE] => 
                )

        )

    [DISPLAY_PROPERTIES] => Array
        (
        )

    [IBLOCK] => Array
        (
            [ID] => 1
            [~ID] => 1
            [TIMESTAMP_X] => 26.05.2020 15:55:21
            [~TIMESTAMP_X] => 26.05.2020 15:55:21
            [IBLOCK_TYPE_ID] => news
            [~IBLOCK_TYPE_ID] => news
            [LID] => en
            [~LID] => en
            [CODE] => furniture_news_s1
            [~CODE] => furniture_news_s1
            [NAME] => Новые продукты и решения
            [~NAME] => Новые продукты и решения
            [ACTIVE] => Y
            [~ACTIVE] => Y
            [SORT] => 500
            [~SORT] => 500
            [LIST_PAGE_URL] => /news/press/
            [~LIST_PAGE_URL] => /news/press/
            [DETAIL_PAGE_URL] => #SITE_DIR#press/news/#ELEMENT_CODE#/
            [~DETAIL_PAGE_URL] => #SITE_DIR#press/news/#ELEMENT_CODE#/
            [SECTION_PAGE_URL] => 
            [~SECTION_PAGE_URL] => 
            [PICTURE] => 
            [~PICTURE] => 
            [DESCRIPTION] => 
            [~DESCRIPTION] => 
            [DESCRIPTION_TYPE] => text
            [~DESCRIPTION_TYPE] => text
            [RSS_TTL] => 24
            [~RSS_TTL] => 24
            [RSS_ACTIVE] => Y
            [~RSS_ACTIVE] => Y
            [RSS_FILE_ACTIVE] => N
            [~RSS_FILE_ACTIVE] => N
            [RSS_FILE_LIMIT] => 0
            [~RSS_FILE_LIMIT] => 0
            [RSS_FILE_DAYS] => 0
            [~RSS_FILE_DAYS] => 0
            [RSS_YANDEX_ACTIVE] => N
            [~RSS_YANDEX_ACTIVE] => N
            [XML_ID] => furniture_news_s1
            [~XML_ID] => furniture_news_s1
            [TMP_ID] => 
            [~TMP_ID] => 
            [INDEX_ELEMENT] => Y
            [~INDEX_ELEMENT] => Y
            [INDEX_SECTION] => N
            [~INDEX_SECTION] => N
            [WORKFLOW] => N
            [~WORKFLOW] => N
            [BIZPROC] => N
            [~BIZPROC] => N
            [SECTION_CHOOSER] => L
            [~SECTION_CHOOSER] => L
            [LIST_MODE] => 
            [~LIST_MODE] => 
            [VERSION] => 1
            [~VERSION] => 1
            [LAST_CONV_ELEMENT] => 0
            [~LAST_CONV_ELEMENT] => 0
            [EDIT_FILE_BEFORE] => 
            [~EDIT_FILE_BEFORE] => 
            [EDIT_FILE_AFTER] => 
            [~EDIT_FILE_AFTER] => 
            [SECTIONS_NAME] => Разделы
            [~SECTIONS_NAME] => Разделы
            [SECTION_NAME] => Раздел
            [~SECTION_NAME] => Раздел
            [ELEMENTS_NAME] => Новости
            [~ELEMENTS_NAME] => Новости
            [ELEMENT_NAME] => Новость
            [~ELEMENT_NAME] => Новость
            [SOCNET_GROUP_ID] => 
            [~SOCNET_GROUP_ID] => 
            [RIGHTS_MODE] => S
            [~RIGHTS_MODE] => S
            [SECTION_PROPERTY] => 
            [~SECTION_PROPERTY] => 
            [PROPERTY_INDEX] => 
            [~PROPERTY_INDEX] => 
            [CANONICAL_PAGE_URL] => 
            [~CANONICAL_PAGE_URL] => 
            [EXTERNAL_ID] => furniture_news_s1
            [~EXTERNAL_ID] => furniture_news_s1
            [LANG_DIR] => /
            [~LANG_DIR] => /
            [SERVER_NAME] => profholod.com
            [~SERVER_NAME] => profholod.com
        )

    [SECTION] => Array
        (
            [PATH] => Array
                (
                )

        )

    [SECTION_URL] => 
    [META_TAGS] => Array
        (
            [BROWSER_TITLE] => 
            [KEYWORDS] => 
            [DESCRIPTION] => 
        )

    [META_TEMPLATES] => Array
        (
            [TITLE] => PH Insulation Reduces CO2 Emissions by 80,000 kg with Solar Panels at its Manufacturing Site - News Profholod
            [KEYWORDS] => 
            [DESCRIPTION] => PH Insulation operates a 27 kW solar power station installed at its manufacturing site in Moscow region
            [H1] => PH Insulation Reduces CO2 Emissions by 80,000 kg with Solar Panels at its Manufacturing Site
        )

    [EN_NAME] => PH Insulation Reduces CO2 Emissions by 80,000 kg with Solar Panels at its Manufacturing Site
    [EN_DETAIL_TEXT] => Array
        (
            [TEXT] => <p>
	 The use of a solar photovoltaic system installed at PH Insulation's production line in Moscow region has allowed PH Insulation to reduce CO2 emissions by more than 80 tons since the power station was commissioned 4 years ago.
</p>
<p>
	<img width="480" alt="хранение металла (3)1.jpg" src="/upload/medialibrary/6f6/хранение%20металла%20(3)1.jpg" height="360" title="хранение металла (3)1.jpg"><br>
</p>
<p>
	PH Insulation continuous line, which produces sandwich panels with PIR Premier core is equipped with 27 kW wall solar station. Solar panels generated more than 82,000 kWh of electricity over 4 years of use and saved the planet more than 33 tons of coal or more than 4,400 trees. 80,000 kWh could power PH Insulation's refrigerated door manufacturing unit for three months.
</p>
<p>
	The solar power station was designed and installed by SolarOn, the first manufacturer of solar modules in Armenia.
</p>
<p>
	Solar panels installed on roof PIR Premier insulated panels can produce significantly more electricity annually in areas with significant insolation potential. A 335-kW power plant installed in Armenia has generated more than 500,000 kWh of electricity per year. That is the actual energy value released to the grid, with all possible losses, including network availability issues.
</p>
<p>
	"In other words, each installed kilowatt of capacity of this power plant in Armenia, which was designed by SolarOn, produces about 1500 kWh of energy per year,' explains Vahe Sharafyan, Director of Department of Technical Solutions and Engineering Research at PH Insulation. "It is important to notice, that we are speaking about the real energy figures released to the network. According to theoretical calculations, based on the level of insolation in the country, we could expect 1650-1750 kWh per kilowatt."
</p>
<p>
	SolarOn's forecasts for power generation of its solar panels are as close as possible to the actual output. The calculations take into account adjustments for power outages, when energy from a solar plant is not transferred to the grid.
</p>
<p>
	PH Insulation encourages its partners to reduce the cost of cooling or heating using the green energy powered cold chambers equipped with SolarOn panels. PH Insulation also offers turnkey roof-top solutions to reduce the emission of CO2: solar panels installed together with PIR Premier sandwich panels.
</p>
<p>
	For free consultation on the use of solar energy for cooling or heating your facility, please call +7 (495) 240-83-14 or send an inquiry to <a href="mailto:info@profholod.com">info@profholod.com</a>.
</p>
            [TYPE] => HTML
        )

)

[21.05.2020]
The use of a solar photovoltaic system installed at PH Insulation's production line in Moscow region has allowed PH Insulation to reduce CO2 emissions by more than 80 tons since the power station was commissioned 4 years ago.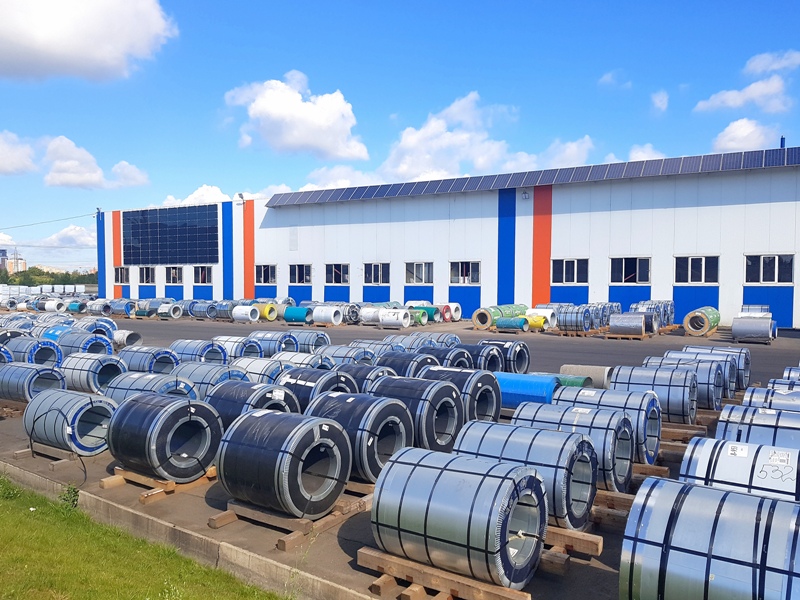 PH Insulation continuous line, which produces sandwich panels with PIR Premier core is equipped with 27 kW wall solar station. Solar panels generated more than 82,000 kWh of electricity over 4 years of use and saved the planet more than 33 tons of coal or more than 4,400 trees. 80,000 kWh could power PH Insulation's refrigerated door manufacturing unit for three months.
The solar power station was designed and installed by SolarOn, the first manufacturer of solar modules in Armenia.
Solar panels installed on roof PIR Premier insulated panels can produce significantly more electricity annually in areas with significant insolation potential. A 335-kW power plant installed in Armenia has generated more than 500,000 kWh of electricity per year. That is the actual energy value released to the grid, with all possible losses, including network availability issues.
"In other words, each installed kilowatt of capacity of this power plant in Armenia, which was designed by SolarOn, produces about 1500 kWh of energy per year,' explains Vahe Sharafyan, Director of Department of Technical Solutions and Engineering Research at PH Insulation. "It is important to notice, that we are speaking about the real energy figures released to the network. According to theoretical calculations, based on the level of insolation in the country, we could expect 1650-1750 kWh per kilowatt."
SolarOn's forecasts for power generation of its solar panels are as close as possible to the actual output. The calculations take into account adjustments for power outages, when energy from a solar plant is not transferred to the grid.
PH Insulation encourages its partners to reduce the cost of cooling or heating using the green energy powered cold chambers equipped with SolarOn panels. PH Insulation also offers turnkey roof-top solutions to reduce the emission of CO2: solar panels installed together with PIR Premier sandwich panels.
For free consultation on the use of solar energy for cooling or heating your facility, please call +7 (495) 240-83-14 or send an inquiry to info@profholod.com.

Back to
Company news