Double Up! PH Insulation Presents Sliding Double Leaf Doors for Cold Rooms
[07.08.2020]
PH Insulation expands its Sliding Refrigeration Doors line with Sliding Double Leaf Doors for wide doorways up to 5 meters wide.
Sliding Double Leaf Doors are easier to transport, comparing to other doors designed for wide doorways and the Company's original door hardware guarantees extended service life of the new doors.
To preserve cold more efficient, the doors are equipped with 3 gaskets: the first gasket is located at the door leaves' junction, the second one is placed at the junction of the door leaf to the floor and the third one is installed along the door perimeter. The gear belt and tensioning stations provide simultaneous synchronized opening and closing of the new doors. For automating the doors' opening and closing you may add to the door proprietary electrical drive by PH Insulation.
'We see that our partners at the Far Eastern region of Russia and other remoted regions show high interest for double leaf sliding doors,' says Stanislav Djurayev, Head of Industrial Cold Department at PH Insulation. 'Sliding Double Leaf doors's design significantly reduces logistics costs and is equal to PH Insulation standard sliding doors quality-wise, delivering the required level of insulation for your cold room'.
PH Insulation continuously conducts thorough assessment of the current market to design new products that meet the needs of the refrigeration and construction professionals. In the first half of 2020, PH Insulation introduced two new types of doors: Controlled Atmosphere Sliding Doors with gas-tight sealing, and Hinged Fireproof Door for retail chains and other facilities with increased requirements for fire safety.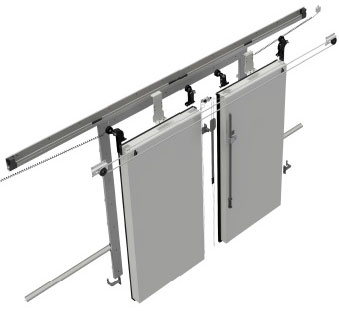 Get more news
Company news