Key points
New automated option speeds up door opening, helps to prevent damage to the hardware, and obliterates the risk of spreading viruses by touching the handles
Service life of the device is over 1,000,000 open/close cycles
Infrared button with IP67 protection rating can be used both indoors and outdoors
New option is available for sliding doors with PH Insulation electric drive, or for the Fermatic series by the French Fermod company
PH Insulation presents a new solution for cold chain warehouses and production facilities: automatic sliding doors with touchless automatic opening.
Fast opening and closing and straightforward functionality are the main features of modern doors for refrigerating warehouses or cold rooms. PH Insulation doors with new electronic system allow workers to open the door with the wave of a hand at a 10 cm distance from the infrared sensor. The sensor-operated device has a service life of over 1,000,000 open/close cycles.
Touchless operation speeds up door opening, helps to prevent damage to the hardware when the personnel exercise to much force trying to open it faster, and obliterates the risk of spreading viruses by touching the handles.
"The new option ideally combines automation and safety. It pursues both to increase the service life of refrigeration doors and to reduce a number of risks at once: from hardware damage to transmission of bacteria"

Rashid Zinatullin,
Head of the Technical Solutions and New Developments Department at PH Insulation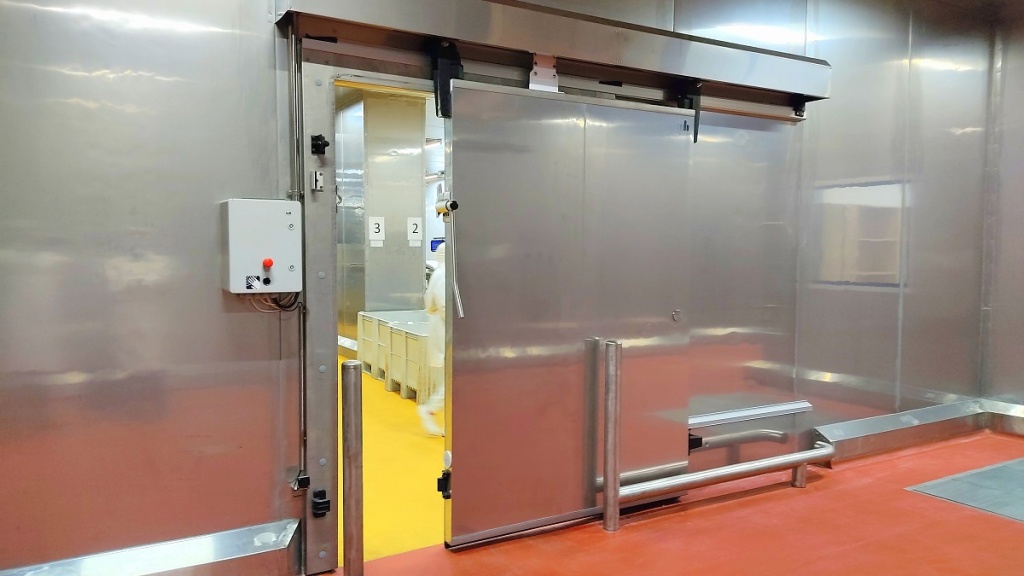 To develop the new option PH Insulation engineers have turned to proven efficiency based on the fundamental advantages of the electric drive. The infrared button with IP67 protection rating successfully withstands dust and moisture and can be used both indoors and outdoors. Surface of the button is made with high quality plastic for enhanced durability. The infrared detector unit is connected to the electrical control unit and installed on both sides of the door. Maintenance-wise the device is totally undemanding being a standard electrical appliance.
The touchless automatic opening option is available for sliding doors with PH Insulation electric drive for an ideal balance of price and quality, or for the Fermatic series by the French Fermod company.
PH Insulation sliding doors are used in refrigerating chambers of all sizes, cold chain storages, warehouses, various production facilities. To order doors with the new non-contact option, contact your personal manager at PH Insulation or request a call on our website.