Main page

Press releases

0.0194 W/m*K. Elastokam / BASF Laboratory Records Unique Thermal Conductivity of PIR Premier Sandwich Panels
0.0194 W/m*K. Elastokam / BASF Laboratory Records Unique Thermal Conductivity of PIR Premier Sandwich Panels

Array
(
    [ID] => 14625
    [~ID] => 14625
    [NAME] => 0,0194 Вт/м*К. Лаборатория «Эластокам»/BASF зафиксировала уникальную теплопроводность сэндвич-панелей «ПрофХолод» с PIR Premier 
    [~NAME] => 0,0194 Вт/м*К. Лаборатория «Эластокам»/BASF зафиксировала уникальную теплопроводность сэндвич-панелей «ПрофХолод» с PIR Premier 
    [IBLOCK_ID] => 1
    [~IBLOCK_ID] => 1
    [IBLOCK_SECTION_ID] => 
    [~IBLOCK_SECTION_ID] => 
    [DETAIL_TEXT] => 


	 18 марта 2020 года в лаборатории технического центра компании ООО «Эластокам», совместного предприятия ПАО «Нижнекамскнефтехим» и «БАСФ Полиуретанс ГмбХ», произведен замер теплопроводности образца сэндвич-панели «ПрофХолод» на кастомизированной системе PIR Premier. Минимальная теплопроводность образца зафиксирована на уровне 0,0194 Вт/м*К. 






	 Уникального показателя удалось достичь благодаря продолжающейся оптимизации и синтезу PIR-системы в R&D центре «ПрофХолода».






	 Семен Гусев, руководитель проекта «Самоформуляция ППУ систем» «ПрофХолода»: 

	 «За четыре года мы прошли путь от оптимизации параметров полиола и технологии производства ПИР-системы в целом, подбора компонентов для лучшей технологической стабильности, до создания полиэфиров на собственной установке от немецкой компании H&S. 






	 Теперь, помимо уникальных физико-механических характеристик сэндвич-панелей с PIR Premier, мы смогли достичь уникального уровня теплопроводности. И подтвердить его в лаборатории ведущей мировой корпорации в области производства пенополиуретановых систем». 






	 «ПрофХолод» продолжает работу, направленную на дальнейшее снижение теплопроводности и повышение огнеупорности PIR-системы. Чтобы партнеры компании сокращали расходы на эксплуатацию объектов, применяя самые современные технологии энергосбережения. Созданные в России.






	 Сэндвич-панели на системе PIR Premier производятся на двух непрерывных линиях «ПрофХолода» по европейскому стандарту EN 14509 и показывают сопротивление более 185 кПа при испытаниях прочности на сжатие при 10% деформации и более 160 кПа на разрыв при плотности 40 кг/м3.

	  

	 В 2019 году, по оценкам «ПрофХолода», PIR Premier стала самой продаваемой PIR-системой в России.






 




    [~DETAIL_TEXT] => 


	 18 марта 2020 года в лаборатории технического центра компании ООО «Эластокам», совместного предприятия ПАО «Нижнекамскнефтехим» и «БАСФ Полиуретанс ГмбХ», произведен замер теплопроводности образца сэндвич-панели «ПрофХолод» на кастомизированной системе PIR Premier. Минимальная теплопроводность образца зафиксирована на уровне 0,0194 Вт/м*К. 






	 Уникального показателя удалось достичь благодаря продолжающейся оптимизации и синтезу PIR-системы в R&D центре «ПрофХолода».






	 Семен Гусев, руководитель проекта «Самоформуляция ППУ систем» «ПрофХолода»: 

	 «За четыре года мы прошли путь от оптимизации параметров полиола и технологии производства ПИР-системы в целом, подбора компонентов для лучшей технологической стабильности, до создания полиэфиров на собственной установке от немецкой компании H&S. 






	 Теперь, помимо уникальных физико-механических характеристик сэндвич-панелей с PIR Premier, мы смогли достичь уникального уровня теплопроводности. И подтвердить его в лаборатории ведущей мировой корпорации в области производства пенополиуретановых систем». 






	 «ПрофХолод» продолжает работу, направленную на дальнейшее снижение теплопроводности и повышение огнеупорности PIR-системы. Чтобы партнеры компании сокращали расходы на эксплуатацию объектов, применяя самые современные технологии энергосбережения. Созданные в России.






	 Сэндвич-панели на системе PIR Premier производятся на двух непрерывных линиях «ПрофХолода» по европейскому стандарту EN 14509 и показывают сопротивление более 185 кПа при испытаниях прочности на сжатие при 10% деформации и более 160 кПа на разрыв при плотности 40 кг/м3.

	  

	 В 2019 году, по оценкам «ПрофХолода», PIR Premier стала самой продаваемой PIR-системой в России.






 




    [DETAIL_TEXT_TYPE] => html
    [~DETAIL_TEXT_TYPE] => html
    [PREVIEW_TEXT] => «ПрофХолод» продолжает совершенствовать энергоэффективность сэндвич-панелей на кастомизированной системе PIR Premier из лучших мировых компонентов
    [~PREVIEW_TEXT] => «ПрофХолод» продолжает совершенствовать энергоэффективность сэндвич-панелей на кастомизированной системе PIR Premier из лучших мировых компонентов
    [PREVIEW_TEXT_TYPE] => text
    [~PREVIEW_TEXT_TYPE] => text
    [DETAIL_PICTURE] => Array
        (
            [ID] => 69863
            [TIMESTAMP_X] => 09.04.2020 12:25:51
            [MODULE_ID] => iblock
            [HEIGHT] => 734
            [WIDTH] => 732
            [FILE_SIZE] => 49367
            [CONTENT_TYPE] => image/jpeg
            [SUBDIR] => iblock/aff
            [FILE_NAME] => profholod_pir_panels.jpg
            [ORIGINAL_NAME] => profholod_pir_panels.jpg
            [DESCRIPTION] => 
            [HANDLER_ID] => 
            [EXTERNAL_ID] => a699e6c5d21a88ca38bfa22489beb150
            [~src] => 
            [SRC] => /upload/iblock/aff/profholod_pir_panels.jpg
            [UNSAFE_SRC] => /upload/iblock/aff/profholod_pir_panels.jpg
            [SAFE_SRC] => /upload/iblock/aff/profholod_pir_panels.jpg
            [ALT] => 0,0194 Вт/м*К. Лаборатория «Эластокам»/BASF зафиксировала уникальную теплопроводность сэндвич-панелей «ПрофХолод» с PIR Premier 
            [TITLE] => 0,0194 Вт/м*К. Лаборатория «Эластокам»/BASF зафиксировала уникальную теплопроводность сэндвич-панелей «ПрофХолод» с PIR Premier 
        )

    [~DETAIL_PICTURE] => 69863
    [TIMESTAMP_X] => 09.04.2020 12:25:51
    [~TIMESTAMP_X] => 09.04.2020 12:25:51
    [ACTIVE_FROM] => 27.03.2020 10:20:00
    [~ACTIVE_FROM] => 27.03.2020 10:20:00
    [LIST_PAGE_URL] => /press/news/
    [~LIST_PAGE_URL] => /press/news/
    [DETAIL_PAGE_URL] => /press/news/0-0194-Vt-m-K-Laboratoriya-Elastokam-BASF-zafiksirovala-unikalnuyu-teploprovodnost-sendvich-paneley-/
    [~DETAIL_PAGE_URL] => /press/news/0-0194-Vt-m-K-Laboratoriya-Elastokam-BASF-zafiksirovala-unikalnuyu-teploprovodnost-sendvich-paneley-/
    [LANG_DIR] => /
    [~LANG_DIR] => /
    [CODE] => 0-0194-Vt-m-K-Laboratoriya-Elastokam-BASF-zafiksirovala-unikalnuyu-teploprovodnost-sendvich-paneley-
    [~CODE] => 0-0194-Vt-m-K-Laboratoriya-Elastokam-BASF-zafiksirovala-unikalnuyu-teploprovodnost-sendvich-paneley-
    [EXTERNAL_ID] => 14625
    [~EXTERNAL_ID] => 14625
    [IBLOCK_TYPE_ID] => news
    [~IBLOCK_TYPE_ID] => news
    [IBLOCK_CODE] => furniture_news_s1
    [~IBLOCK_CODE] => furniture_news_s1
    [IBLOCK_EXTERNAL_ID] => furniture_news_s1
    [~IBLOCK_EXTERNAL_ID] => furniture_news_s1
    [LID] => en
    [~LID] => en
    [NAV_RESULT] => 
    [DISPLAY_ACTIVE_FROM] => 27.03.2020
    [IPROPERTY_VALUES] => Array
        (
        )

    [FIELDS] => Array
        (
        )

    [PROPERTIES] => Array
        (
            [TITLE] => Array
                (
                    [ID] => 59
                    [TIMESTAMP_X] => 2020-07-16 09:03:06
                    [IBLOCK_ID] => 1
                    [NAME] => Заголовок
                    [ACTIVE] => Y
                    [SORT] => 100
                    [CODE] => TITLE
                    [DEFAULT_VALUE] => 
                    [PROPERTY_TYPE] => S
                    [ROW_COUNT] => 1
                    [COL_COUNT] => 30
                    [LIST_TYPE] => L
                    [MULTIPLE] => N
                    [XML_ID] => 59
                    [FILE_TYPE] => 
                    [MULTIPLE_CNT] => 5
                    [TMP_ID] => 
                    [LINK_IBLOCK_ID] => 0
                    [WITH_DESCRIPTION] => N
                    [SEARCHABLE] => N
                    [FILTRABLE] => N
                    [IS_REQUIRED] => N
                    [VERSION] => 1
                    [USER_TYPE] => 
                    [USER_TYPE_SETTINGS] => 
                    [HINT] => 
                    [PROPERTY_VALUE_ID] => 
                    [VALUE] => 
                    [DESCRIPTION] => 
                    [VALUE_ENUM] => 
                    [VALUE_XML_ID] => 
                    [VALUE_SORT] => 
                    [~VALUE] => 
                    [~DESCRIPTION] => 
                    [~NAME] => Заголовок
                    [~DEFAULT_VALUE] => 
                )

            [KEYWORDS] => Array
                (
                    [ID] => 60
                    [TIMESTAMP_X] => 2020-07-16 09:03:06
                    [IBLOCK_ID] => 1
                    [NAME] => Ключевые слова
                    [ACTIVE] => Y
                    [SORT] => 200
                    [CODE] => KEYWORDS
                    [DEFAULT_VALUE] => 
                    [PROPERTY_TYPE] => S
                    [ROW_COUNT] => 1
                    [COL_COUNT] => 30
                    [LIST_TYPE] => L
                    [MULTIPLE] => N
                    [XML_ID] => 60
                    [FILE_TYPE] => 
                    [MULTIPLE_CNT] => 5
                    [TMP_ID] => 
                    [LINK_IBLOCK_ID] => 0
                    [WITH_DESCRIPTION] => N
                    [SEARCHABLE] => N
                    [FILTRABLE] => N
                    [IS_REQUIRED] => N
                    [VERSION] => 1
                    [USER_TYPE] => 
                    [USER_TYPE_SETTINGS] => 
                    [HINT] => 
                    [PROPERTY_VALUE_ID] => 
                    [VALUE] => 
                    [DESCRIPTION] => 
                    [VALUE_ENUM] => 
                    [VALUE_XML_ID] => 
                    [VALUE_SORT] => 
                    [~VALUE] => 
                    [~DESCRIPTION] => 
                    [~NAME] => Ключевые слова
                    [~DEFAULT_VALUE] => 
                )

            [DESCRIPTION] => Array
                (
                    [ID] => 61
                    [TIMESTAMP_X] => 2020-07-16 09:03:06
                    [IBLOCK_ID] => 1
                    [NAME] => Описание
                    [ACTIVE] => Y
                    [SORT] => 300
                    [CODE] => DESCRIPTION
                    [DEFAULT_VALUE] => 
                    [PROPERTY_TYPE] => S
                    [ROW_COUNT] => 1
                    [COL_COUNT] => 30
                    [LIST_TYPE] => L
                    [MULTIPLE] => N
                    [XML_ID] => 61
                    [FILE_TYPE] => 
                    [MULTIPLE_CNT] => 5
                    [TMP_ID] => 
                    [LINK_IBLOCK_ID] => 0
                    [WITH_DESCRIPTION] => N
                    [SEARCHABLE] => N
                    [FILTRABLE] => N
                    [IS_REQUIRED] => N
                    [VERSION] => 1
                    [USER_TYPE] => 
                    [USER_TYPE_SETTINGS] => 
                    [HINT] => 
                    [PROPERTY_VALUE_ID] => 
                    [VALUE] => 
                    [DESCRIPTION] => 
                    [VALUE_ENUM] => 
                    [VALUE_XML_ID] => 
                    [VALUE_SORT] => 
                    [~VALUE] => 
                    [~DESCRIPTION] => 
                    [~NAME] => Описание
                    [~DEFAULT_VALUE] => 
                )

            [SUBSCRIBE_TEXT] => Array
                (
                    [ID] => 85
                    [TIMESTAMP_X] => 2020-07-16 09:03:06
                    [IBLOCK_ID] => 1
                    [NAME] => Текст для рассылки
                    [ACTIVE] => Y
                    [SORT] => 400
                    [CODE] => SUBSCRIBE_TEXT
                    [DEFAULT_VALUE] => Array
                        (
                            [TEXT] => 
                            [TYPE] => HTML
                        )

                    [PROPERTY_TYPE] => S
                    [ROW_COUNT] => 1
                    [COL_COUNT] => 30
                    [LIST_TYPE] => L
                    [MULTIPLE] => N
                    [XML_ID] => 85
                    [FILE_TYPE] => 
                    [MULTIPLE_CNT] => 5
                    [TMP_ID] => 
                    [LINK_IBLOCK_ID] => 0
                    [WITH_DESCRIPTION] => N
                    [SEARCHABLE] => N
                    [FILTRABLE] => N
                    [IS_REQUIRED] => N
                    [VERSION] => 1
                    [USER_TYPE] => HTML
                    [USER_TYPE_SETTINGS] => Array
                        (
                            [height] => 200
                        )

                    [HINT] => 
                    [PROPERTY_VALUE_ID] => 
                    [VALUE] => 
                    [DESCRIPTION] => 
                    [VALUE_ENUM] => 
                    [VALUE_XML_ID] => 
                    [VALUE_SORT] => 
                    [~VALUE] => 
                    [~DESCRIPTION] => 
                    [~NAME] => Текст для рассылки
                    [~DEFAULT_VALUE] => Array
                        (
                            [TEXT] => 
                            [TYPE] => HTML
                        )

                )

            [VIDEO] => Array
                (
                    [ID] => 89
                    [TIMESTAMP_X] => 2020-07-16 09:03:06
                    [IBLOCK_ID] => 1
                    [NAME] => Видео
                    [ACTIVE] => Y
                    [SORT] => 500
                    [CODE] => VIDEO
                    [DEFAULT_VALUE] => Array
                        (
                        )

                    [PROPERTY_TYPE] => S
                    [ROW_COUNT] => 1
                    [COL_COUNT] => 30
                    [LIST_TYPE] => L
                    [MULTIPLE] => N
                    [XML_ID] => 89
                    [FILE_TYPE] => 
                    [MULTIPLE_CNT] => 5
                    [TMP_ID] => 
                    [LINK_IBLOCK_ID] => 0
                    [WITH_DESCRIPTION] => N
                    [SEARCHABLE] => N
                    [FILTRABLE] => N
                    [IS_REQUIRED] => N
                    [VERSION] => 1
                    [USER_TYPE] => video
                    [USER_TYPE_SETTINGS] => Array
                        (
                            [BUFFER_LENGTH] => 10
                            [CONTROLBAR] => bottom
                            [AUTOSTART] => N
                            [VOLUME] => 90
                            [SKIN] => 
                            [FLASHVARS] => 
                            [WMODE_FLV] => transparent
                            [BGCOLOR] => FFFFFF
                            [COLOR] => 000000
                            [OVER_COLOR] => 000000
                            [SCREEN_COLOR] => 000000
                            [SILVERVARS] => 
                            [WMODE_WMV] => windowless
                            [WIDTH] => 400
                            [HEIGHT] => 300
                        )

                    [HINT] => 
                    [PROPERTY_VALUE_ID] => 
                    [VALUE] => Array
                        (
                        )

                    [DESCRIPTION] => 
                    [VALUE_ENUM] => 
                    [VALUE_XML_ID] => 
                    [VALUE_SORT] => 
                    [~VALUE] => Array
                        (
                        )

                    [~DESCRIPTION] => 
                    [~NAME] => Видео
                    [~DEFAULT_VALUE] => Array
                        (
                        )

                )

            [SHORT_DESCRIPTION_EMAIL] => Array
                (
                    [ID] => 520
                    [TIMESTAMP_X] => 2020-07-16 09:03:06
                    [IBLOCK_ID] => 1
                    [NAME] => Краткое описание для рассылки
                    [ACTIVE] => Y
                    [SORT] => 500
                    [CODE] => SHORT_DESCRIPTION_EMAIL
                    [DEFAULT_VALUE] => Array
                        (
                            [TEXT] => 
                            [TYPE] => HTML
                        )

                    [PROPERTY_TYPE] => S
                    [ROW_COUNT] => 1
                    [COL_COUNT] => 30
                    [LIST_TYPE] => L
                    [MULTIPLE] => N
                    [XML_ID] => 520
                    [FILE_TYPE] => 
                    [MULTIPLE_CNT] => 5
                    [TMP_ID] => 
                    [LINK_IBLOCK_ID] => 0
                    [WITH_DESCRIPTION] => N
                    [SEARCHABLE] => N
                    [FILTRABLE] => N
                    [IS_REQUIRED] => N
                    [VERSION] => 1
                    [USER_TYPE] => HTML
                    [USER_TYPE_SETTINGS] => Array
                        (
                            [height] => 200
                        )

                    [HINT] => 
                    [PROPERTY_VALUE_ID] => 
                    [VALUE] => 
                    [DESCRIPTION] => 
                    [VALUE_ENUM] => 
                    [VALUE_XML_ID] => 
                    [VALUE_SORT] => 
                    [~VALUE] => 
                    [~DESCRIPTION] => 
                    [~NAME] => Краткое описание для рассылки
                    [~DEFAULT_VALUE] => Array
                        (
                            [TEXT] => 
                            [TYPE] => HTML
                        )

                )

            [VIDEO_PREV] => Array
                (
                    [ID] => 90
                    [TIMESTAMP_X] => 2020-07-16 09:03:06
                    [IBLOCK_ID] => 1
                    [NAME] => Превью видео
                    [ACTIVE] => Y
                    [SORT] => 600
                    [CODE] => VIDEO_PREV
                    [DEFAULT_VALUE] => 
                    [PROPERTY_TYPE] => F
                    [ROW_COUNT] => 1
                    [COL_COUNT] => 30
                    [LIST_TYPE] => L
                    [MULTIPLE] => N
                    [XML_ID] => 90
                    [FILE_TYPE] => 
                    [MULTIPLE_CNT] => 5
                    [TMP_ID] => 
                    [LINK_IBLOCK_ID] => 0
                    [WITH_DESCRIPTION] => N
                    [SEARCHABLE] => N
                    [FILTRABLE] => N
                    [IS_REQUIRED] => N
                    [VERSION] => 1
                    [USER_TYPE] => 
                    [USER_TYPE_SETTINGS] => 
                    [HINT] => 
                    [PROPERTY_VALUE_ID] => 
                    [VALUE] => 
                    [DESCRIPTION] => 
                    [VALUE_ENUM] => 
                    [VALUE_XML_ID] => 
                    [VALUE_SORT] => 
                    [~VALUE] => 
                    [~DESCRIPTION] => 
                    [~NAME] => Превью видео
                    [~DEFAULT_VALUE] => 
                )

            [AFTER_VIDEO] => Array
                (
                    [ID] => 94
                    [TIMESTAMP_X] => 2020-07-16 09:03:06
                    [IBLOCK_ID] => 1
                    [NAME] => Текст после видео
                    [ACTIVE] => Y
                    [SORT] => 700
                    [CODE] => AFTER_VIDEO
                    [DEFAULT_VALUE] => Array
                        (
                            [TEXT] => 
                            [TYPE] => HTML
                        )

                    [PROPERTY_TYPE] => S
                    [ROW_COUNT] => 1
                    [COL_COUNT] => 30
                    [LIST_TYPE] => L
                    [MULTIPLE] => N
                    [XML_ID] => 94
                    [FILE_TYPE] => 
                    [MULTIPLE_CNT] => 5
                    [TMP_ID] => 
                    [LINK_IBLOCK_ID] => 0
                    [WITH_DESCRIPTION] => N
                    [SEARCHABLE] => N
                    [FILTRABLE] => N
                    [IS_REQUIRED] => N
                    [VERSION] => 1
                    [USER_TYPE] => HTML
                    [USER_TYPE_SETTINGS] => Array
                        (
                            [height] => 200
                        )

                    [HINT] => 
                    [PROPERTY_VALUE_ID] => 
                    [VALUE] => 
                    [DESCRIPTION] => 
                    [VALUE_ENUM] => 
                    [VALUE_XML_ID] => 
                    [VALUE_SORT] => 
                    [~VALUE] => 
                    [~DESCRIPTION] => 
                    [~NAME] => Текст после видео
                    [~DEFAULT_VALUE] => Array
                        (
                            [TEXT] => 
                            [TYPE] => HTML
                        )

                )

            [en_TITLE] => Array
                (
                    [ID] => 113
                    [TIMESTAMP_X] => 2020-07-16 09:03:06
                    [IBLOCK_ID] => 1
                    [NAME] => TITLE (eng.)
                    [ACTIVE] => Y
                    [SORT] => 2010
                    [CODE] => en_TITLE
                    [DEFAULT_VALUE] => 
                    [PROPERTY_TYPE] => S
                    [ROW_COUNT] => 1
                    [COL_COUNT] => 30
                    [LIST_TYPE] => L
                    [MULTIPLE] => N
                    [XML_ID] => 113
                    [FILE_TYPE] => 
                    [MULTIPLE_CNT] => 5
                    [TMP_ID] => 
                    [LINK_IBLOCK_ID] => 0
                    [WITH_DESCRIPTION] => N
                    [SEARCHABLE] => N
                    [FILTRABLE] => N
                    [IS_REQUIRED] => N
                    [VERSION] => 1
                    [USER_TYPE] => 
                    [USER_TYPE_SETTINGS] => 
                    [HINT] => 
                    [PROPERTY_VALUE_ID] => 
                    [VALUE] => 
                    [DESCRIPTION] => 
                    [VALUE_ENUM] => 
                    [VALUE_XML_ID] => 
                    [VALUE_SORT] => 
                    [~VALUE] => 
                    [~DESCRIPTION] => 
                    [~NAME] => TITLE (eng.)
                    [~DEFAULT_VALUE] => 
                )

            [en_KEYWORDS] => Array
                (
                    [ID] => 114
                    [TIMESTAMP_X] => 2020-07-16 09:03:06
                    [IBLOCK_ID] => 1
                    [NAME] => KEYWORDS (eng.)
                    [ACTIVE] => Y
                    [SORT] => 2020
                    [CODE] => en_KEYWORDS
                    [DEFAULT_VALUE] => 
                    [PROPERTY_TYPE] => S
                    [ROW_COUNT] => 1
                    [COL_COUNT] => 30
                    [LIST_TYPE] => L
                    [MULTIPLE] => N
                    [XML_ID] => 114
                    [FILE_TYPE] => 
                    [MULTIPLE_CNT] => 5
                    [TMP_ID] => 
                    [LINK_IBLOCK_ID] => 0
                    [WITH_DESCRIPTION] => N
                    [SEARCHABLE] => N
                    [FILTRABLE] => N
                    [IS_REQUIRED] => N
                    [VERSION] => 1
                    [USER_TYPE] => 
                    [USER_TYPE_SETTINGS] => 
                    [HINT] => 
                    [PROPERTY_VALUE_ID] => 
                    [VALUE] => 
                    [DESCRIPTION] => 
                    [VALUE_ENUM] => 
                    [VALUE_XML_ID] => 
                    [VALUE_SORT] => 
                    [~VALUE] => 
                    [~DESCRIPTION] => 
                    [~NAME] => KEYWORDS (eng.)
                    [~DEFAULT_VALUE] => 
                )

            [en_DESCRIPTION] => Array
                (
                    [ID] => 115
                    [TIMESTAMP_X] => 2020-07-16 09:03:06
                    [IBLOCK_ID] => 1
                    [NAME] => DESCRIPTION (eng.)
                    [ACTIVE] => Y
                    [SORT] => 2030
                    [CODE] => en_DESCRIPTION
                    [DEFAULT_VALUE] => 
                    [PROPERTY_TYPE] => S
                    [ROW_COUNT] => 1
                    [COL_COUNT] => 30
                    [LIST_TYPE] => L
                    [MULTIPLE] => N
                    [XML_ID] => 115
                    [FILE_TYPE] => 
                    [MULTIPLE_CNT] => 5
                    [TMP_ID] => 
                    [LINK_IBLOCK_ID] => 0
                    [WITH_DESCRIPTION] => N
                    [SEARCHABLE] => N
                    [FILTRABLE] => N
                    [IS_REQUIRED] => N
                    [VERSION] => 1
                    [USER_TYPE] => 
                    [USER_TYPE_SETTINGS] => 
                    [HINT] => 
                    [PROPERTY_VALUE_ID] => 
                    [VALUE] => 
                    [DESCRIPTION] => 
                    [VALUE_ENUM] => 
                    [VALUE_XML_ID] => 
                    [VALUE_SORT] => 
                    [~VALUE] => 
                    [~DESCRIPTION] => 
                    [~NAME] => DESCRIPTION (eng.)
                    [~DEFAULT_VALUE] => 
                )

            [en_SUBSCRIBE_TEXT] => Array
                (
                    [ID] => 116
                    [TIMESTAMP_X] => 2020-07-16 09:03:06
                    [IBLOCK_ID] => 1
                    [NAME] => Текст для рассылки (eng.)
                    [ACTIVE] => Y
                    [SORT] => 2040
                    [CODE] => en_SUBSCRIBE_TEXT
                    [DEFAULT_VALUE] => Array
                        (
                            [TEXT] => 
                            [TYPE] => HTML
                        )

                    [PROPERTY_TYPE] => S
                    [ROW_COUNT] => 1
                    [COL_COUNT] => 30
                    [LIST_TYPE] => L
                    [MULTIPLE] => N
                    [XML_ID] => 116
                    [FILE_TYPE] => 
                    [MULTIPLE_CNT] => 5
                    [TMP_ID] => 
                    [LINK_IBLOCK_ID] => 0
                    [WITH_DESCRIPTION] => N
                    [SEARCHABLE] => N
                    [FILTRABLE] => N
                    [IS_REQUIRED] => N
                    [VERSION] => 1
                    [USER_TYPE] => HTML
                    [USER_TYPE_SETTINGS] => Array
                        (
                            [height] => 200
                        )

                    [HINT] => 
                    [PROPERTY_VALUE_ID] => 
                    [VALUE] => 
                    [DESCRIPTION] => 
                    [VALUE_ENUM] => 
                    [VALUE_XML_ID] => 
                    [VALUE_SORT] => 
                    [~VALUE] => 
                    [~DESCRIPTION] => 
                    [~NAME] => Текст для рассылки (eng.)
                    [~DEFAULT_VALUE] => Array
                        (
                            [TEXT] => 
                            [TYPE] => HTML
                        )

                )

            [en_AFTER_VIDEO] => Array
                (
                    [ID] => 117
                    [TIMESTAMP_X] => 2020-07-16 09:03:06
                    [IBLOCK_ID] => 1
                    [NAME] => Текст после видео  (eng.)
                    [ACTIVE] => Y
                    [SORT] => 2050
                    [CODE] => en_AFTER_VIDEO
                    [DEFAULT_VALUE] => Array
                        (
                            [TEXT] => 
                            [TYPE] => HTML
                        )

                    [PROPERTY_TYPE] => S
                    [ROW_COUNT] => 1
                    [COL_COUNT] => 30
                    [LIST_TYPE] => L
                    [MULTIPLE] => N
                    [XML_ID] => 117
                    [FILE_TYPE] => 
                    [MULTIPLE_CNT] => 5
                    [TMP_ID] => 
                    [LINK_IBLOCK_ID] => 0
                    [WITH_DESCRIPTION] => N
                    [SEARCHABLE] => N
                    [FILTRABLE] => N
                    [IS_REQUIRED] => N
                    [VERSION] => 1
                    [USER_TYPE] => HTML
                    [USER_TYPE_SETTINGS] => Array
                        (
                            [height] => 200
                        )

                    [HINT] => 
                    [PROPERTY_VALUE_ID] => 
                    [VALUE] => 
                    [DESCRIPTION] => 
                    [VALUE_ENUM] => 
                    [VALUE_XML_ID] => 
                    [VALUE_SORT] => 
                    [~VALUE] => 
                    [~DESCRIPTION] => 
                    [~NAME] => Текст после видео  (eng.)
                    [~DEFAULT_VALUE] => Array
                        (
                            [TEXT] => 
                            [TYPE] => HTML
                        )

                )

            [en_NAME] => Array
                (
                    [ID] => 118
                    [TIMESTAMP_X] => 2020-07-16 09:03:06
                    [IBLOCK_ID] => 1
                    [NAME] => Название (eng.)
                    [ACTIVE] => Y
                    [SORT] => 2060
                    [CODE] => en_NAME
                    [DEFAULT_VALUE] => 
                    [PROPERTY_TYPE] => S
                    [ROW_COUNT] => 1
                    [COL_COUNT] => 30
                    [LIST_TYPE] => L
                    [MULTIPLE] => N
                    [XML_ID] => 118
                    [FILE_TYPE] => 
                    [MULTIPLE_CNT] => 5
                    [TMP_ID] => 
                    [LINK_IBLOCK_ID] => 0
                    [WITH_DESCRIPTION] => N
                    [SEARCHABLE] => N
                    [FILTRABLE] => N
                    [IS_REQUIRED] => N
                    [VERSION] => 1
                    [USER_TYPE] => 
                    [USER_TYPE_SETTINGS] => 
                    [HINT] => 
                    [PROPERTY_VALUE_ID] => 163249
                    [VALUE] => 0.0194 W/m*K. Elastokam / BASF Laboratory Records Unique Thermal Conductivity of PIR Premier Sandwich Panels
                    [DESCRIPTION] => 
                    [VALUE_ENUM] => 
                    [VALUE_XML_ID] => 
                    [VALUE_SORT] => 
                    [~VALUE] => 0.0194 W/m*K. Elastokam / BASF Laboratory Records Unique Thermal Conductivity of PIR Premier Sandwich Panels
                    [~DESCRIPTION] => 
                    [~NAME] => Название (eng.)
                    [~DEFAULT_VALUE] => 
                )

            [en_PREVIEW_TEXT] => Array
                (
                    [ID] => 119
                    [TIMESTAMP_X] => 2020-07-16 09:03:06
                    [IBLOCK_ID] => 1
                    [NAME] => Анонс (eng.)
                    [ACTIVE] => Y
                    [SORT] => 2070
                    [CODE] => en_PREVIEW_TEXT
                    [DEFAULT_VALUE] => Array
                        (
                            [TEXT] => 
                            [TYPE] => HTML
                        )

                    [PROPERTY_TYPE] => S
                    [ROW_COUNT] => 1
                    [COL_COUNT] => 30
                    [LIST_TYPE] => L
                    [MULTIPLE] => N
                    [XML_ID] => 119
                    [FILE_TYPE] => 
                    [MULTIPLE_CNT] => 5
                    [TMP_ID] => 
                    [LINK_IBLOCK_ID] => 0
                    [WITH_DESCRIPTION] => N
                    [SEARCHABLE] => N
                    [FILTRABLE] => N
                    [IS_REQUIRED] => N
                    [VERSION] => 1
                    [USER_TYPE] => HTML
                    [USER_TYPE_SETTINGS] => Array
                        (
                            [height] => 200
                        )

                    [HINT] => 
                    [PROPERTY_VALUE_ID] => 163250
                    [VALUE] => Array
                        (
                            [TEXT] => PH Insulation has successfully improved the energy efficiency of its sandwich panels with its signature PIR Premier system
                            [TYPE] => HTML
                        )

                    [DESCRIPTION] => 
                    [VALUE_ENUM] => 
                    [VALUE_XML_ID] => 
                    [VALUE_SORT] => 
                    [~VALUE] => Array
                        (
                            [TEXT] => PH Insulation has successfully improved the energy efficiency of its sandwich panels with its signature PIR Premier system
                            [TYPE] => HTML
                        )

                    [~DESCRIPTION] => 
                    [~NAME] => Анонс (eng.)
                    [~DEFAULT_VALUE] => Array
                        (
                            [TEXT] => 
                            [TYPE] => HTML
                        )

                )

            [en_DETAIL_TEXT] => Array
                (
                    [ID] => 120
                    [TIMESTAMP_X] => 2020-07-16 09:03:06
                    [IBLOCK_ID] => 1
                    [NAME] => Новость детально (eng.)
                    [ACTIVE] => Y
                    [SORT] => 2080
                    [CODE] => en_DETAIL_TEXT
                    [DEFAULT_VALUE] => Array
                        (
                            [TEXT] => 
                            [TYPE] => HTML
                        )

                    [PROPERTY_TYPE] => S
                    [ROW_COUNT] => 1
                    [COL_COUNT] => 30
                    [LIST_TYPE] => L
                    [MULTIPLE] => N
                    [XML_ID] => 120
                    [FILE_TYPE] => 
                    [MULTIPLE_CNT] => 5
                    [TMP_ID] => 
                    [LINK_IBLOCK_ID] => 0
                    [WITH_DESCRIPTION] => N
                    [SEARCHABLE] => N
                    [FILTRABLE] => N
                    [IS_REQUIRED] => N
                    [VERSION] => 1
                    [USER_TYPE] => HTML
                    [USER_TYPE_SETTINGS] => Array
                        (
                            [height] => 200
                        )

                    [HINT] => 
                    [PROPERTY_VALUE_ID] => 163251
                    [VALUE] => Array
                        (
                            [TEXT] => <p>
	 On March 18, 2020, the Technical Center Laboratory at Elastokam LLC—a joint venture between Nizhnekamskneftekhim and BASF Polyurethans GmbH—measured the thermal conductivity of a ProfHolod sandwich panel sample using PH Insulation's custom-made PIR Premier system. The sample's minimum thermal conductivity was registered at 0.0194 W/m*K. 
</p>
<p>
	 PH Insulation, which is known in Russia under the brand name ProfHolod, achieved this unique level of conductivity thanks to the R&amp;D Center's commitment to improving its custom-made PIR system and polyol synthesis.
</p>
<p>
	 "In four years, we have come a long way—from optimizing the polyol parameters and production technology of our PIR system and selecting components for better technological stability to fine-tuning polyethers at the newest unit produced by the German H&amp;S, which is now installed at our manufacturing site," says Semyon Gusev, Project Manager for the Self-Formulation of PPU Systems at PH Insulation.
</p>
 <br>
 "Not only do our PIR Premier insulated panels boast a perfect balance of physical and mechanical properties, but we have now also achieved a unique level of thermal conductivity. This was confirmed at the laboratory of a leading global corporation specializing in the production of polyurethane foam systems."  <br>
 <br>
 PH Insulation is pursuing further reducing the thermal conductivity and increasing the fire resistance of its custom-made PIR system so that the company's partners can reduce their sites' operational costs by using the most advanced energy saving technologie, all created right here in Russia.<br>
 <br>
 PH Insulation manufactures insulated panels made with PIR Premier, that adheres to European standard EN 14509, on two continuous assembly lines. The sandwich panels exhibit a resistance of more than 185 kPa when testing compressive strength at 10% deformation and more than 160 kPa at break at a density of 40 kg/m<sup>3</sup>.   <br>
 <br>
 In 2019, according to PH Insulation estimates, PIR Premier became the top-selling PIR system in Russia.<br>
 <br>
<p>
 <img width="512" alt="profholod_pir_panels.jpg" src="/upload/medialibrary/b63/profholod_pir_panels.jpg" height="514" title="profholod_pir_panels.jpg"><br>
</p>
 <br>
                            [TYPE] => HTML
                        )

                    [DESCRIPTION] => 
                    [VALUE_ENUM] => 
                    [VALUE_XML_ID] => 
                    [VALUE_SORT] => 
                    [~VALUE] => Array
                        (
                            [TEXT] => 


	 On March 18, 2020, the Technical Center Laboratory at Elastokam LLC—a joint venture between Nizhnekamskneftekhim and BASF Polyurethans GmbH—measured the thermal conductivity of a ProfHolod sandwich panel sample using PH Insulation's custom-made PIR Premier system. The sample's minimum thermal conductivity was registered at 0.0194 W/m*K. 






	 PH Insulation, which is known in Russia under the brand name ProfHolod, achieved this unique level of conductivity thanks to the R&D Center's commitment to improving its custom-made PIR system and polyol synthesis.






	 "In four years, we have come a long way—from optimizing the polyol parameters and production technology of our PIR system and selecting components for better technological stability to fine-tuning polyethers at the newest unit produced by the German H&S, which is now installed at our manufacturing site," says Semyon Gusev, Project Manager for the Self-Formulation of PPU Systems at PH Insulation.



 

 "Not only do our PIR Premier insulated panels boast a perfect balance of physical and mechanical properties, but we have now also achieved a unique level of thermal conductivity. This was confirmed at the laboratory of a leading global corporation specializing in the production of polyurethane foam systems."  

 

 PH Insulation is pursuing further reducing the thermal conductivity and increasing the fire resistance of its custom-made PIR system so that the company's partners can reduce their sites' operational costs by using the most advanced energy saving technologie, all created right here in Russia.

 

 PH Insulation manufactures insulated panels made with PIR Premier, that adheres to European standard EN 14509, on two continuous assembly lines. The sandwich panels exhibit a resistance of more than 185 kPa when testing compressive strength at 10% deformation and more than 160 kPa at break at a density of 40 kg/m3.   

 

 In 2019, according to PH Insulation estimates, PIR Premier became the top-selling PIR system in Russia.

 




 




 

                            [TYPE] => HTML
                        )

                    [~DESCRIPTION] => 
                    [~NAME] => Новость детально (eng.)
                    [~DEFAULT_VALUE] => Array
                        (
                            [TEXT] => 
                            [TYPE] => HTML
                        )

                )

            [HIDE_ON_RU] => Array
                (
                    [ID] => 532
                    [TIMESTAMP_X] => 2020-07-16 09:03:06
                    [IBLOCK_ID] => 1
                    [NAME] => Не отображать на РУ
                    [ACTIVE] => Y
                    [SORT] => 2500
                    [CODE] => HIDE_ON_RU
                    [DEFAULT_VALUE] => 
                    [PROPERTY_TYPE] => L
                    [ROW_COUNT] => 1
                    [COL_COUNT] => 30
                    [LIST_TYPE] => C
                    [MULTIPLE] => N
                    [XML_ID] => 532
                    [FILE_TYPE] => 
                    [MULTIPLE_CNT] => 5
                    [TMP_ID] => 
                    [LINK_IBLOCK_ID] => 0
                    [WITH_DESCRIPTION] => N
                    [SEARCHABLE] => N
                    [FILTRABLE] => N
                    [IS_REQUIRED] => N
                    [VERSION] => 1
                    [USER_TYPE] => 
                    [USER_TYPE_SETTINGS] => 
                    [HINT] => 
                    [PROPERTY_VALUE_ID] => 
                    [VALUE] => 
                    [DESCRIPTION] => 
                    [VALUE_ENUM] => 
                    [VALUE_XML_ID] => 
                    [VALUE_SORT] => 
                    [VALUE_ENUM_ID] => 
                    [~VALUE] => 
                    [~DESCRIPTION] => 
                    [~NAME] => Не отображать на РУ
                    [~DEFAULT_VALUE] => 
                )

        )

    [DISPLAY_PROPERTIES] => Array
        (
        )

    [IBLOCK] => Array
        (
            [ID] => 1
            [~ID] => 1
            [TIMESTAMP_X] => 26.05.2020 15:55:21
            [~TIMESTAMP_X] => 26.05.2020 15:55:21
            [IBLOCK_TYPE_ID] => news
            [~IBLOCK_TYPE_ID] => news
            [LID] => en
            [~LID] => en
            [CODE] => furniture_news_s1
            [~CODE] => furniture_news_s1
            [NAME] => Новые продукты и решения
            [~NAME] => Новые продукты и решения
            [ACTIVE] => Y
            [~ACTIVE] => Y
            [SORT] => 500
            [~SORT] => 500
            [LIST_PAGE_URL] => /news/press/
            [~LIST_PAGE_URL] => /news/press/
            [DETAIL_PAGE_URL] => #SITE_DIR#press/news/#ELEMENT_CODE#/
            [~DETAIL_PAGE_URL] => #SITE_DIR#press/news/#ELEMENT_CODE#/
            [SECTION_PAGE_URL] => 
            [~SECTION_PAGE_URL] => 
            [PICTURE] => 
            [~PICTURE] => 
            [DESCRIPTION] => 
            [~DESCRIPTION] => 
            [DESCRIPTION_TYPE] => text
            [~DESCRIPTION_TYPE] => text
            [RSS_TTL] => 24
            [~RSS_TTL] => 24
            [RSS_ACTIVE] => Y
            [~RSS_ACTIVE] => Y
            [RSS_FILE_ACTIVE] => N
            [~RSS_FILE_ACTIVE] => N
            [RSS_FILE_LIMIT] => 0
            [~RSS_FILE_LIMIT] => 0
            [RSS_FILE_DAYS] => 0
            [~RSS_FILE_DAYS] => 0
            [RSS_YANDEX_ACTIVE] => N
            [~RSS_YANDEX_ACTIVE] => N
            [XML_ID] => furniture_news_s1
            [~XML_ID] => furniture_news_s1
            [TMP_ID] => 
            [~TMP_ID] => 
            [INDEX_ELEMENT] => Y
            [~INDEX_ELEMENT] => Y
            [INDEX_SECTION] => N
            [~INDEX_SECTION] => N
            [WORKFLOW] => N
            [~WORKFLOW] => N
            [BIZPROC] => N
            [~BIZPROC] => N
            [SECTION_CHOOSER] => L
            [~SECTION_CHOOSER] => L
            [LIST_MODE] => 
            [~LIST_MODE] => 
            [VERSION] => 1
            [~VERSION] => 1
            [LAST_CONV_ELEMENT] => 0
            [~LAST_CONV_ELEMENT] => 0
            [EDIT_FILE_BEFORE] => 
            [~EDIT_FILE_BEFORE] => 
            [EDIT_FILE_AFTER] => 
            [~EDIT_FILE_AFTER] => 
            [SECTIONS_NAME] => Разделы
            [~SECTIONS_NAME] => Разделы
            [SECTION_NAME] => Раздел
            [~SECTION_NAME] => Раздел
            [ELEMENTS_NAME] => Новости
            [~ELEMENTS_NAME] => Новости
            [ELEMENT_NAME] => Новость
            [~ELEMENT_NAME] => Новость
            [SOCNET_GROUP_ID] => 
            [~SOCNET_GROUP_ID] => 
            [RIGHTS_MODE] => S
            [~RIGHTS_MODE] => S
            [SECTION_PROPERTY] => 
            [~SECTION_PROPERTY] => 
            [PROPERTY_INDEX] => 
            [~PROPERTY_INDEX] => 
            [CANONICAL_PAGE_URL] => 
            [~CANONICAL_PAGE_URL] => 
            [EXTERNAL_ID] => furniture_news_s1
            [~EXTERNAL_ID] => furniture_news_s1
            [LANG_DIR] => /
            [~LANG_DIR] => /
            [SERVER_NAME] => profholod.com
            [~SERVER_NAME] => profholod.com
        )

    [SECTION] => Array
        (
            [PATH] => Array
                (
                )

        )

    [SECTION_URL] => 
    [META_TAGS] => Array
        (
            [BROWSER_TITLE] => 
            [KEYWORDS] => 
            [DESCRIPTION] => 
        )

    [META_TEMPLATES] => Array
        (
            [TITLE] => 0.0194 W/m*K. Elastokam / BASF Laboratory Records Unique Thermal Conductivity of PIR Premier Sandwich Panels - News Profholod
            [KEYWORDS] => 
            [DESCRIPTION] => PH Insulation has successfully improved the energy efficiency of its sandwich panels with its signature PIR Premier system
            [H1] => 0.0194 W/m*K. Elastokam / BASF Laboratory Records Unique Thermal Conductivity of PIR Premier Sandwich Panels
        )

    [EN_NAME] => 0.0194 W/m*K. Elastokam / BASF Laboratory Records Unique Thermal Conductivity of PIR Premier Sandwich Panels
    [EN_DETAIL_TEXT] => Array
        (
            [TEXT] => <p>
	 On March 18, 2020, the Technical Center Laboratory at Elastokam LLC—a joint venture between Nizhnekamskneftekhim and BASF Polyurethans GmbH—measured the thermal conductivity of a ProfHolod sandwich panel sample using PH Insulation's custom-made PIR Premier system. The sample's minimum thermal conductivity was registered at 0.0194 W/m*K. 
</p>
<p>
	 PH Insulation, which is known in Russia under the brand name ProfHolod, achieved this unique level of conductivity thanks to the R&amp;D Center's commitment to improving its custom-made PIR system and polyol synthesis.
</p>
<p>
	 "In four years, we have come a long way—from optimizing the polyol parameters and production technology of our PIR system and selecting components for better technological stability to fine-tuning polyethers at the newest unit produced by the German H&amp;S, which is now installed at our manufacturing site," says Semyon Gusev, Project Manager for the Self-Formulation of PPU Systems at PH Insulation.
</p>
 <br>
 "Not only do our PIR Premier insulated panels boast a perfect balance of physical and mechanical properties, but we have now also achieved a unique level of thermal conductivity. This was confirmed at the laboratory of a leading global corporation specializing in the production of polyurethane foam systems."  <br>
 <br>
 PH Insulation is pursuing further reducing the thermal conductivity and increasing the fire resistance of its custom-made PIR system so that the company's partners can reduce their sites' operational costs by using the most advanced energy saving technologie, all created right here in Russia.<br>
 <br>
 PH Insulation manufactures insulated panels made with PIR Premier, that adheres to European standard EN 14509, on two continuous assembly lines. The sandwich panels exhibit a resistance of more than 185 kPa when testing compressive strength at 10% deformation and more than 160 kPa at break at a density of 40 kg/m<sup>3</sup>.   <br>
 <br>
 In 2019, according to PH Insulation estimates, PIR Premier became the top-selling PIR system in Russia.<br>
 <br>
<p>
 <img width="512" alt="profholod_pir_panels.jpg" src="/upload/medialibrary/b63/profholod_pir_panels.jpg" height="514" title="profholod_pir_panels.jpg"><br>
</p>
 <br>
            [TYPE] => HTML
        )

)

[27.03.2020]
On March 18, 2020, the Technical Center Laboratory at Elastokam LLC—a joint venture between Nizhnekamskneftekhim and BASF Polyurethans GmbH—measured the thermal conductivity of a ProfHolod sandwich panel sample using PH Insulation's custom-made PIR Premier system. The sample's minimum thermal conductivity was registered at 0.0194 W/m*K.
PH Insulation, which is known in Russia under the brand name ProfHolod, achieved this unique level of conductivity thanks to the R&D Center's commitment to improving its custom-made PIR system and polyol synthesis.
"In four years, we have come a long way—from optimizing the polyol parameters and production technology of our PIR system and selecting components for better technological stability to fine-tuning polyethers at the newest unit produced by the German H&S, which is now installed at our manufacturing site," says Semyon Gusev, Project Manager for the Self-Formulation of PPU Systems at PH Insulation.
"Not only do our PIR Premier insulated panels boast a perfect balance of physical and mechanical properties, but we have now also achieved a unique level of thermal conductivity. This was confirmed at the laboratory of a leading global corporation specializing in the production of polyurethane foam systems."
PH Insulation is pursuing further reducing the thermal conductivity and increasing the fire resistance of its custom-made PIR system so that the company's partners can reduce their sites' operational costs by using the most advanced energy saving technologie, all created right here in Russia.
PH Insulation manufactures insulated panels made with PIR Premier, that adheres to European standard EN 14509, on two continuous assembly lines. The sandwich panels exhibit a resistance of more than 185 kPa when testing compressive strength at 10% deformation and more than 160 kPa at break at a density of 40 kg/m
3
.
In 2019, according to PH Insulation estimates, PIR Premier became the top-selling PIR system in Russia.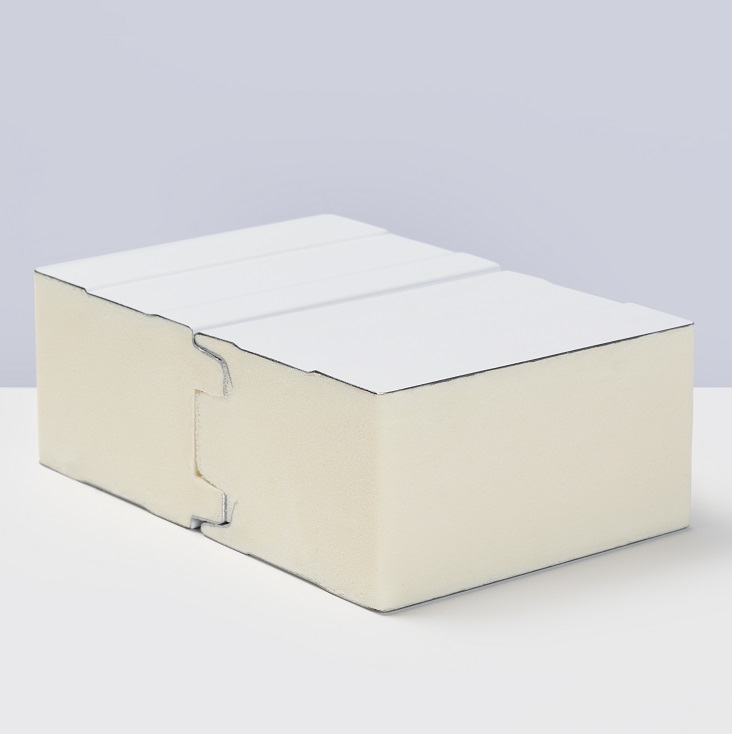 Back to
Company news